The city of Chiang Mai has a wide variety of activities to suit all ages and preferences. It's certainly one of the draw cards of the city, offering a far greater choice than any other tourist centre in Thailand.
Activities on offer include: trekking, mountain biking, walking, elephant riding (and mahout courses), whitewater rafting and kayaking, ATV and motorbike trips, soft adventure activities and extreme sports such as bungee jumping and even drift karting. There is also tenpin bowling, tennis, golf, walking and swimming and kick boxing camps. More sedate activities include cooking courses, meditation, yoga, tai chi and even shopping.
Soft adventures that offer a chance to get into the mountainous wilderness of Northern Thailand are a primary attraction in Chiang Mai, certainly for backpackers and even families. Numerous tour companies in the town centre offer a range of activities in Chiang Mai, either as day trips or multi-day adventures, at reasonable prices. Alternatively you can find your own way to some of these, or plan your own adventure on rented motorbikes. Here are the most recommended or popular activities.
Adventures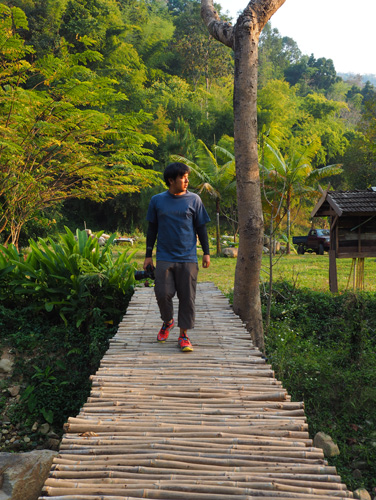 Trekking in the North
Arguably the most popular adventure activity around Chiang Mai, trekking has been attracting backpackers for more than two decades. The province is laden with mountainous landscapes. A multi-day trek to remote hilltribe villages allows travellers to experience their subsistence lifestyle first-hand. It's quite an experience, and quite different from the trekking in Nepal. Typically guided groups of about five people trek to remote villages at about 2,000m, usually staying with a variety of different hilltribes over the course of three or four days. These are genuine villages (not teahouses) and you're unlikely to encounter too many other trekkers. The vegetation is lush jungle, so there are few lofty mountain views. Numerous companies offer a range of treks, and can often be arranged right at the guesthouse where you are staying or from travel agents congregated around the Thapae Gate and Night Market areas. Read more on Trekking in Chiang Mai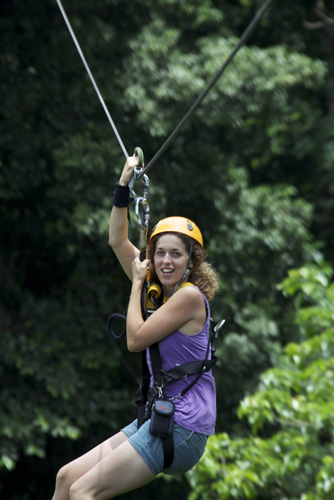 Zip line and canopy tours in Chiang Mai
Treetop canopy tours, flying through the air on ziplines, has become enormously popular in Chiang Mai. There are more than 10 to choose from, ranging in size, price and activity. Spending a day with the birds among the lofty dipterocarpus trees is highly recommended if you wish to experience pristine jungle. Of the many on offer we can recommend Flying Squirrels for families, since the zipline course includes lots of fun obstacles. Flight of the Gibbon is the most established and priciest, but safety assured, located in the pretty eco village of Mae Kampong. Jungle Flight and Eagle Track are two others that have been operating safely for several years and boast stunning settings.
Elephant Riding in Chiang Mai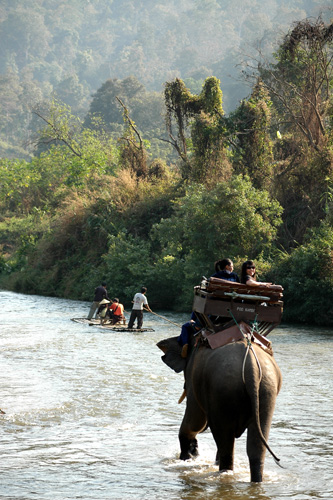 There are a number of elephant camps where you can ride through the jungle on the back of these massive beasts and see them in action. There are camps in Mae Sa, Chiang Dao, Mae Taeng, Lampang and Mae Wang. Finding them can be tricky so it's best to arrange a tour through your guesthouse, hotel or a tour guide. Independent travellers can follow their tourist map to the Mae Sa Valley (north of the city) and drive up into the mountains to the well-signed and very popular Elephant Camp. The other camps around Chiang Mai tend to be less touristy and are preferred for longer day tours. Aside from watching the elephants bathing and eating, you can witness one of their entertaining shows where the elephants kick balls, beat drums, dance and even paint – it sounds silly but they have little other use now that logging has been banned. This is one way to keep the elephants and their mahouts employed, and makes for a great family outing. Read more on Jungle Trekking
Whitewater rafting and kayaking in Chiang Mai
Chiang Mai is one of the best places in Thailand to go whitewater rafting since the nearby Mae Taeng river has an excellent run of grade three and four rapids. Several companies in town offer this experience. Siam Rivers is perhaps the most reliable, since their guides have been trained by international swift water rescue instructors. They also offer kayaking for those experienced in the sport. The multi-adventure company The Peak also offers good services. Another outfit with competitive rates is Chiang Mai Adventure. While the 8Adventures offers a variety of adventure activities including rafting, kayaking, ATV and trekking. 
Be warned!! there is a risk in this activity as whitewater sections of the river can be steep and powerful in the rainy season. Over the years there have been several fatalities, and the tour companies are rarely held responsible.
Avoid this activity in September when the river is at its strongest and full of debris. From January to June the experience is rather tame due to low water flow and often not worth the effort. Numerous tour agents in town sell these tours. You should shop around since many agents simply recommend the tour offering the highest commission but not necessarily the safest reputation. Typically they cost 1,700Baht and include lunch in the pretty village of Sop Kai – a nice day out in the jungle all things considered. There is also an excellent two-day rafting or kayaking trip down the Pai river from Pai to Mae Hong Son offered by Thai Rafting and also Cave Lodge.
Kayaking the whitewater is strictly for the experienced and expert paddler, but those who have no idea what a 'barrel roll' is, can spend a more leisurely day kayaking the upper reaches of the Ping river, on surf-style kayaks.
This a far safer and easier option for the whole family and a 'cool' option during the hot season as you navigate the creek-like parts of this river over tame rapids and through lush river banks of bamboo. The views of Chiang Dao mountain are fantastic and tours are also offered paddling the Mae Ngat Dam, provided by Chiang Mai Kayaking.
Rock climbing and caving in Chiang Mai
Rock climbing enthusiasts will be pleased to know there is great climbing at Crazy Horse Buttress, east of Chiang Mai in Mae On district. Here you'll find some first class climbing on good faces and crags. Chiang Mai Rock Climbing Adventures, run by Josh and Cat Morris and their pro team, are the best crowd to hang out with if you are serious about climbing. They can arrange trips to the face and provide all the equipment and support. They also sell gear and have a bouldering wall at their shop. This company offers all sorts of adventure trips around Northern Thailand related to climbing and caving, ensuring something for everyone and every level. Their multiday trips to the karst region of Pang Mapha (north of Pai) are particularly spectacular for caving and abseiling. 



Grand Canyon Water Park
The Grand Canyon Water Park is set amid a dramatic landscape created when landfill was dug up for use at Chiang Mai Airport. It is a fun facility built out of inflatable pontoons, climbing walls, walkways, chutes, slides and tunnels. It has been arranged in a kind of circuit and swinging ropes and jumps link the different features. Bouncing on the platforms, jumping off the pyramid into the cool waters of the canyon and sliding down the chutes are exhilarating.
Grand Canyon Water Park is designed for everybody to have a good time but safety is just as important. Visitors have to wear swim suits and life-jackets while lifeguards are stationed at key vantage points. An air-conditioned coffee shop and adjacent terrace are great spots to chill out with fruit smoothies, Italian sodas, tea or coffee shakes. Located in the southern Hang Dong area of Chiang Mai, Grand Canyon Water Park is about 20 minutes in a taxi from the Old City.
Cultural experiences in Chiang Mai
Fang Valley is a Blood Foundation social enterprise specialising in experiential travel. This small scale, grass roots organisation offers unique cultural excursions in northern Thailand. The Monk for a Month temple stay is an authentic experience within a real monastic order, while long-term hilltribe homestays provide visitors with a intensive insight into some of the fascinating ethnic cultures of the region. There are many tours, treks and community volunteer projects that can be included in your trip to Chiang Mai to add some depth to your experience in northern Thailand.
Note
: To find the best rate hotels in 
Chiang Mai
, we recommend you look online at 
Agoda.com
. They seem to be the most competitively priced of the hotels sites.
Fitness and Sports
Muay Thai – kick boxing
This ancient Thai martial art has gained prominence throughout the world thanks to a few Hollywood blockbusters. It's also popular with foreigners here in Thailand who come specially to learn, train and fight. There are boxing camps in all of the tourist areas of Thailand, including several in Chiang Mai that offer various programs and schedules. Lanna Muay Thai, run by a Canadian and several local teachers, is one option if you want to stay and focus on learning or improving your skills. Another is Muay Thai Sangha, which we recommend due to its impressive lineage of teachers and use of ancient methods. Both offer accomodation and full training programs, entering their fighters into bouts regularly. If you would rather just spectate then it's worth the 300-400 Baht entry to the regular Friday night matches at the Thai Boxing Stadium near Kawila Barracks. The fights are exciting, authentic spectacles with a great atmosphere charged up by the unique snake-charming musicians who traditionally accompany the action. Read more on Muay Thai and Gyms
Mountain biking and cycling in Chiang Mai
Bicycling is another way to appreciate this city, and finding a place to hire a bike isn't difficult in the city centre. Single speed bikes with a nice little basket on the front for your water and a map are ideal for exploring the old town and its web of ancient lanes. You'll definitely want some gears if you intend to ride up into Suthep National Park on the western flank of Chiang Mai. City Bike Rental is available around the old city. Biking around the city and up the road to Doi Suthep is managable, but if you wish to explore further afield a rented scooter is more sensible. Some companies like Click and Travel offer mellow culture-based tours into the flat suburban villages around Chiang Mai's valley.
The more adventurous may prefer to hire a mountain bike and tackle some of the superb trails on Doi Suthep – the unmistakble mountain to the west of the city. Read more on Chiang Mai Mountain Biking
Enduro biking and dirt biking in Northern Thailand
An exciting, exhilarating and very rewarding way to get deep into the rugged terrain of Chiang Mai province and the surrounding area is by embarking on an enduro-biking trip. Those without the skills or confidence can sign up for more mellow day trips using ATVs or 4-wheel buggies. Several companies in the Mae Sa Valley offer these outings. We recommend Thai Enduro Tours for those interested in embarking on a motorbike trip. Travellers who prefer to rent a bike and explore on their own, a very realistic and popular option thanks to the superb GT riders maps, should seek out Joe's Bikes on Chiang Moi road (soi/lane 2). Pop Rentals, just south of Thapae Gate on Kotchasarn road is another reliable choice offering newer bikes.
Swimming and fitness in Chiang Mai
Like the rest of Thailand, Chiang Mai can get pretty hot between March and October. If your hotel doesn't have a pool, you can use the one at Chiang Mai Orchid Hotel (next to Kad Suan Kaew Mall) for a small fee. There's also a public pool off Chiang Mai Land Avenue (444 Chiang Mai Land Village, Soi 8-10, Chiang Mai Land Rd. Tel: (053) 272 821) near the southern end of Chiang Klan Road. Top North Hotel (near Thapae Gate) also has a leisure pool open to the public for a small fee. There is also an Olympic-sized pool at the 700-Year Stadium, or you can head out to Huay Tung Tao reservoir (northwest of the city) which is a popular recreation area with the locals. If you want a quiet day by the pool, find your way to the Real Centre of the Universe, a complex with salt water pools and resort facilities in the leafy Chang Puak neighbourhood west of the city. Open: 07:00-19:00 (Daily). Entrance Fees (Adult/Children): 200/120 Baht. 
If you need to keep your 'holiday muscles' toned up, there are several gyms around town that accept walk-ins (expect to pay about 300 baht/US$10 for a session). Fitness Thailand is well equipped and conveniently located in the Computer Plaza on the northern side of the city centre moat. Power House is another professionally run gym in the Punna Plaza off Nimmanhaemin Avenue – ideal for expats living in the area.
Tennis and golf in Chiang Mai
Tennis and golf can be played at the Gymkhana Club, one of Chiang Mai's most historic sports and social venues. A large number of courts are available at the 700-Year Stadium (284 Moo 3, Chiang Mai-Fang Rd. Tel: (053) 112 052. Open: 07:00-21:00), costing 100 Baht per hour for the public with a pro shop on site. The Anantasiri Tennis Courts (90/1, Chiang Mai-Lampang Rd. Tel: (053) 222 210. Open: 06:00-20:00), Chiang Mai's largest such facility – can be found near the National Museum, while other public courts can be found at Chiang Mai Land (444 Chiang Mail Land Village, Soi 8-10, Chiang Mai Land Rd. Tel: (053) 272 821. Open: 08:00-21:00. The Cost is 100 Baht/hour) and Lanna Sports Club (Chotana Rd. Tel: (053) 221 911).
Golfing enthusiasts are really spoiled for choice in Chiang Mai with 10 courses located within an hour's drive of the city. Some are as cheap as 600 baht for round, while others are posh venues often located in magnificent resort surroundings where you might get to hobnob with a politician or army general! Some of the golf courses offer tourist packages that include clubs for rent with the greens fees so ask your hotel concierge. Caddies and golf carts come standard at every golf course in the area. Read more on Golf in Chiang Mai. 
Running and walking in Chiang Mai
Runners will find familiarity with the Hash House runners, who congregate at the Hash House bar just south of Thapae Gate (inside the moat). There's also a Hash Pub near the Mae Ping Hotel, but be warned there's actually several rival hash groups within this chapter. They are an active lot with weekly runs, some of them quite adventurous among the backwoods near the city. Chiang Mai province is a nature lover's paradise, so you may wish to seek out one of the many national parks that offer superb walking opportunities. However, as a newcomer you might need a guide to show you the trail heads as hiking maps are rare. There are numerous trails ascending Doi Suthep mountain along its base to the west of the city. The route from the Park HQ above the temple down to Monthathan falls is a popular one.

Extreme sports in Chiang Mai
The X-Centre, featured in the Amazing Race Asia, is a multi-activity centre with arguably the most fun you can have in the Mae Rim area. This popular venue offers paintball wars, bungee jumping, drift-cart tracks, zorbing and motorbiking or 4-wheel buggy excursions into the nearby mountains. A restaurant is also located onsite, professionally managed by an experienced Kiwi-Thai team. They provide hotel pickups for convenient transport right to the action. 
Yoga, meditation and Tai Chi in Chiang Mai
In Chiang Mai there are a number of spiritual and cultural activities visitors can enjoy, including yoga classes, courses on Thai cooking, massage, Buddhist meditation at Wat Ram Poeng and Doi Suithep, Tai Chi and much more. Promotional posters and brochures are easy to spot at guesthouses, hotels and posted around the city. Read more on Metaphysical Pursuits.
Fishing in Chiang Mai
Believe it or not you can go fishing in Chiang Mai at the well stocked lakes in the Sankhampeng area. Dream Lake and Paradise Lake are private fishing holes open to the public where you can hire rods and usually have success hooking a variety of species like catfish, carp, pike and tilapia. For visitors, it's most practical to arrange a day trip with the likes of Dream Lake Fishing Tours, who provide all the gear and always know where the fish are biting. There are several other small lakes in the area where Thais like to try their luck using their own equipment. Usually there is a small fee to enter, but the more they charge the better the lake is stocked.



Further reading…