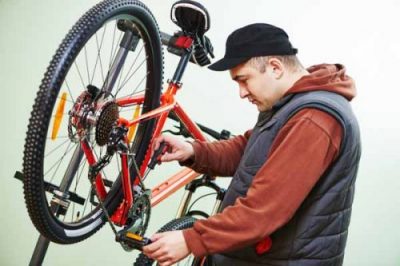 If mountain bikes are made for mountains then Northern Thailand must be their Shangri La, and Chiang Mai is certainly the capital of mountain biking in Southeast Asia. If you're into downhill or cross country you'll be delighted to discover that Chiang Mai has a keen set up for mountain biking tours, and an active group of enthusiastic expats. A daytrip mountain biking in the Doi Suthep/Pui National Park is one the most recommended activities in Chiang Mai.
The city is ideally located for convenient access to exciting downhill runs; great single tracks and brilliant riding in general. In fact, there is something for everyone here, from beginners to experts. Add to this the hospitality and charm of Northern Thailand, favourable weather and cheap facilities, and you have an ideal venue for mountain biking.
The biggest treat in Chiang Mai is undoubtedly Doi Pui; a mile high mountain overlooking the city. It's covered in downhill routes that run for 20kms or more and wind down through lush forest and lychee plantations. Tour companies transport you to the 1,700-metre summit and you end up a few hours later at the Huay Tung Tao reservoir, buzzing and ready for a dip and some lunch near the base. Hiring a bike (with gears) to ride up the good sealed road to the temple (1,000-metre climb) is also popular.
If you're living here and looking for trails, the easiest to find are behind the 700-year stadium and the trailhead begins from the dam up behind the stadium. It's pretty obvious to follow and should take you to Huay Tung Tao reservoir after following some brilliant single tracks and occasional hectic and technically challenging bits.
Southwest of the city, beyond Wat Doi Kam (across the Samoeng road), is a good network of farm roads and former hunting trails to explore, and similar stuff can be found in the Mae Rim area (near the Prem Centre international school). But the best single track in the Ping valley is behind Mae Jo University, starting from the forestry educational centre near the Doi Thaen lake. These are almost copy-book trails as they weave through the forest and throw up some nice technical stuff, yet suitable for all. To find them, it's best to first join a tour group.



Here's our recommodations:
There are several ways to get in on the action. If you're just passing through you can get your kicks with some great day trips organised by Clickandtravel, which runs cycle tours around areas of cultural influence, under the knowledgeable guidance of Dutch speaking Etienne. Typically, they meander through the flat suburbs of Chiang Mai visiting historic and cultural sites at a sedate pace, and are best suited to older people. Another option for those serious downhillers, go for X-Biking. They specialise in the rough stuff, they are a small outfit and better suited to those bringing their own bikes and familiar with the mountain.
Active Thailand is another option if you are looking for a multi-day trip with some mountain trekking thrown in, or the unique experience of riding to and staying in hilltribe villages. Alex, from Switzerland, has an unparalleled knowledge of the Northern Thailand trekking trails and has been organising tours for several years. Another option for day, or small, trips from Chiang Mai is Crank Adventures run by an affable Aussie, Damian.
For the multi-day tours, Spice Roads runs a very professional outfit out of Bangkok with week-long tours across the region, including Burma, Laos, Cambodia and Vietnam. Their Northern Thailand tour is probably the most appealing to mountain bikers, with its excellent blend of single trails, mountain riding, cultural elements, hill trekking and first-class accommodation.
Bike Shops in Chiang Mai
Chaithawat Cycles: Offers great value on accessories, and has some of the best prices in town for entry level bikes. (In the old town on the southern end of Prapaklao Road)
Top Gear: Is centrally located and sells affordable bikes, as well as good value Merida bikes. It's the easiest to find in town. (Chiang Moi Rd., Parallel (north) to Thapae Rd.)
Spin Bikes: Is a new shop with an English speaking owner, Wisut, providing a friendly, helpful and knowledgeable service. He's also a competitive cyclist and manages a local training group. (Canal road, near Night Safari)
Velocity: Is unmissable when riding up Huay Kaew road towards the Univesity end and is loaded with bikes in many price ranges. (Huay Kaew Road near Maya Mall, opposite side)
Cherry Bikes: Is tricky to find and generally sells lower end bikes but some interesting imported accessories. (Out of town on the Chiang Rai Rd., before first ring Rd., left side)
Jackie Bike: Decent selection of accessories, stocks Gary Fischer, Trek and and other good brands. Reliable prices (ask for a discount), but not much English spoken. Services bikes well. Best selection of accessories in town! (Nimmanhemin, Soi 9)
TCA: Is the newest, most professional outfit in town, with the best tools. They sell Bianchi, Kona and Louis Garneau bikes (top end stuff), and service Fox Forks. 44/1 Tevarit Rd., ChangPuak, Tel: (081) 041 5511.
Read more on renting bikes in Chiang Mai.



Further reading…