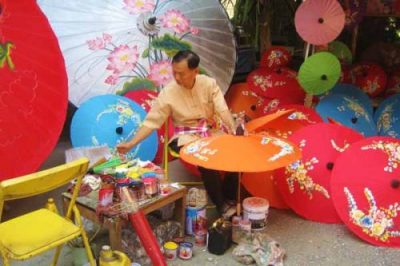 Painting umbrellas at Bor Sang
There is something for everyone in Chiang Mai, ranging from rock climbing to fine art discussions, though you'll probably want to see some of the main attractions while you are here. After all, we live here and know what's most worthwhile and how best to tailor a fun, relaxing break.
Each day of the itinerary has been divided into morning, afternoon and evening. Although we've tried to combine lively and relaxing activities, feel free to mix and match them.
Day One
Morning: Get you bearings by hopping in a Tuk-Tuk and taking a quick spin around the outside of the moat. This will place the city in perspective and allow you to admire the historic bastions and serene atmosphere. We recommend you start by seeing Chiang Mai from above, and for this you'll need to hire a motorbike (which will be useful for the next three days) or commandeer a Songtaew taxi.
Our destination is Wat Phra That Doi Suthep – Chiang Mai's most auspicious temple, seated on the mountain to the west of the city. Just follow Huay Kaew Road from the northwest corner of the moat. The 30-minute journey up the mountain reveals some excellent views and the temple itself boasts a magnificent gilded chedi. 
This temple is one of the most reverred in all of Thailand, attracting scores of foreign and Thai tourists. It dates from the 15th century and the serene courtyard and views are most impressive. Remarkably, the road to the top was only completed in the early 20th century!
While up here, be sure to visit The Bhubing Palace, with its lovely gardens and refreshing climate. An intriguing Hmong village is also up here. On the way down, stop at the base to visit the lovely Huay Kaew Waterfalls, where you can literally enjoy lunch seated near the jungle. Monthathal Falls (Two kilometres up from the base) are also worthwhile (despite the 400 baht entry fee). There is also a decent zoo at the base of the mountain (Duration: 3 hours).
Afternoon: No doubt you'll be exhausted and Chiang Mai has the prefect remedy; a traditional Thai Massage. There are shops all over the tourist centre – simply walk in and let them pamper you. Feeling rejuvenated, you can now really get to experience the delightful old city. Leave this for late afternoon when it's cooler. In fact, early evening is an active time when you can truly experience Lanna life by starting out at Thapae Gate and heading into the old town, zigzagging aimlessly through the quieter lanes to avoid the traffic.
Pick up a map (widely available in free tourist magazines) and head for some of the gems; the lofty ruin of Chedi Luang, the prestigious Wat Phra Singh or Chiang Mai's oldest temple, Wat Chiang Man. Stumbling upon any one of the scores of temples here can also be a delight. There are also numerous coffee shops everywhere for a refreshing iced latte (Duration: 2 hours).
Evening: Don't waste time getting into Chiang Mai's leisure atmosphere, head for one of the Riverside Restaurants, where you can enjoy a sumptuous spread of Thai food, accompanied by live music. Head east towards the river, cross over Narawat Bridge and turn left.
Day Two
Morning: Having seen for yourself the rich cultural heritage of this historical city, we recommend a tour of Wiang Kum Kam, the excavated ruins of the original settlement. It was abandoned after flooding and fell into obscurity for nearly 700 years before its recent discovery below orchards to the south of the city. Use your trusty map to find your way here; it's a little tricky and the ruins are scattered all over the neighbourhood, but they are well signposted and informative boards introduce each site. Don't miss the stately Burmese-styled Chedi Luang nearby (Duration: 2 hours).
Afternoon: Seeing as you're south of the city, it's convenient to continue onto Baan Tawai to see for yourself the incredible selection of Thai handicraft that are so superbly crafted using tradition handmade methods. Here you'll see the artisans at work, and you can catch a bite to eat and do some shopping. Simply follow the signs to Hang Dong and then Baan Tawai (20 minutes). Borsang, the village where the famous colourful Chiang Mai umbrellas are made, has a similar theme and is located in San Khampaeng to the east of the city. Also relatively easy to find, it is a 20-minute drive from the city and any number of tour guides in the city can arrange to take you to these two centres. (Duration: 2 hours each).
Evening: Speaking of unique Thai culture, you have to attend a Khantoke Dinner experience while here. These dinners are a Northern Thai entertainment speciality found nowhere else in Thailand. They are an enchanting evening of traditional Thai music and dance, preformed as you eat, Thai style – seated on the floor. Northern Thai delicacies and dishes are served under the roof of an exquisite Thai-architecture pavilion. Most hotels and guesthouse in the city can arrange this for you.

Day Three
Morning: You're probably a little tired of history and culture by now, but luckily Chiang Mai has more to offer. To appreciate the beautiful nature and mountainous scenery of Northern Thailand (even during a short stay), head for the lovely Mae Sa Valley, a 40-minute drive north of the city.
Follow the road to Mae Rim town and look out for the signs bearing off to the left, or arrange for a guide to take you. This lush landscape in the Doi Suithep/Pui National Park is home to an Mae Sa Elephant Camp, the Queen Sirikit Botanical Garden, Orchid Nurseries, Monkey Show, a Snake Farm, ATV Adventures & Bungy Jumping. It sounds a little commercial, but it has all been discreetly developed in a natural environment, along with restaurants, photo opportunities and picnic spots.
The highlight of the area is the magnificent multi-tiered Mae Sa Waterfall, and if you continue on the road to Samoeng, you'll loop round behind Doi Suthep mountain and return to Chiang Mai from the south. This two-hour drive offers superb views of the mountains (Duration: 5 hours).
Afternoon: you might find yourself spending all day in Mae Sa or driving the Samoeng loop, but if you make it back early you can relax by a hotel pool (see our section on Activities). You might wish to use your final afternoon in Chiang Mai browsing some of the antique galleries, visiting one of the Museums, relaxing in a Spa, or simply wandering about the town.
Evening: by now you've figured out there are plenty of super places to eat, and after you've enjoyed another delicious Thai meal, we suggest you go shopping! The Chiang Mai Night Bazaar is a famous attraction and perhaps one of the cheapest places in Thailand to stock up on handicrafts, clothing and souvenirs. Make sure you've got your bargaining boots on, but the prices are astonishingly low and the selection enormous. The market is found along Chang Klan Road, midway between the moat and the river. Really, you can't miss it.

Further reading…