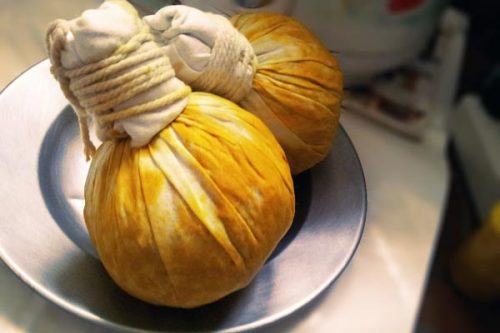 The art of Thai massage has been refined during hundreds of years of practice and passed down through generations. In Chiang Mai massage is alive and well and enjoyed by hundreds of visitors every day. The methods used date back to Indian Ayurvedic practice developed initially by Buddhist monks nearly 2,000 years ago. All across Thailand, and particularly in tourist areas such as Chiang Mai, you will find massage shops.
Here in Chiang Mai, spending an hour or two having your muscles kneaded, pushed, pulled and relaxed is an invigorating experience and banishes all the aches and pains you get from travelling, walking and sitting on long bus or air journeys.
When in Thailand, this is one experience you should certainly indulge in, and the whole two-hour experience costs less than a price of a gym workout in your home country. 
Those giving massages in Chiang Mai are properly (though not always) trained and very skilled with their hands, offering a genuine muscle rehabilitation experience. If you are more interested in massage as a 'naughty' activity, you should rather visit our page on 'Dirty Massages'.
Note:
To find the best rate hotels in
Chiang Mai Old Town
, we recommend you look online at
Agoda.com
. They seem to be the most competitively priced of the hotels sites.
Types of Thai Massage in Chiang Mai
Thai Massage: Which involves vigorously treating more than 100 areas of the body, using hand pressure and the masseuses' own body to apply forces that aim to work pressure points and realign energy lines in the body. Ideally, this process takes at least two hours and can be a little uncomfortable at times, but leaves you feeling very relaxed.
Oil Massage: Is gentler than Thai massage and involves deep muscle tissue treatment using specially blended therapeutic oils. Of course it leaves you a little oily afterwards, requiring a shower to freshen up, but can be a very sensual experience. It's also gentler than Thai massage.
Foot Massage: Works the internal organs of the body through manipulation of pressure points on the soles of the feet in much the same way as reflexology. This is another skill that has been passed down and can be quite effective in producing a mild detox effect on the body. At the Night Bazaar and Sunday Walking Street in Chiang Mai foot massage is widely available and a popular relief for tired feet.
Many places also offer massages specialising in specific parts of the body, such as the hands and head, along with some creative treatments like hot compress massage and four hands massage.
Thai massage focuses on 10 energy points in the body, known as sen, though there are over 70,000 recorded sen in all. It differs from other forms of massage in that there is a focused spiritual aspect involved, and a properly trained masseuse will conduct a short prayer before commencing in order to focus their energy on the task. Aspects of yoga are incorporated in the massage, bending and twisting the torso to 'reset' the muscular-skeletal position. The procedure is a slow and patient one, with most attention given to areas that are most muscular, such as the thighs. There aren't many brutal movements in this form.
The most active tool in a masseuse's arsenal is the thumb, however; as with the fingers, there is indirect pressure applied and the ball of the digit is used rather than the tip. A correctly trained Thai massage practitioner will avoid sensitive areas such as the knees. If you have ailments or chronic problems sensitive to body pressure, you are advised to receive your massage from a professional spa, where the masseuse will usually quiz you beforehand so as to avoid anything painful and harmful. It's also not advised to go for a massage directly after eating.



Thai Massage Shops in Chiang Mai
In Chiang Mai, you can find plenty of massage shops liberally scattered throughout the tourist centres, advertising themselves with a large reflexology diagram outside. Some are them are very simple, consisting of a couple of mattresses on the floor, with clean linen, though this doesn't suggest the massage will be inferior. In general, older women are the most experienced and skilled at giving massage. Those that display a selection of young ladies outside are less likely to give you a proper Thai massage.
Hotels and spas offer a more luxurious environment, with nicely decorated private cubicles, scented clothing and soft music, as well as more of a guarantee that the masseuse is a good one. However, they are typically two or three times more expensive and not necessarily any better. Usually a Thai massage in Chiang Mai will cost 120 Baht an hour and a foot or oil massage is 200 Baht an hour in the small shops.
Courses in Massage are also popular, taking about two weeks to become professionally qualified at one of numerous schools in the city.
Here are some recommended massage places, but please also refer to our Spa Recommendations for a truly professional massage:
Lek Chaiya: A well established place, centrally located, and the proprietor, Lek, has several decades' experience teaching and giving deep tissue massage. 55/4 Sirithorn Rd., ChangPuek. Mobile: (087) 272 6988, Email.
Baan Nit Massage School: A highly experienced and knowledgeable lady whose methods of deep tissue and herbal massage have been passed down through many generations of Chinese healers. 78/4 Moo 3, Nonghoy, Muang. Mobile: (084) 714 5416, Email.
Let's Relax Spa: An upmarket place near the Night Bazaar offering a range of spa treatments, or simple massage, at premium rate. Chiang Mai Pavilion Branch: 145/27, 145/37 Changklan Rd., Tel: (053) 818 498. Open: 10:00-Midnight. 
The Old Medicine Hospital: Can be a little difficult to find but is perhaps the most professional place in the city and has a full training course with expert and very experienced massage practitioners. 238/1 Wuolai Rd., Tel: (053) 201 663, Email.
Paradise Massage & Spa: Gay massage and a classy place with Lanna-styled decoration and all-male staff. They are conveniently located near Thapae gate, with private rooms, and offer a professional massage. 59/1 Chang Moi Kao Rd., Tel: (053) 874 334, Email. Open: 10:00-Midnight.
Wild Orchid Massage: One of many massage shops lining the salubrious 'Loi Kroh' street, but has a classy interior and professional massage ladies. A few minutes' walk from the Night Bazaar. 70 Loi Kroh Rd., Mobile: (084) 484 5080, Email. Open: 08:00-Midnight.



Further reading…