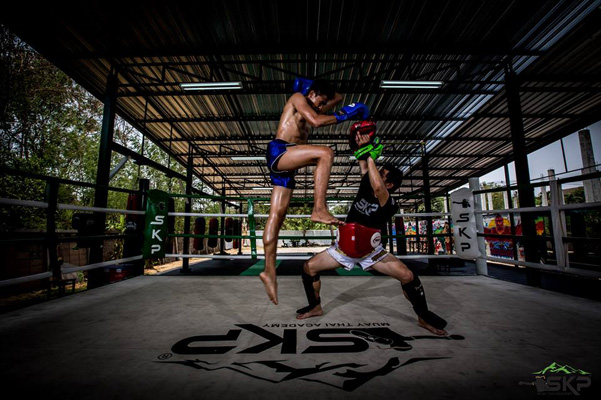 Taking a course is another popular activity in Chiang Mai. The city is ideal for lingering a week or two to update your skills or simply have some fun learning something new. Whether it's a one-day Thai cooking course or a month-long meditation retreat, there are courses to suit all interests and time schedules.
Muay Thai courses 
The Lanna Muay Thai Boxing Camp in Chang Khian (near the university – Lanna Kiat Busaba Muay Thai Camp) is popular among both men and women wishing to learn or hone their skill in Thai kickboxing. Set up by a Canadian, Andy Thomson, and his wife Pom, the camp gets you in shape with daily fitness and sparring routines, along with a number of highly experienced fighter trainers. Training and tuition is provided for beginners.
There is a reasonable daily rate for attendance and participants are encouraged to spend a reasonable time here. The daily routine occupies about five hours a day, including the taking of meals and undertaking cultural practices. Most participants stay in the nearby Up North guesthouse. The Muay Thai Sangha Arts is an equally serious outfit which follows a long tradition of Muay Thai training, and teaches a deeply traditional approach to the art, including history, philosophy and various styles. They boast some experienced and respected teachers. 
Read more on Muay Thai and Gyms
Thai Cooking Courses
There are several cooking schools that offer excellent one-day courses in preparing Thai cuisine that include visits to the market to provision and learn about unique vegetables, herbs and spices commonly used in this region. The original school is the Chiang Mai Thai Cookery School which is conveniently located near Thapae Gate and teaches you how to prepare a number of standard Thai dishes, such as green curry, tom yum and papaya salad.
Other schools include BaanThai Thai Cookery School, Siam Rice Thai Cookery School and Thai Kitchen Cookery Centre.
You'll also find Ms. Yui at A Lot of Thai to be a fun tutor with a great website. For a more exclusive experience try the Rim Tai Kitchen Cooking Academy. 
Each school offers standard one-day courses, and selected schools offer a variety of programmes which include vegetarian cooking and preparing Thai desserts. Rates vary from 900-1,200 baht (one day) and many of the guesthouses advertise courses offered informally by an endless supply of local kitchen maestros.
Note: 
Hotels in Chiang Mai
offer some of the best value in Asia for comfort and style, and we've lined up the web's biggest room booker, 
Agoda.com
, for an instant search. Dozens of cheap guesthouses are also listed.
More Cooking Schools in Chiang Mai
Air's Thai Culinary Kitchen
9/1 Nongprateep Road, Muang, Chiang Mai 50000
Tel: 053-249 326, website 
Asia Scenic Thai Cooking School.
31 Rachadumneon Soi 5, Chiang Mai 50200
Tel. 053- 418 657, website 
Thai Farm Cooking School
38, Soi 9 Moonmuang Rd., Sriphoom, Chiang Mai
Tel: 081 288 5989
Zabb E Lee Thai Cooking School
6 Moo 8 Sriphoome Soi 8 Sriphoome, Chiang Mai 50200
Tel: 093 267 9572
Thai Orchid Cookery School
1/1 Soi 8 Prapokkloa Road Prasing, Chiang Mai
Tel: 080 499 8090
Pantawan Cooking
201 Moo 2m T. Mae Hia, Chiang Mai 50100
Tel: 085 032 2007
Siam Rice Thai Cookery School
211 Moo 13 Soi 5 Canal Road, Suthep, Chiang Mai 50200
Tel: 085-038 8600
Galangal Cooking Studio
91/3 Suriyawong Rd., Wat Ket, Chiang Mai 50000
Tel: 091-301 2029
Tom Yum Thai Cooking School
1/4 Charoen Phathet Rd. Soi 12, Muang, Chiang Mai 50100
Tel: 083 577 9515
Baan Thai Cookery School
11, Soi 5, Ratchadamnean Road, Sriphum, Chiang Mai 50200
Tel: 053-357 339
Smart Cook
17 Rachadamnuern Rd. Soi 1 T. Sriphum A. Muang, Chiang Mai 50200
Tel: 083-761 3134
The Best Thai Cookery School
Muang, Chiang Mai
Tel: 089-755 2632



Thai Language Courses 
If you're planning to stay longer in Chiang Mai, you may wish to tackle the tonal gymnastics of spoken Thai. Despite the confusion of multi-tones to correctly pronounce one of several similar sounding words, the grammar is remarkably simple and it's not difficult to quickly start stringing sentences together. The locals will love you for it and are very non-judgemental of 'pidgin' language. Taking Thai language courses is fun and you may even want to impress your friends by learning to read and write Thai, with its 46 consonants and 32 vowels!
Language Institute Chiang Mai University offers the 1-Year Thai Language and Culture course (focuses on introducing both Thai Language and Culture). The course fees is 30,000 Baht for 216 hours of instruction.
A.U.A Language Center near Tapae Road (Rachadamnoen Road), is one of the most popular and convenient places to learn. Course Offerings: Group Class Fee 5,300 Baht for 60 hous. Individual Class Fee 340-500 Baht for the minimum of 25 hours.
Payap University Language Enhancement Center is one of the most popular and respected Thai language courses for foreigners in Thailand. Cost Fees: One course (60 hours) 8,000 Baht, Two successive courses (120 hours) 15,500 Baht, Two successive courses (120 hours+document for visa application) 20,200 Baht.
Easy Study Thai Chiang Mai Language School: Pantip Plaza Mall, 3rd Fl., 152/1 Changklan Rd., Muang, Chiang Mai 50100, Tel. 052-001 479
Walen International: 12 Huay Kaew Rd., Chang Puek, Muang, Chiang Mai 50000, mphur Muang, Chiang Mai 50000, Tel : 053-405 393 to 4.
Language Institute (Chiang Mai University): 239 Hauy Kaew Rd., Muang, Chiang Mai 50200, Tel : 053-943 751.
Thai Massage Courses
Thai massage courses usually last a week and are offered by several places near the town centre. However, those people hoping to earn money from the skill back in their home country should follow the example of serious massage practitioners and choose Thai massage courses that are certified. 
Thai Massage School Shivagakomarpaj (The Old medicine Hospital) is a well established and popular venue, opposite the Old Chiang Mai Cultural Centre, that offers courses 5,000-6,000 Baht. Their focus is on traditional Northern style massage. Address: 238/1 Wuolai Road, Haiya, Muang, Chiang Mai, Tel. 053-201 663, Website
Baan Nit Massage School is more practical for the experienced masseuse looking to learn new techniques, particularly related to deep tissue and nerve rehabilitation using herbs and ancient techniques. Courses are 1day to 30days, and cost 1,000-15,500 Baht. Address: Nong Hoi, Chiang Mai, Website
Lek Chaiya specialises in jap sen (deep touch) massage and the instructor, Khun Lek, has more than 35 years of experience. Basic course 3 days 7,000 Baht. Address: 25, Ratchadamnoen Road, Muang, Chiang Mai 50100, Tel: 053-278 325.
International Training Massage School (ITM) offers five-day to eleven-week ancient Thai Massage courses in Northern style, as well as various spa courses. Introduction to Thai Massage course (18 Hours/3Days): 4,200 Baht. Address: 59/9 Chang Puek Road Soi 4, T. Sri Phum, A. Muang, Chiang Mai 50200, Tel. (053-218 632, 083-763 1002, Website.
Baan Nit Thai Massage School: 78/4 M.3, Nonghoi, Muang, Chiang Mai 50000, Tel: 084-714 5416.
Body & Mind Healing School: 26 Bumrungburi, Soi 1, Suan Prung Gate, Chiang Mai 50200, Tel : 085 621 1374.
Meditation 
Many foreigners come to Chiang Mai to enter a temple and spend time learning meditation and familiarising themselves with Buddhism. The most serious option is to enter Wat Ram Poeng, which has a fairly strict but manageable 26-day basic course, although they'll settle for stays of only 10 days. Here you'll live like a monk, taking only two meals a day (none after noon), undertaking plenty of meditating, vows of silence and carrying out the usual chores expected of monks. Women and men are welcome, and accommodation is provided by small 'kuti' huts. There is no charge, although a donation is welcomed.
A recently introduced meditation facility has been added to Doi Suthep Vipassana Meditation Center is located from the city and the tourists, offering 21 day courses as taught at Wat Chom Tong. The kutis are fairly comfortable, if spartan, and the approach a little lighter and less uncomfortable for newcomers to the practice of meditation (ever tried sitting cross-legged for an hour?).
Wat Phradhatu Sri Chom Tong Voravihara is remotely located, near the base of Doi Inthanon – a 90-minute drive south, and offers strict, but popular, meditation programmes under the direction of well-known monk Ajarn Thong. There is a minimum stay period of two weeks, the environment is similar to Wat Rampoeng and there is a forest retreat nearby for serious practitioners.
At all three, you can simply show up, instructions are very basic and the activities deliberately slow and boring to help you focus on the present moment – in keeping with the teachings of the Buddha.
The Middle Way Meditation is an entire village devoted to meditation, and for those who are serious about their meditation then this is the place to come. Set in quiet, peaceful surroundings, The Middle Way is perfectly suited for those in need of a real escape from the hustle and bustle of the real world. The seven day courses provided will leave you refreshed, relaxed and possibly even enlightened!
Rock Climbing 
Chiang Mai Rock Climbing Adventures, if you fancy scaling some of the peaks that surround the city then Chiang Mai Rock Climbers have the expertise to make you more skilled and confident. Expeditions involving caving, climbing and high-rope activities to encourage leadership and cooperation among participants, as well as a really unique experience. 
Cultural Experiences 
Fang Valley is a Blood Foundation social enterprise in experiential travel. This small scale, grass roots organisation offers unique cultural excursions in northern Thailand. The Monk for a Month temple stay is an authentic experience within a real monastic order, while long-term hilltribe homestays provide visitors with a intensive insight into some of the fascinating cultures of the region. There are many tours, treks and community volunteer projects which can also be included.



Further Reading…