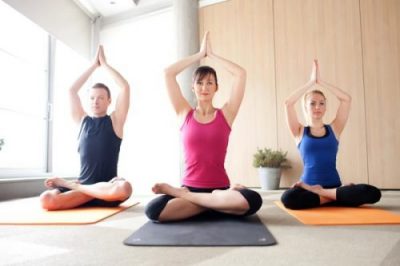 With its laid back atmosphere and cheap living, Chiang Mai attracts plenty of travellers who come to spend time practicing metaphysical pursuits. Ancient Asian martial arts and wellbeing routines are offered along side more contemporary activities and there are plenty of instructors, studios, retreats and workshops or courses run by locals and foreigners alike.
The city is literally teeming with venues offering the likes of massage, meditation, yoga, tai chi, reiki, qi gong and acupuncture, many of which are owned and operated by western expatriates with impressive teaching résumés. Whether you are a novice, intermediate or accomplished practitioner of a specific discipline, Chiang Mai's metaphysical pursuit scene is capable of accommodating your needs. There are numerous posters in guesthouses and vegetarian or bohemian restaurants offering details, here are some suggestions.
Yoga in Chiang Mai
Yoga is available in many forms in Chiang Mai, including ashtanga, hatha and vinyasa, plus more obscure variations. Many of the city's gyms offer yoga classes, but if you are looking for an intensive course with an English-speaking teacher, then you'll need to try venues such as Yogasala on Ratchamanka road or the Yoga Studio on Arak road.
Teachers at these venues are highly accredited and knowledgeable in many aspects of Eastern health practices. There are numerous foreigners who decide to stay, and offer yoga classes.
Note: 
Hotels in Nimmanhemin Chiang Mai
offer some of the best value in Asia for comfort and style, and we've lined up the web's biggest room booker, 
Agoda.com
, for an instant search. Dozens of cheap guesthouses are also listed.
Buddhist meditation in Chiang Mai
Known also as Vipassana, this is especially popular here, with several of the city's larger temples (Wat) offering residential courses with English-speaking monks as mentors. Vipassana is usually undertaken for a minimum of 10 days and requires considerable dedication and self-discipline. It's tough going and they don't respond well to people leaving early, but you'll certainly feel the benefit when it's all over.
Wat Ram Poeng off the Canal road, southwest of the city, is perhaps the best known vipassana centre in Chiang Mai. There is also a programme offered at Wat Phra That Doi Suthep on the mountain, but space is limited and pre-booking is recommended.
Tai Chi and Qi Gong in Chiang Mai
Tai chi is a popular passive martial art aimed at restoring and channelling the Chi (Energy) in the body and has its roots in China. There are several classes available here, as well as a free evening excercises offered in public parks for locals, which are less precise.
Pronounced Chi Kung, the other energy-based activity involves breathing exercise rather than full 'movements' and courses and venues are more difficult to find. This practise goes hand-in-hand with tai chi so is offered as part of those courses. There are both Thai and Western teachers offering courses in these disciplines with options for learning on either a drop-in or residential basis.
The Tai Chi Chuan Essential Postures Training offers a 40 hours/8 Days 'Tai Chi Intensive Health and Longevity Course' at their Naisuan House, east Chiang Mai. Master teacher Herman runs private classes from his residence in south Chiang Mai and is also an experienced acupunture practitioner.



Reiki in Chiang Mai
This is offered at the Asian Healing Arts Center, out in Hang Dong-Nampreh, where they offer a variety of well being programmes, including a bio energetics centre and some expereinced Reiki practitioners. Wrio Russell is another who offers treatment and course at his central Chiang Mai location, though he spends time equally in Chiang Mai and London.
Thai massage courses in Chiang Mai
These are popular and offered by several respected places and people in the city; the most famous being the Old Medical Hospital near the Airport Plaza. Massage is offered at numerous small shops in the tourist areas, where you'll get more assurance of quality at the spas, but they are quite a bit more expensive and offered all sorts of exotic treatments.
Many of the city's exclusive resorts and spas now offer alternative health practices as part of organised programmes, providing visitors with the opportunity to dip their toes into practices based on Eastern and alternative philosophies. Establishments such as The Dheva Spa and Wellness, RarinJinda Wellness Spa & Onsen Resort and Amaravati Ayurveda Spa (100 Mae Sa-Samoeng Rd., Rim Tai. Tel: (053) 299 323) target business clients, retirees and affluent package holiday makers, offering yoga and meditation alongside Thai massage and a wealth of other health benefiting therapies. 
In addition to well known conventional practices, there are frequently retreats, workshops, womens weekends and multi-discipline courses on offer, advertised by posters in the guesthouse areas. The notice board at the Blue Diamond Restaurant is a good resource where most details are posted.
Visitors wishing to explore the metaphysical pursuits on offer in Chiang Mai should exercise caution, however. Chiang Mai attracts a large number of drifters, among which are folk claiming to be experts in alternative practices and looking to make a fast buck before moving on to their next destination.
Ask around before you agree to employ someone's services and be wary of anyone offering instruction at unusually cheap rates and practicing from an apartment or other unauthorised premises. Like anything in life, you get what you pay for so take the time to make enquiries before you commit your time and money.
Further reading…