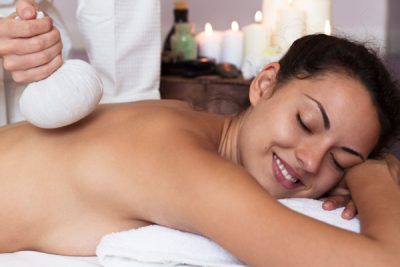 There are many options for day spas in Chiang Mai, ranging from the full luxury treatment to more down-to-earth treatment with matching prices. In fact, Chiang Mai is an ideal place to indulge yourself since its spas offer some of the best value in all of Thailand.
The Thais do the spa experience very well, including their own Thai massage treatments delivered with their usual pleasant and soft character at a fraction of the price back home.
The growth in spas in Thailand in recent years reflects the Thais' expertise in creating a relaxing, tropical environment and offering a pampering experience. An afternoon spent in these peaceful spas of Chiang Mai is certainly a rejuvenating reward. The following are some of the most popular spas in town:
Cheeva Spa: Featuring alarger and more luxurious premises, Cheeva Spa continues to offer the best possible massage and beauty treatments in Chiang Mai. Customers from around the world return year after year for the wonderful service that Khun Parisa and her staff provide. Open: 10:00-21:30, 4/2 Hussadhisewee Rd., Sriphum. Tel: (053) 405 129.



Rarinjinda Wellness Spa and Resort: Relatively new facility with a new standard in independent spas opposite the Riverside restaurant. Unlike the lovely landscaped atmosphere of others, this is an actual live-in centre with a luxurious resort/hotel and fully-equipped spa, all in one modern building. These professionals offer a complete wellness experience. 14 Chareonraj Rd., Wat Kate, Tel: (053) 247 000.
Peak Spa: Pampering yourself at the luxurious Peak Spa is the perfect antidote to the hustle and bustle of city life. The chic and contemporary settling is matched by the first class service received. Hair cuts and colouring, and pedicures and manicures are all available from expert staff. Open: 10:00-22:00, 187/13 Chang Klan Rd., Tel: (053) 818 869.
Oasis Spa: Over the past few years this award-winning spa has become one of the leading spa groups in Thailand and now has four well-appointed branches. Facilities include a Jacuzzi and steam bath and they offer a range of packages to suit all budgets and time scales, in nice surroundings. Chiangmai Oasis Spa – 102 Sirimuangkarajan Rd., Tel: (053) 920 114.
Kiyori Spa: Is conveniently situated in a lane just near Thapae, for you to pop in yourself, and has a a luxury feel to the place including some unique (and rather bizarre) packages, such as the chocolate massage. They get good reviews on TripAdvisor despite being relatively new. Very professional website. Open: 10:00-22:00, 26/1 Soi 2, Chang Moi Rd., Tel: (052) 003 268.
Ban Sabai Village: Located on Charoen Prathet road alongside the river, this Chiang Mai spa offers a relaxing retreat with affordable prices in a convenient location. They also have a resort spa outside the city in San Phi Sua, if you need to get away from the hustle and bustle. 219 Moo 9, San Pee Sua, Tel: (053) 854 778–9.
Nakara Spa: Intimate hotel and resort constructed in elegant 19th century colonial style. It boasts a quiet ambience, while refined architecture bestows a peaceful atmosphere from which it is possible to explore historic Chiang Mai. Natural materials have been used throughout the 19 guest rooms and the standard of ayurvedic spa treatments and organic products mirrors this exquisite attention to detail. Open: 10:00-22:00, 135/9 Charoenprathet Rd., Chang Klan. Tel: (053) 252 101.
The Dheva Spa and Wellness Centre: The ultimate in luxury, in the exceptional grounds of the Dhara Dhevi, this is not only the last word in posh, but is also housed in an extraordinary recreation of a Mandalay temple. It is a tad expensive but offers high quality treatment suites, with staff trained to the highest level in ayurvedic and health treatment methods. Open: 09:00-22:00, Dhara Dhevi Hotel, 51/4 Moo 1, Chiang Mai-Sankampaeng Rd., Tasala. Tel: (053) 888 888.
Pavana Spa: Sprawling resort dedicated entirely to well being practices, set among a pretty hillside lychee grove north of the city. It offers an holistic approach to health based on programmes developed by well know practitioner Guy Hopkins. Spa treatments, detox, meditation, yoga, nutrition training and exercise are all on the menu, much more than day spa. Open 09:00-21:00, 196 Huay Sai, Mae Rim. Tel: (053) 920 888.
Four Seasons Spa: Hotel spa offering a five star service, chosen as the 'World's Best Spa' by Conde Nast Traveller (UK) in the 2007 Reader's Award. It features seven spacious treatment suites offering total privacy for individuals or couples and a host of rare products and special treatments. No detail has been spared in this venue to create the ultimate atmopshere and experience. Open 09:00-21:00, Four Seasons Resort Chiang Mai, 502 Moo 1, Mae Rim, Tel: (053) 298 181.
Tao Garden Health Spa & Resort: Remotely located spa with a good detox and slimming program, including chi organ massage, karsai genital detox massage, deeper skin detox and a herbal skin detox. Their scientific approach to health is blended with a natural environment and they are located in a lovely natural setting outside Chiang Mai. 274 Moo 7, Luang Nua, Doi Saket. Tel: (053) 921 200.
Spa De Siam: For those on a budget who can do without the boutique gardens, this small spa offers massage, facial treatment and other programmes at prices more in line with massage shops, yet with a quality service and friendly staff. Located near the Night Bazaar. 62/3 Charoen Prathet Rd., Chang Klan. Tel: (053) 820 312, Mobile: (084) 372 0713.



Note on Chiang Mai Spas
These are some of the best spas in the city and a few hours in one of them can cost anywhere from 2,000 to 8,000 baht. There are dozens more to choose from, though, and many modest places that are actually massage and beauty salons passing off as spas. Some also sell spa products produced locally, while others have created a spa-like environment and can offer relaxing treatments which might suit the pockets of the budget traveller. If you're short on time or money, then settle for one of the massage shops we also recommend.
For those who are more interested in learning about how to give spa treatments or Thai massages, there are also courses available. These can range from one-day 'experience'-type courses to full-blown certification courses that can take up to three months to complete. A very popular and renowned massage school is the Thai massage school of Chiang Mai (203/6-7  Chiang Mai-Mae Jo Rd., Tel: (053) 854 330, Email). It has a course to suit your interest, budget and time. A full accreditation course is also available and the massage school also offers massages – it is sometimes possible to get free massages from the students as well, but these have to be booked in advance.
More Spas in Chiang Mai
Fah Lanna Spa 
57/1 Wiang Kaew Rd., Chiang Mai 50100. Tel: (053) 416 191. Website.
Women's Massage Center by Ex-Prisoners 
35 Jhaban Rd., Sri Phum Subdistrict, Chiang Mai 50200. Tel: (093) 984 0532
Oasis Spa Lanna 
4 Smalan Rd., Phrasing, Chiang Mai 50200. Tel: (053) 920 111
Deep Relax Thai Massage & Spa 
80/3 Ratchadamnoen Rd., Sriphoom, Chiang Mai. Tel: (082) 682 1599
Mandara Massage & Beauty
Top North Hotel, 48 Chaiyapoom Rd.,Thapae Gate, Chiang Mai 50200. Tel: (090) 671 3316
Peak Spa 
187/13 Changklan Rd., Chiang Mai 50100. Tel: (053) 818 869. Website.
Oasis Spa Chiang Mai 
102 Sirimanklajarn Rd., Suthep, Chiang Mai 50200. Tel: (053) 920 111. Website.
Loi Kroh Massage School 
1/3 Loi Kroh Soi 3, Chang Khlan, Chiang Mai 50100. Tel: (053) 449 643
Lila Thai Massage 
Prapokklao Rd., Chiang Mai. Tel: (053) 327 043. Website.
Nakara Spa 
135/9 Charoenprathet Rd., Chiang Mai 50000. Tel: (053) 252 101. Website.
Health Lanna Spa 
29/2-3 Singharaj Rd.,Sri Phoom, Chiang Mai. Tel: (053) 326 212-3
Lanna Spa at Four Seasons Resort Chiang Mai 
Mai Rim-Samoeng Old Rd., Mai Rim, Chiang Mai, Chiang Mai 50180. Tel: (053) 298 181
Let's Relax-Chiang Mai Pavilian 
45/27, 145/37 Changklan Rd., Chiang Mai Night Bazaar, Chiang Mai. Tel: (053) 818 498
De Chai Spa
64 Huaykaew Rd., Chiang Mai. Tel: (053) 215 210
Sanctuary Spa Chiangmai 
13/1 Bamrong Buri Rd., Phrasingh, Chiang Mai 50200. Tel: (053) 280 349
Lanna Come Spa 
88 Sridonchai Rd., Chang Khlan, Chiang Mai 50000. Tel: (053) 274 377. Website.
Spa Mantra 
30/11 Chareun Suk Rd., Hah Yak Santitham, Chiang Mai. Tel: (053) 226 655. Website. 
CHI, The Spa at Shangri-La Hotel
89/8 Chang Klan Rd., Chiang Mai 50100. Tel: (053) 253 888
THE SPA Le Méridien Chiang Mai
108 Chang Klan Rd., Muang, Chiang Mai, 50100. Tel: (053) 253 666
Further reading…