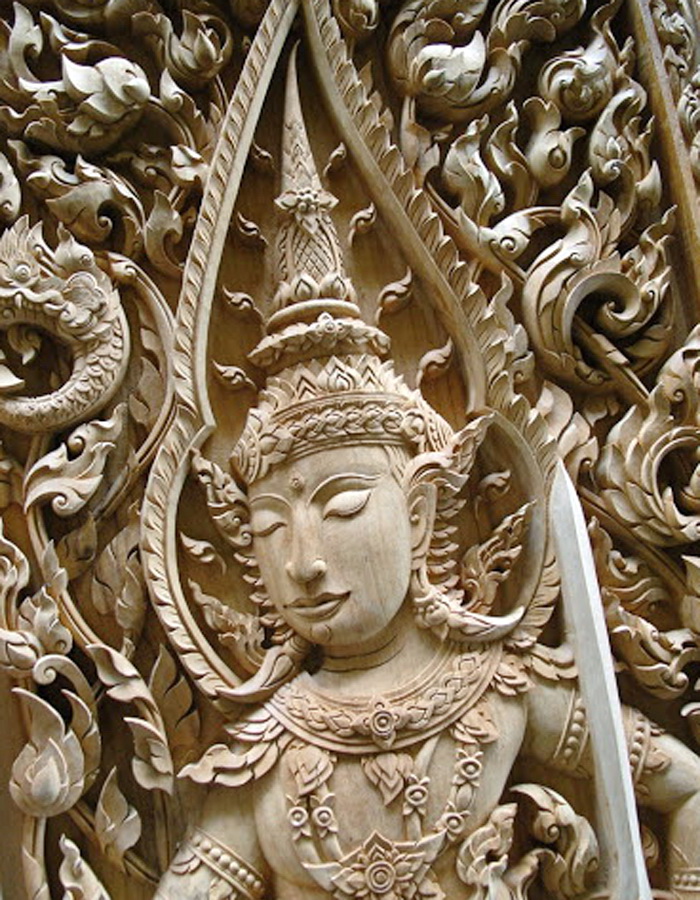 Chiang Mai is one of the handicraft centres of Asia. Many of the handicrafts you find at markets in tourist centres across Thailand come from the artisan villages close to Chiang Mai. In fact, the city has a long history in producing arty wooden objects and similar products. In recent years, the increase in tourists and a burgeoning export trade has created a boom in this cottage industry.
There is an astonishing range of delightful, good quality handicrafts and cultural souvenirs on sale at the Night Market – particularly in the Galare Centre – and the Sunday Walking Street in the old town is given over entirely to handicrafts and art, demonstrating the rich heritage of Northern Thailand's artisans. 
Most of it comes from Baan Tawai, a crafts village in the district of Hang Dong 20kms south of Chiang Mai. It's grown tremendously in recent years, but has traditionally been the centre of the handicraft trade in North Thailand and remains one of the busiest of such clusters in the entire country. An increasing number of visitors are being bussed in here from Chiang Mai for an all-in-one shopping experience.
In addition to covered arcades packed full of shops selling every imaginable handicraft you can think of, the road to Hang Dong is rapidly being lined with individual micro-factories with fantastic showrooms displaying collections of antiques and furniture. Wood is certainly the material of these craft villages.
The atmosphere in Baan Tawai is very laid back and relaxed; certainly not reminiscent of a tacky collection of souvenir stands. There are rustic restaurants and internet cafes to retreat to, plenty of traditional old wooden Thai houses to admire, some lovely show gardens full of sandstone sculptures, and lots of cute crafts at astonishing prices.
Whether you are a buying agent looking for good suppliers or a tourist wanting to stock up on souvenirs, Baan Tawai is undoubtedly Chiang Mai's best area for picking up Thai crafts. You can watch the tradesmen and women in action, arrange packing and shipping for anything from small antique Buddhas to hand-carved wardrobes, and even request custom made items.



Thai antiques in Chiang Mai
With such a rich history and impressive legacy of art and culture, it's not surprising that Thais boast a flourishing trade in antiques. Chiang Mai is especially good for seeking out Thai antiques, because there are many dealers located in the Baan Tawai area and several good dealers in the city itself.
In addition, most of these shops actually make up most of their sales revenue on reproductions, which look like the real thing but are far less valuable, rare or expensive. They do involve some sophisticated and skilled methods, though, and will certainly impress your guests with their aged appearance. Even if you can't afford real antiques, it's worth shopping for the fakes.
The Lanna Kingdom, of which Chiang Mai was the capital, stretches back more than 700 years and the evidence of that history can be seen in many antique shops around the city. Much of this is religious art designed to glorify the Lord Buddha, and Thai antiques have become world famous for preserving the early artistic expression of this important religion.
There is quite a large range in the quality and authenticity of the antiques on sale and a true dealer will have a very keen eye for genuinely valuable pieces. However, the most important indicator is whether the item comes with a certificate from the fine art department, for there has been a strict control on the export of Thai antiques in recent years. Furthermore, no properly sanctified Buddha image, old or new, can be exported without the correct permission. This includes Buddhas made for specific religious purpose.
Nonetheless, there are plenty of shops displaying a museum-like collection of aged pieces that are more affordable and would certainly look impressive in your living room. This includes sculptures of stone, copper, brass pewter and bronze, as well as pottery and porcelain, glass, furniture, silver, jewellery, farm implements, amulets and more. There are several shops on Thapae Road with a small selection, plus various home décor shops and upmarket hotel souvenir shops with selected pieces.
However, the biggest selection in one place is undoubtedly Baan Tawai and a half-day trip here is worth it if you're looking for choice. The prices are up to 50 per cent cheaper than those offered by dealers in Bangkok. Huge collections have been amassed from rural finds, controlled excavations and even smuggled in from Burma and Laos. You can also admire the many handicrafts and carved wooden products found here.
Note:
To find the best rate
Hotels in Chiang Mai
, we recommend you look online at
Agoda.com
. They seem to be the most competitively priced of the hotels sites.
Brief introduction to art periods in Thailand
The earliest period of history from which Thai antiques can be traced is the Dvaravati period, (7th to 11th centuries AD), and almost all of these are Hinayana Buddhist items. During this time, the Mon people ruled an area in Central Thailand but reached as far north as present day Lamphun, and Gupta-influenced pieces (from Indian artisans) are still found there to this day.
This was followed by the Lopburi period (7th to 14th centuries AD), which can be categorised into early Lopburi art and the later Lopburi period. Antiques from this period display a strong Khmer influence, although a distinctly different style from that of the Dvaravati period.
Pieces from the Lanna Kingdom are roughly grouped under the Chiang Saen era (11th to 18th centuries AD), based upon the important trading town still standing on the banks of the Mekhong. Little has been recorded on the earlier period in which Buddha images were profoundly influenced by styles from India, arriving via craftsmen imported from Pagan in Burma. Indeed, during this time Lanna was overrun or allied to kingdoms in Burma on several occasions, but produced an era of artistic growth.



The latter period was strongly influenced by the rise of the Sukhothai period (13th to 14th centuries AD), considered by many to be the zenith of cultural and artistic development in the area. The style of Buddha images is particularly distinctive from this period, with a serene smiling expression and remarkable body form.
Following that, the Ayutthaya period (14th to 18th centuries AD) rose to prominence and influenced the entire region before succumbing to Burmese invasion. The present artistic era, Ratanakosin, dates from the founding of Bangkok in the mid-18th century and has established its own style of religious and other art, influenced increasingly by cultures outside of Southeast Asia.
1StopChiangMai recommends:
Lanna Handicrafts
Lek and her team are a helpful agency that takes you around trusted suppliers, with a large choice. They handle all the shipping and packaging and also do the bargaining for you to ensure you aren't paying too much. 58/7 Moo 1, Mae Hia. Mobile: (081) 993 1983, Email.
Further reading…