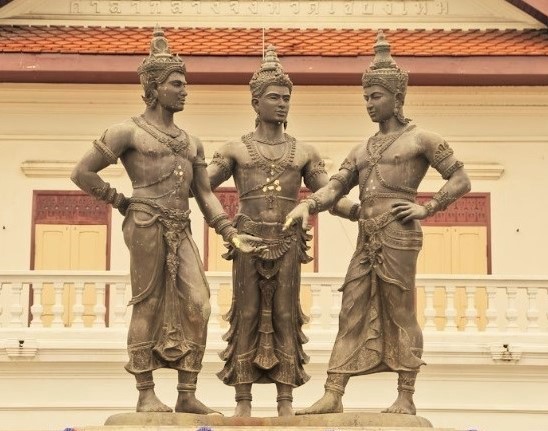 There are many museums in Chiang Mai that cover a wide range of intriguing subjects. Chiang Mai galleries are numerous also and many double as small coffee shops, displaying commendable art from students of Chiang Mai University Art Faculty.
Since Chiang Mai is also a handicraft centre, there are several galleries displaying contemporary pottery, antiques, and Lanna art. With more than 800 years of history encompassing Lanna culture, there is plenty to see in Chiang Mai museums.
Museums in Chiang Mai
Chiang Mai National Museum: The main museum in Chiang Mai is more than 50 years old and is located beside the historic Wat Jed Yod. In addition to telling the story of Chiang Mai's past through pictures and displays, it also has a well-catalogued and preserved collection of artefacts, including Buddhist icons, pottery, weapons and household/agricultural items from Lanna society of the past. Recently renovated, Chiang Mai National Museum has two floors, with additional branches in Lamphun and Chiang Saen; equally-historic Lanna cities. Open: 09:00-16:00 (Wednesday-Sunday), Entry: 100 Baht, 451 Super Highway, Chiang Mai-Lampang Rd., Tel: (053) 221 308.
Tribal Museum of Chiang Mai: Established in 1965 and recently moved to new premises in the pretty Ratchamankla Park, this museum documents the lives and cultures of northern Thailand's unique hill tribes, including the Hmong, Karen, Akkha, Lisu, Lahu and Mien. An impressive range of colourful costumes, unusual accessories and jewellery, tools, utensils, musical instruments, and general rural paraphernalia is on display and the story of each of these ethnic minorities is well told, unique, and certainly worth visiting. Open: 09:00-16:00 (Daily), Chotana Road Rd., Chang Puak, Tel: (053) 210 872.
Siam Insect Zoo: A bizarre and worthwhile trip for the whole family, with a commendable collection of astonishing insects of all shapes and sizes. Personal tours in English are available from the eccentric owner, with special emphasis on the extensive research into mosquitoes by him and his PhD-qualified wife (displaying all 422 varieties of mosquitoes found in Thailand). Open: 09:00-17:00 (Daily), 23/4 Mae Rim-Samoeng Rd., Mobile: (089) 184 8475, Email.



Dara Phirom Museum: A curious insight into the life of a Thai Royal over 100 years ago, this cultural museum displays (almost entirely) the Chiang Mai home of Princess Dara Rasmi, who was a consort of King Chulalongkorn and half-sister of the chief Prince of Lanna at the time. She played a key role in maintaining cultural practices in Chiang Mai, collecting many beautiful pieces of furniture and art, with much of it shown at this small museum out of town. Open: 09:00-17.00 (Tuesday-Sunday), Entry (Adult/Children): 20/10 Baht, Rim Tai, Mae Rim. Tel: (053) 299 175. 
Mon-Fai Museum: A relatively low-key gem tucked away in Mae Rim suburb, this antique house has been lovingly preserved by Ajarn Rumpat Kodhikaew. This 'fabric museum' authentically recreates period costume of the Northern Thais through the ages, including the many variations of local tribes and their colourful outfits. It has frozen old Lanna culture in time, displaying costume and traditions that are seldom seen today. 6 Patan Rd., Tel: (053) 110 145, Email.
Chiangmai Dolls Making Center: A curious collection of Asian dolls, located in a fine, new building in the Baan Tawai crafts centre. It is associated with a production centre that specialises in dolls as a handicraft, and this charming museum displays all sorts of dolls, both old and new. It's a bit out of the way but can be combined with shopping trip to Hang Dong. 187/2 Moo 9, Ban Dongkhilek, Makhamluang, Mobile: (081) 465 556, Email.
Hall of Opium: Although this world-class museum is not in Chiang Mai, it presents a very good reason to visit the Golden Triangle – north of Chiang Rai. Built at a cost of more than US$1 million, this extensive museum provides an excellent multi-media background to opium, including its use in the region, the opium wars, and more. Open: 08.30-16:00, Entry: 200 Baht, Golden Triangle Park, Moo 1, Sop Ruak, Chiang Rai, Tel: (053) 784 444-6.
Note:
To find the best rate hotels in
Chiang Mai downtown
, we recommend you look online at
Agoda.com
. They seem to be the most competitively priced of the hotels sites.
Galleries in Chiang Mai
Chiang Mai is a very good place to pick up exclusive interior décor art pieces, with plenty of Asian antique and art dealers in town. There are many shops promoting themselves as galleries, especially along Thapae Road and in the Night Market vicinity. Some have very beautiful, expensive and exclusive items on sale. In fact, Chiang Mai has a particularly arty atmosphere, largely due to Chiang Mai University art students who all dream of opening little coffee shops in order to display their work.
Here are just a few galleries in Chiang Mai in which to view art displays and pick up a few exclusive pieces:
Chiang Mai Faculty of Fine Arts: A busy venue for student art exhibitions, including performances and private displays. Faculty of Fine Arts (Chiang Mai University), 239 Suthep, Huay Keaw Rd., Tel: (053) 944 805, Email.
Gong Dee Gallery: Home décor shop with superb taste in interiors and exclusive ranges. Open: 08:00-20:00 (Daily), Nimmanhaemin Soi 1, Tel: (053) 225 032.
Studio Naenna: Long-established purveyor of hand-woven silk and cotton fabrics and garments. Main Gallery – Open: 09:00-17:00 (Monday-Friday), 138/8 Soi Chang Khian, Huay Kaew Rd., Tel: (053) 226 042.
The Gallery: Doubles as an upmarket restaurant in a 100-year-old riverside teak house with fine objects d'art on display. Open: 12:00-01.00 (Daily), 25-27-29 Charoen Raj Rd., Tel: (053) 248 601-2, Email.
The Writers Club & Wine Bar: frequently displays collections from commendable artists who are associated with Chiang Mai. Open: 12:00-Midnight (Sunday-Friday), 141/3 Ratchadamnoen Rd., Tel: (053) 814 187, Email.



Further reading…