With a legacy of 700 years of history and its own distinctive culture Chiang Mai offers its five million annual tourists a busy brochure of attractions. Only Bangkok has more urban sites to point your camera at, and this laidback city offers numerous stunning temples, waterfalls and national parks, ancient ruins, fascinating markets and animal parks for family fun.
To visit all the popular Chiang Mai tourist attractions, you would need several days; we have listed the main ones here in order of importance and popularity. Renting a moped and finding your own way around is practical, although a tour guide is useful to impart interesting history and mysticism behind the city and its attractions.
TEMPLES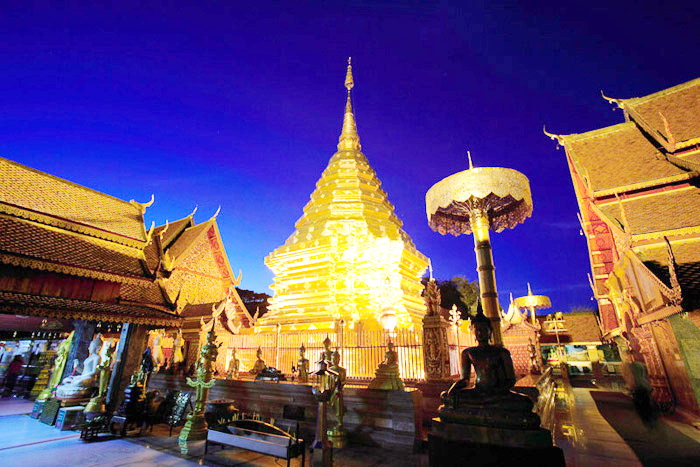 Wat Phra That Doi Suthep
This is one of Thailand's most famous temples, overlooking the city from its spectacular mountain location. The winding road up to the temple passes a couple of nice waterfalls and the view from the temple platform is impressive.
The site dates from 1386 and is revered among Thais as one of the country's most important religious sites. With its distinctive gilded chedi and marble-floored courtyard, the temple is full of symbolism and is usually busy. If the 300 steps leading up to the temple are too much for you, a lift offers a quick shortcut.
On the way up to the temple, it's worth looking at Huay Kaew and Monthathal Falls – a meditation centre is attached to the temple and food, drink and souvenirs are on sale at the entrance. Open: 06:00-18.00. Entry fee: 30 Baht, Tel: (053) 295 002.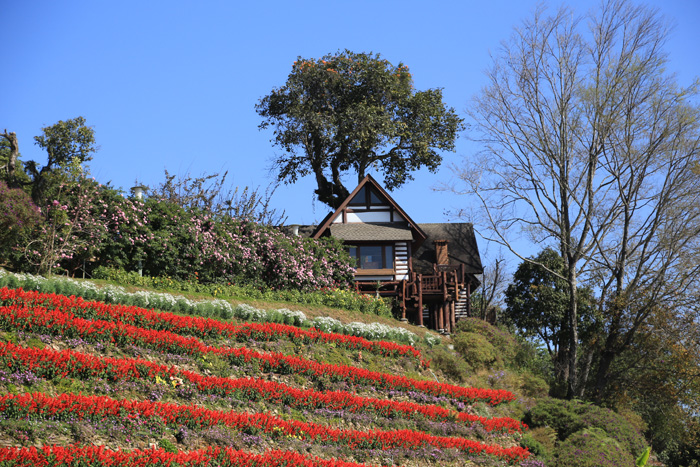 Bhubing Palace
Located another six kilometres up the mountain, this site is decorated with plenty of colourful, exotic flowers. It serves as the royal winter residence from mid–December to early February, when it is closed to visitors. Carry on up the mountain and you visit a very touristy Hmong hill tribe village, Baan Doi Pui, or continue to a lovely viewpoint near the summit. Open: 08:30-16:30. Entry fee: foreigner 50 Baht, Thai 20 Baht. Tel: (053) 233 065. Website.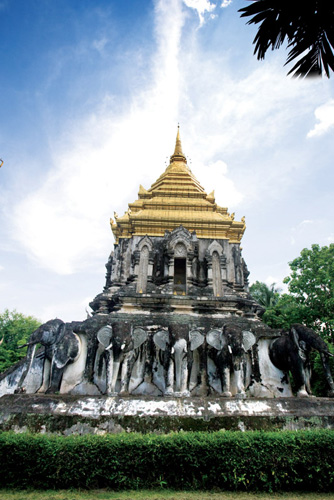 Wat Chiang Man
Chiang Mai's oldest temple began construction shortly after the city's founding in 1296, and has pretty grounds near the Sriphum corner of the old city. It's one of the most important historic sites in Chiang Mai and although not as photogenic as other temples (and somewhat neglected), it contains two ancient, diminutive Buddha images; one purported to be almost 2,000 years old. This temple is a good example of classic Lanna architecture. Open: 06:00-17:00. Entry: free. Address: 171 Ratchapakinai Road, Sriphum.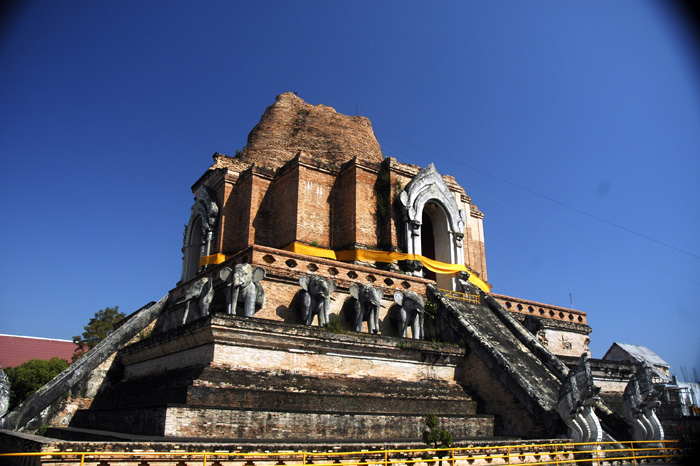 Wat Chedi Luang
This is perhaps Chiang Mai's most striking relic and was once the most important in the Lanna capital. Dating from 1441, the 91-metre high pagoda was felled to half that height in an earthquake in the late 16th century. To this day the partially renovated chedi remains the tallest structure in the old city and the main attraction. There are several Viharn or Ubosots in the compound as well. The much revered Emerald Buddha, found in the Grand Palace in Bangkok, briefly lived here during its remarkable travels. Open: 06:00-17:00. Entry: free. Address: 103 Phra Pok Klao Road, Phra Singh.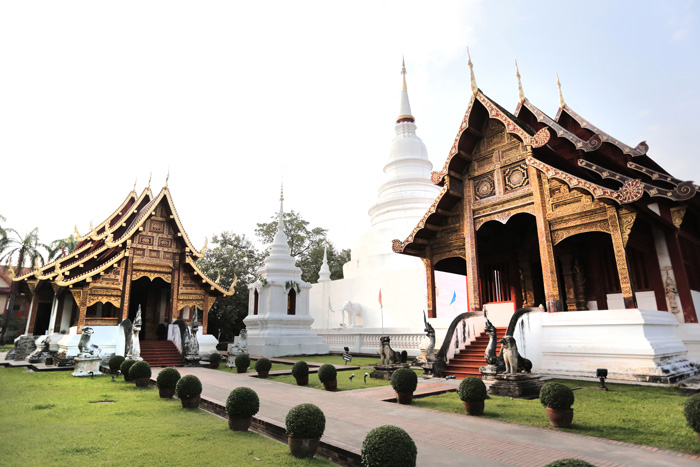 Wat Phra Singh
Situated in the middle of the old city, this temple contains Chiang Mai's most important Buddha statue. The recently restored Viharn Lai Kham is a classic example of a Lanna-style viharn while the main viharn (c. 15th century) houses the much venerated Phra Sihing Buddha, which has a murky background yet a unique lion-style originating from Sri Lanka. A distinctive, elevated Hoi Tra (scriptures repository) is also on site. The mural paintings on theoนom walls of Wat Phra Singh depict the scenes of Suwannahong and Sang Thong classic literature. Open: 06:00-17:00. Entry: free. Address: Sam Lan Road, Phra Singh.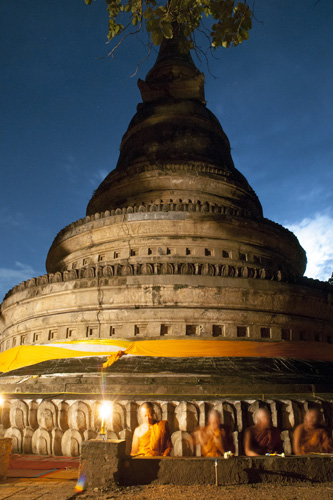 Wat U Mong
This forest retreat was built in 1296 by King Mengrai and is located in a rustic setting near Suthep Road. It was renovated during the reign of King Keu Na, but is unlike the usual gaudy temples of Thailand, being a retreat comprising mostly of forested grounds. It features a unique tunnel-like construction beneath an ancient chedi and there is a lake full of overfed fish and a deer sanctuary behind the temple on the mountain slopes. Open: 08:00-17:00. Entry: Free. Address: 135 Moo 10, Suthep Road. Tel: (053) 811 100.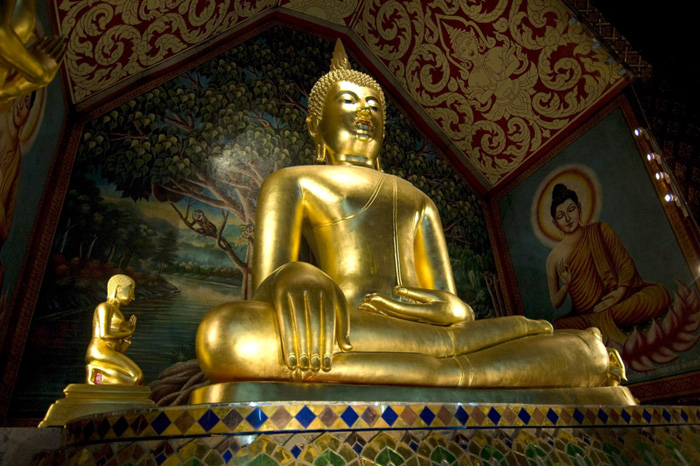 Wat Suan Dok
This temple was established to the west of the old town as a Buddhist university that survives to this day and is noted for its collection of stark chedis under which several former rulers of Lanna have their ashes interred. There is a monk chat here every evening from 17:00, where novice monks practise their English by answering questions on Buddhism. Open: 06:00-17:00. Entry: Free. Address: 139 Suthep Road. Tel: (053) 278 304.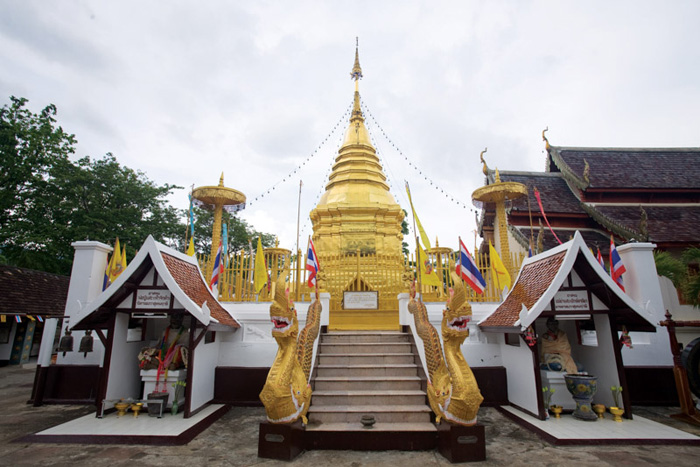 Wat Doi Kham
Rarely visited by the throngs of tourists coming to the city, this temple, located behind the Royal Flora grounds, pre-dates the city itself and is unremarkable except for a giant seated Buddha that was constructed more recently. Open: 08:00-17:00. Entry: Free. Address: Wat Doi Kham, Moo 3, Mae Hia, Muang, Chiang Mai. Tel: (053) 263 001.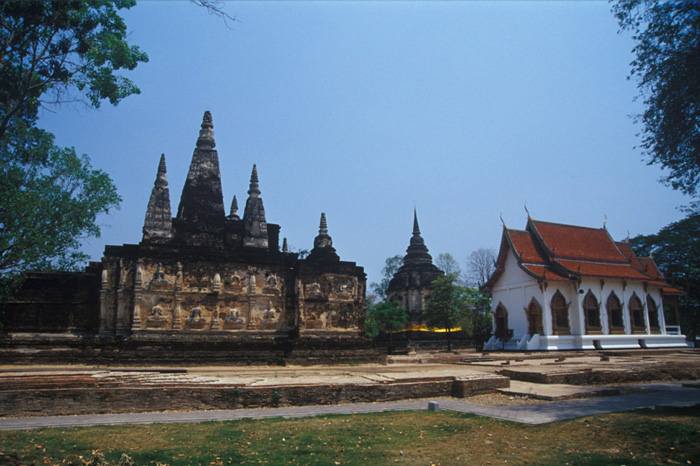 Wat Jed Yod
Built to host the Eight World Buddhist Council in 1477, the seven-spired Chedi is modelled on a similar one in Bodhgaya, where the Buddha reached enlightenment. The ashes of King Tilokarat, who supervised its construction, are interred here, and there is a sizeable Viharn with striking murals in the large spacious grounds. Open: 06:00-18:00. Entry: Free. Address: Moo 2, Super Highway 69, Muang. Tel: (053) 224 802.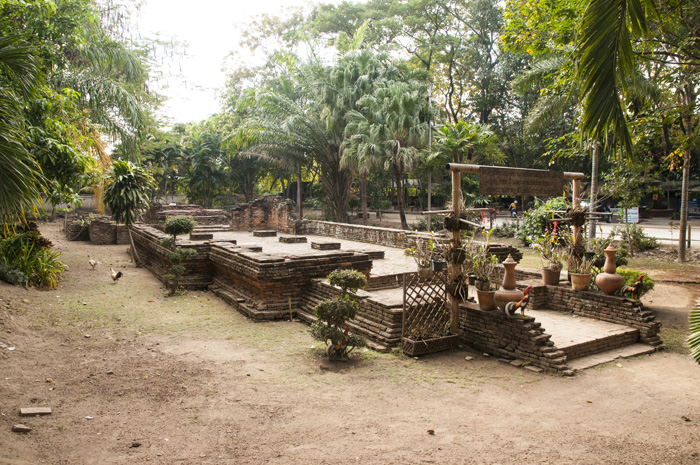 Wiang Kum Kam
The original Chiang Mai city was unearthed in 1984 and is situated just outside the modern metropolitan area, to the southwest. It was built by King Mengrai as his first attempt to establish a settlement in the valley before chronic flooding of the Ping River forced its abandonment. Almost 20 temples have been uncovered in the area and a ride by horse–drawn carriage, tram or by bicycle, will let you take most of them in within half a day. Some have been well excavated and offer a fascinating 'Atlantis of Chiang Mai'. Open: 08:30-17:00. Entry fee: 10 Baht. Address: 3029 Tha Wang Tan, Sarapee. Tel: (053) 140 322.



OTHER CHIANG MAI TEMPLES
There are many other temples in Chiang Mai that display various styles of influence over the seven centuries of the life of the city. Three striking temples, Wat Bupparam, Wat Mahawan and Wat Chetawan, are all found on the central Thapae Road. Others that are particularly worth getting to are Wat Lokmoli, outside the northwest corner of the moat, with its impressive chedi, and Wat Chaimongkhon, which fronts the river and has a garish Chinese style to it.
Boat trips up the river also take off from here. Several more ancient temples are found in the southwest corner of the old town. While you are visiting the city's most famous landmark, Wat Chedi Luang, you might also find it convenient to admire the nearby Wat Phan Tao, which is classic Lanna in style and entirely constructed of wood (including the nails). However, wander Chiang Mai's old town and you'll encounter dozens more unique, ancient and photogenic temples.
ZOOS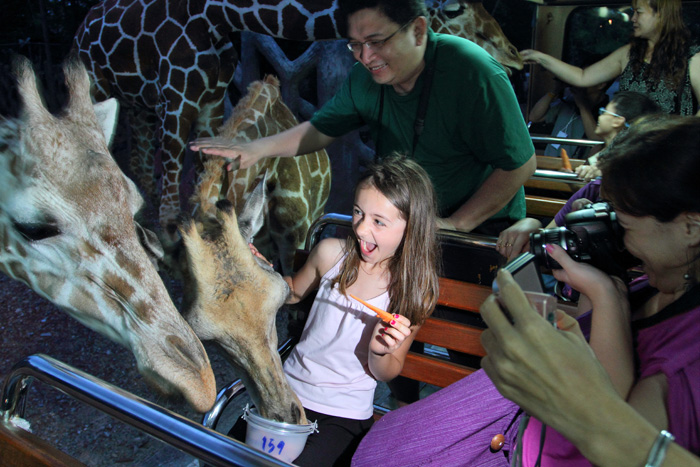 Chiang Mai Night Safari
One of Chiang Mai's newest attractions, this 120-acre woodland at the foot of Doi Suthep National Park is worthwhile for the whole family. A two-kilometre Jaguar Trail around a pretty lake has many zoo-like enclosures and when it gets dark two different tram rides take visitors through open safari area full of African, Asia and South American predators and wild animals. It includes a large pavilion area with restaurant and Southeast Asia's biggest musical fountain. Open: 11:00-21.30 (Daily). Address: 33 Moo 12, Nong Khwai, Hang Dong. Tel: (053) 999 000.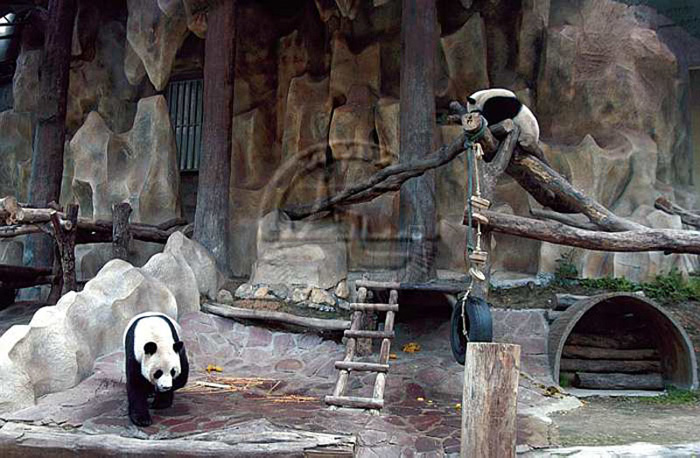 Chiang Mai Zoo
Spread out over a huge area, at the foot of Doi Suthep, is this exhausting zoo – it's very hilly – although there is a tram and a monorail. Most of the animals enjoy quite large natural habitats here, with inhabitants ranging from bears to penguins. The latest additions are two pandas (on loan from China) and their recent offspring, which have become national celebrities. There is also a brand new snow dome, which is a novelty for the locals. Open: 08:00-16:00. Entry fee: 150/70 Baht (adults/children). Address: 100 Huay Kaew Road, Suthep. Tel: (053) 221 179.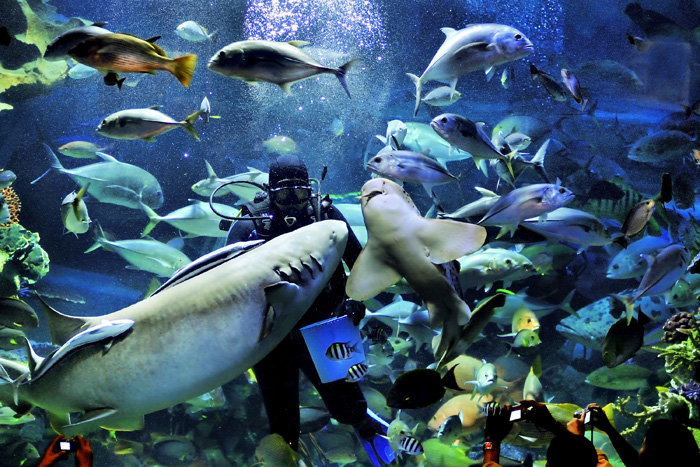 Chiang Mai Aquarium
Surprisingly, landlocked Chiang Mai now boasts the largest aquarium in Southeast Asia. It's located inside the zoo and has an 8,000 cubic-litre tank that apparently includes the world's longest aquarium tunnel (at 133m). More than 8,000 aquatic species, including 250 fresh water varieties, are found here. Open: 10.00-16.00. Entry fee: 520/390 Baht (adults/children). Address: 100 Huay Kaew Road, Suthep. Tel: (053) 893 111.
GARDENS & FARMS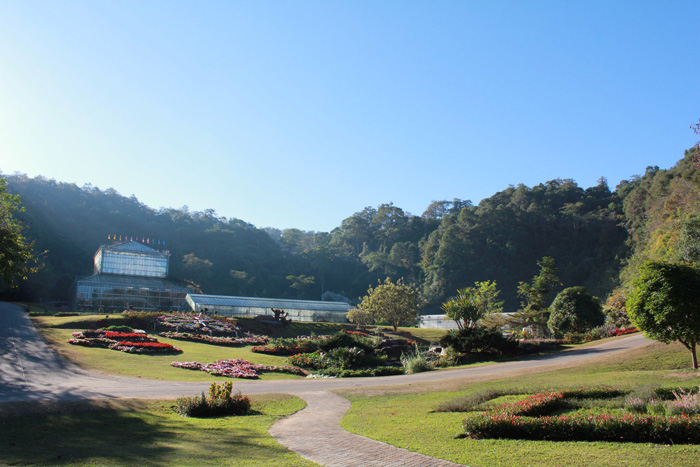 Queen Sirikit Botanic Garden
Continue up the Mae Sa Valley, just past Mae Sa Elephant Centre, and discover this lovely landscaped mountainside garden collection which covers an area of 560 acres among the cool hills of Mae Sa Valley. Home to over 700 species of plants, including cacti and some spectacular orchids, it also features a number of attractive nature walks, along with greenhouses, a pretty cascading river, restaurant and a great gift shop. Open: 08:30-17:00. Entry fee: 100/50 Baht (adults/children). Address: 100 Moo 9, Mae Ram, Mae Rim. Tel: (053) 841 234.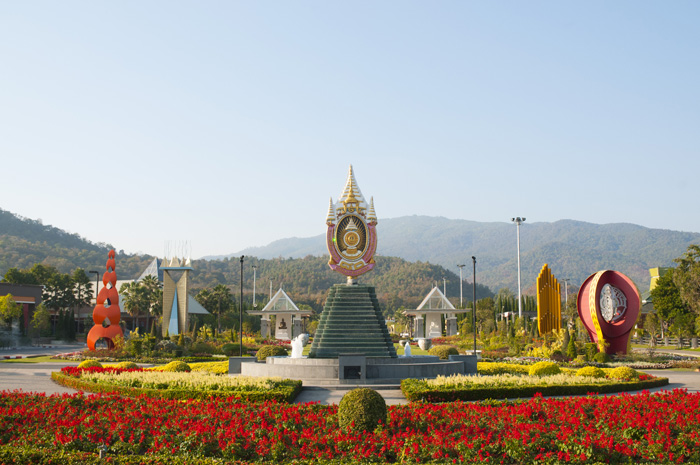 Royal Park Rajapruek
Developed as an 80-hectare flora expo in 2006/2007 to commemorate the King's 60th year on the throne, this enormous landscaped park with permanent exhibition space has become a public park and is nice for a stroll. It is located near the Night Safari, south west of the city. Open: 08:00-18:00 (Daily). Entry fee: 100/50 Baht (adults/children). Address: Royal Park Rajapruek, Mae Hia, Muang. Tel: (053) 114 110-5. Website.
Tweechol Botanic Garden
Although far out of the city on the Chiang Rai road, a visit to this sprawling and magnificent private garden is well worth it. Over the decades it has been quietly developed into an underrated nature park that includes a myriad of sculptured ponds and lakes surrounded by numerous species of palms, cycads, and topiary, and includes greenhouses with cacti, tropical species and rare plants. There is a small petting zoo, a swimming pool, a playground, restaurant and bikes for hire to get around the vast flat grounds. The Horizon Village Resort is attached to it. Open: 08:30-17:00. Entry fee: 86/43 Baht (adults/children). Address: 118 Moo 7, Cheng Doi, Soi Saket. Tel: (053) 868 891. Website.
Chiang Mai Gardens & Farms
Farm Changrung
204 M.4 T.Thadaer A.Doitao Chiang Mai 50260. Tel : 053-243 900, 087-179 0003.
Small Farm Resort  
99 Moo 21, T. Banluang, A. Chomthong, Chiang Mai, Tel. 053-033 068
Doi Ang Khang
Fang, Chiang Mai, Tel. 053-969 489, Website.
Further reading…