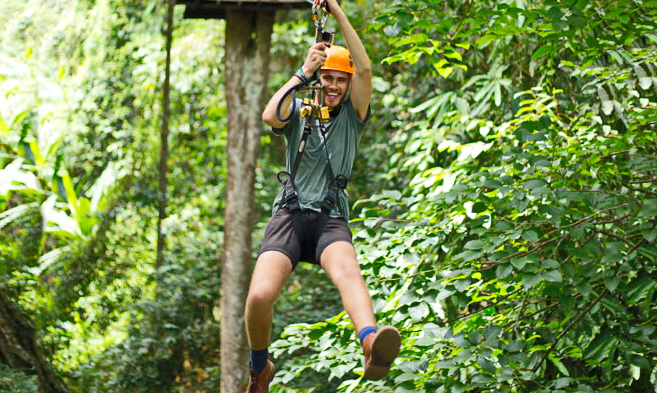 Getting into the jungle while in Chiang Mai is one experience you shouldn't miss. Trekking is one of the activities that made the north famous in the first place, but there are now several other more adventurous or leisurely ways to get into the mountainous national parks and wilderness areas. Trekking, elephant riding, mountain biking, ATVing, trail biking, or even swinging through the treetops on zip lines, are your choices for getting in among nature.
There's a unique collection of eco-environments in Chiang Mai province depending on the season. With its subtropical upland location, sandwiched 500kms between two large seas, it gets equal measures of monsoon downpours and cool dry weather.
Because of this, many Thais favour Chiang Mai as a winter destination for the novelty of experiencing the coolness of the Himalayan foothills. But visitors in the rainy, off-season will experience it at its best, when the lushly 'carpeted' tropical mountains up to 2,500m are at their greenest.
The valley floor, however, is at only about 300m and is characterised by equally-pretty rice paddies and lazy rivers, yet is hot and almost Savannah-like in the dry season – January to May. It can be 30°C in the city over Christmas, yet down to as low as zero degrees on top of nearby Doi Inthanon – Thailand's highest peak. Trekking in the winter season is therefore chilly at night and of course wet in the rainy season. Regardless of the time of year, the ecosystems above 1,000m are generally lush and rivers and streams flow year-round.
Note:
To find the best rate
Chiang Mai Hotels
, we recommend you look online at
Agoda.com
. They seem to be the most competitively priced of the hotels sites.
Ziplines
This is un doubtably the most popular soft adventure in Chiang Mai, more than 15 ziplines have sprung up in the past six years; the longest, the highest, the cheapest, the most 'jungly', the scariest…you get the picture. Flying through the air among the tree tops of giant dipterocarpus trees is this sub-tropical highland forest is fantastic, though not recommended with a hangover! Local authorities have recently imposed restrictions and safety inspections on them, and the big ones are located in some pristine locations Typically the cost is about 2,000 baht and the experience involves about 2 dozen 'zips', a long 'half-day' with lunch thrown in, sometimes a lengthy transfer. Try to go early, they can get busy. 
We recommend Flying Squirrels for the fun factor (including several tricky obstacles to tackle, 50 feet up!), they are also closer to Chiang Mai and reasonably priced, aside from boasting the 'longest' and 'highest'. After it's over you get a tasty lunch with excellent mountain views. Other well established choices include Flight of the Gibbon, Jungle Flight and Eagle Track. There are shorter ones at Huay Tung Tao and the Zoo but you don't truly get into the tree tops.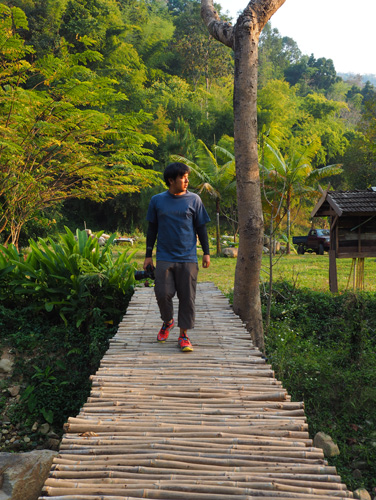 This is the number one reason budget travellers come to Chiang Mai; to go on two, three or four-day hikes through unspoilt jungle, and staying nights in primitive hill tribe villages. The host tribe is often different every night, with their unique colourful costumes. It does require some fitness, and the tours often include an elephant ride and skiff ride. There are also single-day 'adventure treks' offered. Numerous companies around town offer all sorts of treks to different areas.
Self hikes
If you'd rather not go on an organised trek and prefer to explore by yourself, it is realistic to find your own way to some trail heads up the mountain. The easiest way is to catch a Songthaew (shared taxi) up the mountain and get off at the first small chedi you see, where there is a road descending to the forest temple of Wat Phalat. Here you'll find a 10-metre waterfall and trails descending each side of this to eventually meet up and emerge near the TV. You'll then have to wander down to the university.
A less-obvious trail goes further up to Wat Phra That Doi Suthep. If you're really adventurous you can drive through the suburbs that abut the base and find plenty of trail heads up that are all popularly used, but overgrown in the rainy season and hidden under leaves in the dry season. Hire a guide for the day from one of the trekking companies to make it easy.



Elephant Experience
This is evidently a big 'bucket list' item for many tourists and encountering these giant stoic beasts is certainly memorable but it's controversial. Elephant riding, it seems, is certainly out of favour with the eco-warriors out there, but the elephant camps continue to satisfy an un satiable thirst from mainstream tourists for a rumble through the jungle. To be honest it's uncomfortable riding on a howdah, not good for the ellies, and you're better off being entertained at one of the elephant shows that are mostly harmless. 
You can opt for the 'mahout course' (read: you pay lots to wash their elephants), or visit one of the elephant sanctuaries that allow you to help, interract and ultimately, pay for the $25 a day food bill that these pachyderms have. Bathing with them is especially memorable. One way or another there are lots of out-of-work domesticated elephants in Thailand and some are luckier than other with caring owners or mahouts. The camps (big or small) mostly do well to provide a caring home for them, since logging was banned in 1990, but there are also some distressing examples of abuse.
All the same, you need to look beyond the emotional hubris of the 'anti Elephant camp/riding crowd' and decide for yourself which of the numerous elephant homes deserve your tourist dollar, they are all trying to provide for their elephants, but being Asia not all meet the lofty standards of animal welfare that Westerners might expect. Of the touristy camps; Maesa Elephant Camp, is the nearest and busiest, while the Thai Elephant Conservation Center, an hour's drive south, also has a solid reputation. Many smaller outfits also provide elephants as part of trekking or small private tours, and it's difficult to audit them all. 
Tong Bai Elephant Camp  is located in the mountainous region of Mae Wang. This camp focussed on providing comfortable lives for young and old elephants. Although some of the elephants are sometimes loaned out to Elephant Special Tours, permanent residents include Mae Boonsin. Tong Bai Camp does not permit visitors to ride the elephants, but washing them down in the nearby river or strolling through the Mae Sapok Forest are satisfying experiences. 
Then there are the elephant sanctuaries like Elephant Nature Park and Patara Elephant Farm. These tend to be more expensive day's out but provide a safe home for elephants.
More Elephant Camps in Chiang Mai:
Baanchang Elephant Park
147/1 Rachadamnoen Rd, Chiang Mai 50200, Tel: 053-814 174, Website.
The Chai Lai Orchid
202 M.9, Mae Win, Mae Wang, Chiang Mai 50360, Tel. 086-923 0867, Website.
The Elephant Training Center Chiang Dao
108/1 M.9, Intakhin, Mae Taeng, Chiang Mai 50150, Tel. 053-298 553, 053-862 037, Website. 
Maetaman Rafting & Elephant Camp
535 M.1, Rimtai, Maerim, Chiang Mai 50180, Tel. 053-297 060, Fax. 053-297 283.
White rafting and kayaking
A unique way of seeing the jungle is from the water, although on the Mae Tang River you're so busy riding the rough rapids you don't have much time to admire the steep valley walls around you. However, the drive up here is an adventure, and you launch from the charming Thai riverside village of Sop Kai. Siam Rivers is the most safety-conscious outfitter, with safety being an absolute must on this particular river.
Kayaking on the Mae Tang river is strictly for the experienced kayaker since it's a tricky animal, those up for it can look up 8 Adventures. But you can enjoy the more sedate rivers of the North with Chiang Mai Kayaking they run daily trips down the Ping River North of Chiang Mai, or the mild rapids of the Mae Wang river in the south. If you have no whitewater kayaking experience this is a safer option.
Mountain biking
One of our personal favourites, simply because the 1,700m Doi Pui mountain is covered in fire roads and single track that bounce their way down the mountain. It's mostly downhill, sometimes pretty hairy downhill on advanced routes, and it's definitely the most practical and fun way to experience this great mountain. We rate the Ping Valley, mountains and hills as some of the best mountain biking in Asia, with single track and cross-country adding variety.
Read More on Mountain Biking.
ATVs and Buggies
Starting out from the multi-activity X-Centre in Mae Rim you work your way up the mountain in these imported, all-purpose dune buggies. You get to do the driving yourself – sometimes it's pretty steep and you need to keep your nerve. This is especially so in the rainy season when it can be a very muddy, but fun, experience. 8 Adventures offer day trips or combos (with kayaking or ziplining) in Mae Tang on some seriously good machines.
Dirt biking
Renting 250cc enduros is popular and you can go so much further under your own steam, and the back road to Pai, for instance, is a great windy mountain experience. If you buy a copy of the local best-seller maps, Mae Hong Son Loop and Samoeng Loop, you can tackle these multi- and single-day loops. Or you can explore the many mountain farm roads in the area, as seen on these up-to-date maps from GT-Riders. If you don't want to hassle with getting lost it's better to join Thai Bike Tours and go with a crowd, more fun.



Further reading…