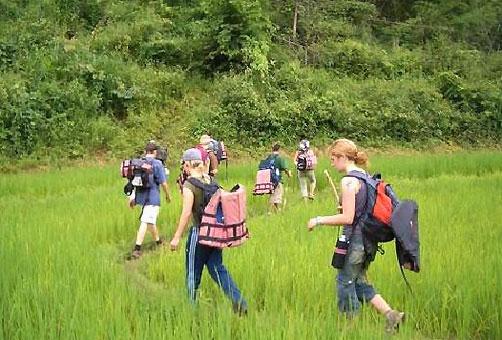 Over the past two decades, trekking has become one of the primary drawcards among the energetic travellers to Chiang Mai and one of the key reasons they add Northern Thailand to their Asian travel itinerary.
Trekking in Northern Thailand is an unforgettable experience and Chiang Mai is certainly the trekking hub. The mountainous interior of the region, lush tropical vegetation and intriguing hill tribe villages which act as your hosts all add up to a fantastic experience among unspoilt nature. In fact, you need to escape the tourist crowds of Chiang Mai, trekking is the prefect solution. If you are reasonably fit and don't mind 'roughing it' a little, this is a very worthwhile experience. The area is completely safe and the trekking is generally well organised, with registered guides leading you down well worn routes.
Chiang Mai is the main centre from which to organise trekking and almost every guesthouse offers the activity. Some guesthouses double as tour and trekking companies, or at least claim to but might be acting as agents. In Chiang Mai numerous trekking companies have small offices in the tourist areas of the city, such as the Night Bazaar, Loi Kroh Road and down Moon Muang, alongside the moat's eastern flank. Trekking can also be arranged from the small town of Pai, a popular alternative.
Typically, a trek will last between three and five days and can include fun activities, such as elephant riding and skiff rafting down rivers. Of course, there will be quite a bit of walking – sometimes uphill! A backpack (or better still, a daypack) with limited clothing is needed, plus a sleeping bag and warm jacket during the winter months. The routes are usually designed to take in several of the different hill tribe villages, allowing you to familiarise yourself with several of these unique and colourful ethnic minority groups. They include the Hmong, Karen, Mein, Lisu, Akkha and Paduang.
These groups have migrated into the area over the past 100 years from the Asian interior, bringing with them unusual dress, language and customs. The hill tribes prefer to isolate themselves from mainstream Thai culture, retaining their roots and innocence, and they conduct a simple rural life, often at a subsistence level. Most of them prefer to live in mountainous terrain (above 1,000m) and cultivate hillside crops. You will get to stay in their villages and interact with them, eating their food and learning about their lives.
Choosing a company can be tricky as there are so many clone-like options. The TAT (Tourism Authority of Thailand) publishes a list of licensed agencies and there is the Professional Guide Association, which issues accreditation to guides. However, most guides work as freelancers and there is constant movement among the companies, making it difficult to recommend any one company in particular.
Asking other travellers is one sure method of verifying an agency's service, and many established companies keep a folder of written testimonials. Ultimately your choice may be governed by practicalities, such as departure dates, villages visited and whether the agency can guarantee numbers. If there aren't enough people signed up, they will simply shift you on to another company and take the commission.
A trek will cost a minimum of 500 Baht a day, with meals and basic hut accommodation included. If you pay anything less, your guide probably isn't registered or may not be very responsible or organised. Full packages, including additional activities, might cost about 2,000 Baht for three full days.
The best time to go trekking is between November and February, when the weather is dry and the vegetation still lush – although the ambient daily temperature is cool, it's also pretty chilly at night. Between June and September, wet weather gear is a must. During March, April and May, the views are obscured by haze. One such company is Orient Xplorer, who offer many fascinating cultural and activity-based treks of Chiang Mai and the northern Thailand region.
Limeleaf Eco-Lodge is the ideal place to stay while trekking around northern Thailand. It is a self-contained, wooden lodge by Doi Moht Village near Chiang Mai. It features a traditional thatched roof, solar power (for lighting, cameras, laptops etc.) fresh mountain spring water, wood fire cooking and a fantastic views looking over a terraced hillside farmed by the Black Lahu (Mhuser) hilltribe. 
Further reading…