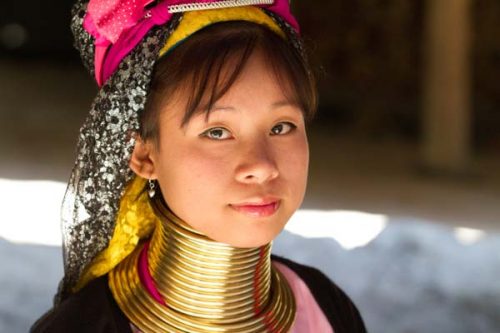 Chiang Mai is popular as a launch point into the mountainous wilderness and frontiers of Northern Thailand, and tours and trekking within the region are a big reason why many visitors come. Experiencing the rural beauty and visiting the unique hilltribes of Northern Thailand is perhaps one of the area's biggest draws.
The region is typified by subtropical highland eco-systems that are lush and abundant in flora during the rainy season, but can become very dry during the hot season (February-May). Northern cultural sites, nature areas, unique hilltribe villages and soft adventure are all part of the appeal of a three-day jaunt from Chiang Mai to Mae Hong Son or Chiang Rai.



Many Northern Thailand tours are offered by companies based in Chiang Mai, ranging from a single-day to several nights in remote lodges. One such company is Orient Xplorer who offer a variety of intriguing cultural and activity based tours of the region. For trekking in Northern Thailand and Chiang Mai, you can walk into any of the many shops in the main tourist areas to arrange a trek of two to five days in length – you'll need to be reasonably fit.
The best time to head for the heavily forested hills is after the rainy season, which is late October onwards. Typically, these treks include elephant-back rides, rafting rivers on bamboo skiffs, visits to waterfalls and nights spent in villages of the colourful Hmong, Karen, Akha, Mein and Lisu people – minorities who lead a subsistence lifestyle and follow unique, and rapidly dying out, traditions.
Heading north from Chiang Mai is a rewarding drive as you come upon the unmistakeable peak of Chiang Dao. Don't miss the remarkable complex of caves buried beneath it. Continuing north, you can turn off the main route and meander through mountain passes to seek out Doi Angkhang– one of the last wildernesses in Thailand before the Shan State hills of Myanmar roll out before you. However, a popular option is to continue on to Tha Ton and catch an overnight raft trip to Chiang Rai. Others prefer to seek out the intriguing tea growing Chinese immigrant communities clustered on the hilltops around Mae Salong. Ten years ago this area was under the influence of drug barons and off-limits to the public.
Note:
To find the best rate
Hotels in Chiang Mai
, we recommend you look online at
Agoda.com
. They seem to be the most competitively priced of the hotels sites.
Chiang Rai is equally historic, though less charming than Chiang Mai, and today offers a more realistic glimpse into a Northern Thailand city without the 'brass rubbing' of tourism. Many pass through on the way to Mae Sai on the Myanmar border – a popular run for renewing your visa for another 15 days and shopping for cheap Chinese goods in the market town of Tachilek.
From Chiang Rai it's not far to the mighty Mekhong River and you can follow the banks of this important waterway for more than 100kms, passing through the former Lanna capital and port town of Chiang Saen. This area is popularly know as the Golden Triangle, based on a history of opium smuggling which today is confined to a world-class museum. At Chiang Khong, farther south, are a number of waterfront guesthouses, which benefit from the steady stream of tourists setting out on the two-day river boat ride to Luang Prabang in Laos.
For the free-spirited traveller, Pai is a particularly charming little town situated beside a river in the hills to the north of Chiang Mai. The three-hour drive over mountains to get there is spectacular and the town has become a popular bohemian base from which to embark on hill treks, or to simply relax. The many guesthouses are rustic and it tends to pack out with backpackers at the height of the cool season.



Live music, quaint restaurants and cheap, simple guesthouses add to its appeal. The rollercoaster road continues from here to Mae Hong Son; a frontier town with a pretty lake at its centre, reflecting the uniquely-styled Burmese temple of Wat Jong Kham. One particular attraction of the area is the bizarre long-necked Paduang women, who have clung to the old tradition of extending their necks (actually depressing their collar bones) using brass rings, mainly as a means of attracting tourists. 
An hour's drive south of Chiang Mai is the superb Doi Inthanon National Park, a Northern Thailand treasure boasting the country's highest mountain. You can drive all the way to the summit, which is often shrouded in mist. Two, lofty, modern-styled chedis to commemorate the 60th birthdays of their Majesties the King and Queen of Thailand are found here.
On the way up there are several fantastic waterfalls, including Mae Ya, Mae Klang, Wachiratan and Siriphum. The park headquarters, halfway up, has chalets to rent and a campsite, and there are numerous points at which you can go walking to enjoy the lovely flora and gushing streams. Several hilltribes also live in the park and visitors are encouraged to visit their villages, observe their traditional ways and buy handicrafts. Many are now employed in the highly successful King's Project, which has substituted the growing of opium with more sustainable produce. 
To truly escape the tourist path of Northern Thailand, you may wish to venture further to the unspoilt provinces of Nan, Phayao or Tak. Hiring an Enduro bike is one popular way of doing this.
Further reading…