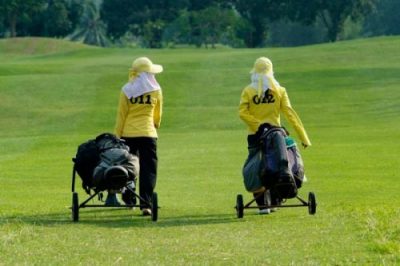 Chiang Mai presents some of the best golf choices in all of Thailand. Only Pattaya, and arguably Hua Hin, have better selections in such a compact area, although golf in Chiang Mai is cheaper and enjoys more beautiful settings.
There are more than 10 courses, none of which is more than a 45-minute drive from the city centre. Many are situated outside of Chiang Mai in lovely settings with mountainous backdrops, plus there are a few close the Old Town.
In general, courses are well maintained and some have been created by well known designers to offer interesting and challenging holes with plenty of water. The biggest attraction is perhaps the price, and despite varying quite considerably, you can either have a round for less than 500 Baht or enjoy a really stunning course for 2,400 Baht.
All of them rent clubs, caddies, carts, even shoes, and have very good clubhouses. Your hotel concierge, or local travel agent, will be able to organise a golfing day, or you can call and arrange a tee-off time and find your own way there.
You might like to consider checking into one of the golf resorts for a multi-day experience that adds up to good value. Many have other activities and a spa for non-golfing partners. Of course, after a game of golf you can enjoy a massage and excellent Thai meal anywhere in the city.
Note: 
Hotels in Chiang Mai
offer some of the best value in Asia for comfort and style, and we've lined up the web's biggest room booker, 
Agoda.com
, for an instant search. Dozens of cheap guesthouses are also listed.
Chiang Mai golf courses
Lanna Golf Club: Located just 15 minutes from the city centre on the Mae Rim road, this is one of the best established and most popular courses in Chiang Mai. It is a superb, mature course with challenging fairways and fast greens and is favoured by the who's who of Chiang Mai. Booking recommended on weekends.
Alpine Golf Resort: This course has an excellent setting in a hidden valley and is part of a comfortable resort that makes an ideal golfing weekend getaway. Located about 30 minutes drive from Chiang Mai, the course is mature and in excellent condition, albeit a bit pricey compared to the others, but the whole resort package is good value overall for a couple of nights.
Mae Jo Golf Club: Positioned north of Chiang Mai behind the Mae Jo University building, Mae Jo Golf Club is under 30 minutes drive from the city centre. The course is much appreciated among golfers wishing to play a top-class fun course. The scenery here is beautiful and one of mountains and an abundance of orchids and fruit trees alongside the course's grass fairways.
Chiang Mai Highlands Golf & Spa Resort: Situated east of Chiang Mai, nearby San Kamphaeng, this course, which opened in 2005, can be reached within a 30-minute scenic drive of Chiang Mai. The course is challenging and exciting for both beginners and advanced golfers and comes with five different tee boxes. Golfers here will appreciate the wonderful views throughout the entire course and there are more than 100 greenside bunkers and fairways. Chiang Mai Highlands Golf & Spa is open daily and non-members are welcome.
Summit Green Valley Country Club: or Summit Green Valley Chiangmai Country Club, is located within a 15-minute drive of the city centre and is a world class course. The professionally maintained course is wonderfully located, surrounded as it is by lush mountains, and the combination of fresh air, pretty lake and abundant trees makes golfing here an unforgettable experience.
Royal Chiang Mai Golf Resort: Opened since 1996, this world-class golf course is set in a gorgeous valley boasting magnificent scenery with trails, trees, streams, and waterfalls. At the end of the course there is a fabulous view towards the clubhouse, which has 54 rooms, a swimming pool, fitness centre and snooker room.
Hang Dong Golf Course: Positioned about 15kms outside the city, this relatively new course offers value for money and golfers will enjoy the backdrop of mountains, view over the lake and many pretty water features. The spacious clubhouse serves good food and well priced beer, too.
Gassan Khuntan Golf & Resort: Open since 2004, the Gassan Khun Tan Golf and Resort is located in Lamphun, about an hour's drive from Chiang Mai. Perfectly set amid tropical surroundings, this challenging course is one of Thailand's finest. The resort also features a hotel, swimming pool, massage facility and bar.
Chiang Mai golf tours
Siam Lanna Holiday: This Chiang Mai golf tour company provides dedicated golfers who want to sample some of northern Thailand's best courses a top class holiday with no expense spared. Hotels, transfers and tee off times are all arranged while non-golfers can enjoy a range of cultural and therapeutic attractions.



Further reading…