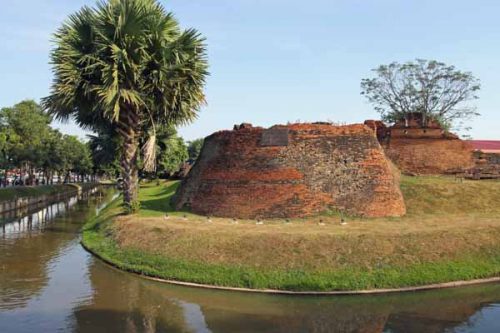 Thailand's northern capital is a favourite among tourists and Thais alike. In Chiang Mai, no guide is necessary as the city is ideal for exploring by yourself. Sight seeing and tours of Chiang Mai are popular activities and you can wander among historic ruins, admire exquisite temples or simply sit quietly beside the moat and soak up the charm of this sleepy city.
Surprisingly cheap and somewhat cooler than the south, Chiang Mai is surrounded by mountainous terrain and offers plenty of sight seeing activities, tours and great shopping to complement the hospitality of its many hotels, guest houses and restaurants. Simply pick up one of the many Chiang Mai guide magazines freely available everywhere. See a full list of Chiang Mai attractions.
Chiang Mai has been a significant settlement of the Lanna Kingdom since King Meng Rai founded a new capital here in 1296. With an old town uniquely surrounded by a pretty moat and historic ramparts, the city has become famous for its handicrafts, Northern culture, and hill trekking excursions into the nearby mountains.
Most guesthouses and hotels are situated within or near the square mile of the old town. The moat and five restored gates protect the hundreds of temples that are found among the quiet lanes within. Thapae Gate (with its market square) is the most central, and from here you can walk eastwards to the Ping river. If you prefer the help of a friendly Chiang Mai guide, then pick one up at one of the many agents about town.



Of the 300 ornately decorated Buddhist temples in the city, the most famous include; Wat Phra Singh (with its Sinhalese Buddha), Wat Chiang Man (the oldest – c1300), Wat Chedi Luang (with an enormous ruined landmark chedi) and Wat Phan Tao (entirely constructed from teak). Wat Jet Yod and Wat Suan Dawk, a little out of town, are both over 500 years old and have fascinating histories.
A trip to the top of Doi Suthep (mountain) that presides over the west of the city is a must. Its temple is one of Thailand's most revered and the views of the entire valley are fantastic. Increasingly popular are trips to the excavated, old Chiang Mai settlement of Wiang Kum Kham, southwest of the city. These 13th century ruins were only recently re-discovered.
Chiang Mai is also a good launching point for hill treks, which include river rafting, elephant riding and visits to hill tribe villages, and many tour operators are found in the city centre if you need an excursion guide…more on sightseeing day trips.
Chiang Mai's enormous night bazaar is one of the best-value places in Thailand to shop, and is loaded with silk clothing and handicrafts. In fact, Chiang Mai has plenty to offer by night, and along the Ping's riverbanks are several lively restaurants and bars; some even offer boat trips up the river. The Loi Kroh and Moon Muang areas are a little seedy, though popular with some and are a good place for a (legitimate) traditional massage.
In Chiang Mai, let your curiosity be your guide.



Further reading…