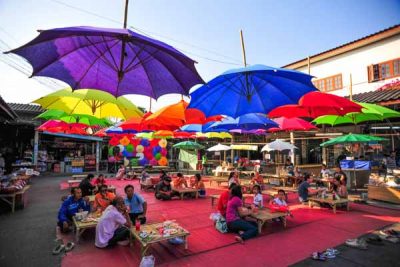 Chiang Mai is rightly famous for its handicrafts industry, which supplies the Night Market and tourist souvenir vendors across Thailand. If you're planning on buying Thai handicrafts as gifts to take home, or wholesale, then Chiang Mai is certainly the place to do so. Although you can pick these up from the Night Market or Sunday Walking Street, it's worth spending a morning visiting the sources in Bo Sang and Baan Tawai.
Handicrafts have been produced in these two satellite towns close to Chiang Mai for generations. Methods of wood carving and use of natural materials, such as saa (mulberry paper), among others, have been developed over hundreds of years by skilled artisans. Lately, a new generation of university educated art students have added their own contemporary styles.



The most satisfying part of buying Thai handicrafts in Chiang Mai is the price. Sometimes it's difficult to comprehend how these locals earn a living selling such detailed items so cheaply. The standard is variable but they always present good value. For this reason, many expats and Thais have set up export businesses catering to a steady wholesale demand from flea market vendors around the world.
Some of the popular products include: Buddhist art and statues, furniture, lamps, interior decor items, paintings, carvings, toys, souvenirs, caskets, rattan work, candles, soap, silverware and jewellery, neilloware, fabric and woven products, ceramics, sandstone murals… the list is endless. But perhaps the quintessential item is the bamboo and rice paper parasol.
Bo Sang is the Umbrella Village where these dainty and colourful parasols are produced, in the San Khampaeng district, 10kms east of the city. They are a distinctive Thai icon and have made the little village of Bo Sang famous. These umbrellas are delicately crafted from bamboo or cane and exquisitely decorated with colourful pictures or patterns on glazed rice paper covers. They are one of many fine Thai handicrafts.
The Umbrella Village is little more than a cluster of shop houses along the area where Doi Saket Road meets San Kamphaeng Road. It enjoys a steady stream of tourists daily as they come to witness the making of these fine items and other Thai handicrafts, and to stock up on traditional souvenirs from Northern Thailand.
The pace out here is far more laid-back than Chiang Mai and the prices more agreeable. By approaching the manufacturers directly, you can bypass the haggling Night Market vendors. Along the way, you pass along the road to San Kamphaeng, which is lined with small factories where many of the handicrafts are made.



Baan Tawai, on the other hand, is the bigger brother for handicraft production and sales. It is located 20kms south of the city in the Hang Dong district and can be easily reached by following Highway 108 south out of Chiang Mai. You soon notice the many wholesale wood carving shops lining the highway, before turning left on the Sarapee Road (all clearly signposted). This area has grown tremendously in recent years as more tourists come shopping here. This road offers even more choice but the heart of Baan Tawai is the arcade centre where there are scores of shops selling a mind-boggling display of handicrafts. It's worth a half day of shopping and bargaining.
1StopChiangMai recommends:
Lanna Handicrafts
Lek and her team are a helpful agency that takes you around trusted suppliers, with a large choice. They handle all the shipping and packaging and also do the bargaining for you to ensure you aren't paying too much. 58/7 Moo 1, Mae Hia. Mobile: (081) 993 1983, Email.
Further reading…