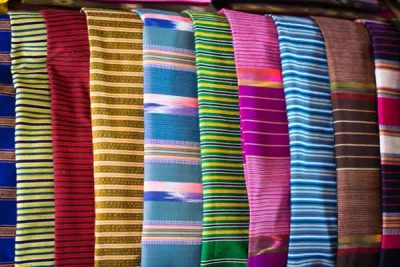 One of Thailand's most famous products is Thai silk, which is considered among the best in the world. Wander the Night Markets or boutiques and you'll soon notice bolts of silk cloth or finely tailored garments. The distinctive two-tone sheen and vivid colouration gives it a special appearance and many tourists go home with silk scarves, blouses, ties and more.
The majority of silk products in Thailand are produced in Chiang Mai, although the silk itself is cultivated from huge silkworm farms on the Khorat plateau in the country's northeast. The silk is considered high-grade, due to the higher fibre ply, quality of weave and rich hues – a result of the coarser silk being able to withstand stronger dyeing.



Although most fabric is now woven on a mechanised loom – making the process far more efficient and consequently the end product cheaper – much of the silk of Thai origin is still woven by traditional methods (by hand). Thais are incredibly patient and skilled with their hands, producing an end product that has a very subtle and superior feel. There is also quite a complex method of preparing the silk and dyeing it.
The most popular product is silk scarves, costing about 300 baht (US$10) each, made from delicate gossamer silk or blended with cotton or Kashmir for a soft feel. Silk ties also make excellent gifts, sold for less than $5. Heavy duty silks are rougher but better coloured and more resilient to wear and tear. A good silk tunic from the Northern Village (in Airport Plaza) will cost about US$100. 
San Kamphaeng, a suburban centre to the east of Chiang Mai, has become Thailand's main centre for Thai silk. The pretty road is lined with small factories and showrooms that are full of silk fabric and clothing, as well as other textiles and popular handicrafts. Many export agents base themselves here and market sellers and purveyors of Thai goods worldwide beat a path to this area. At San Kamphaeng, you can see Thai 'loomsmiths' weaving silk and witness the skilled process required to produce a fine garment.
How to recognise real Thai silk: 
There are several methods for determining if a product is made from real silkworm silk and the most obvious method is burning. Real silk burns like hair, giving off an acrid smell, while synthetic silk produces a hard, plastic-like residue, which continues to burn on its own.
Not everyone will let you take a lighter to a 2,000 Baht silk tunic, however. So the sheen test is another common test, and genuine silk is noted for its two-tone appearance as you move the garment in the light. This is because two different shades of silk are used in the warp and weft on the loom. A further method is to look for imperfection; real silk has thread breaks resulting in tiny bumps in the fabric, while 'Chinese silk' comprises of one long continuous strand.
Many exclusive boutiques around town also sell quality garments sewn from silk and it comes in different grades, as well as an impressive array of contemporary and distinctive traditional Thai styles. At the Night Market, you will also find plenty of silk on sale, but be wary of imitation synthetic silk, so-called 'Chinese silk', which has a similar appearance though isn't as soft. It's also about a fifth of the price. Regardless, the prices here are unbeatable and make this product a perennial favourite.



San Kamphaeng for wholesalers
For years wholesale buyers of Thai handicrafts and fabrics have been coming to Chiang Mai's San Kamphaeng area to browse the many wholesalers and producers of silk, cotton, wood and cane products and handicrafts. You can also see the crafts people at work and understand the care and skill that goes into the end product.
By going straight to the supplier they secure very favourable prices, even for small orders, and can verify the quality of their orders. Arrangements can also be made for shipping. You may find yourself wanting to set up a flea market stall back home or have an idea for establishing a small shop in your home town to sell all these wonderful Thai products, which come so cheaply. If so, San Kamphaeng is the best place to pick up samples and place orders.
Further reading…