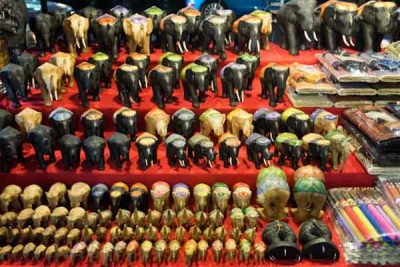 Chiang Mai is an Asian hub for handicrafts and art, and many wholesale agents come here to purchase large quantities of Thai crafts and have them shipped home. In fact, there is a well-established infrastructure here, with many sourcing and shipping agents advertising themselves in the local tourist magazines. However, there is so much choice and value for money that it's difficult to know where to begin your procuring of Thai handicrafts in Chiang Mai.
When it comes to buying wholesale Thai handicrafts, not all of the local agents meet Western expectations for customer services and logistical support. Others may not necessarily place your best interests at heart, and the options they present you are sometimes motivated by kickbacks and commissions. On this page we aim to help you optimise your wholesale shopping trip to Chiang Mai for Thai handicrafts.



There are, not surprisingly, many wholesale agents in town. Chiang Mai has, for many years, been the centre for Thai arts and crafts – and for good reason. There is a long established tradition in Chiang Mai of hand skills, and the locals are exceptionally gifted and patient at creating superb pieces. Choose from hand-woven silk, to rattan furniture, woodcarvings, neilloware, pewter, silverware, embroidery, and exquisitely detailed souvenirs, such as the famous Saa paper umbrellas that add a splash of colour to the brochures of this wonderful tourist city.
In recent years more contemporary wares have found their way into the workshops of Chiang Mai handicraft artisans, such as incense and oils, spa accessories, soaps, tableware, and an impressive array of home décor by talented young designers influenced by the West. In fact, Thais have a fine appreciation of aesthetics.
The biggest draw in Chiang Mai is the price. However, the cost of living is cheap and those who create these wholesale Thai handicrafts are fairly remunerated and live satisfactorily. Of course, bargaining is normal and if you are inexperienced, you may end up paying double what you should.
This is when it pays to have a good local agent to take you around – someone who knows the value-for-money places and is skilled at negotiating (in Thai) with the suppliers. By buying wholesale, prices become far more favourable. They can also help you take care of all the red tape involved when it comes to shipping your orders home, or re-ordering from your home country.
1StopChiangMai recommends:
Lanna Handicrafts
Lek and her team are a helpful agency that takes you around trusted suppliers, with a large choice. They handle all the shipping and packaging and also do the bargaining for you to ensure you aren't paying too much. 58/7 Moo 1, Mae Hia. Mobile: (081) 993 1983, Email.
HQ PaperMakers
A well-established and popular handicraft company in Chiang Mai that supplies paper of all sizes, colours, textures and grades to many local retailers and foreigner wholesalers alike. They've been providing high quality milled and handmade papers since 1990 and have many clients abroad. 3/31 Samlan Rd., Phra Singh. Tel: (053) 814 717-8, Email.



Further reading…