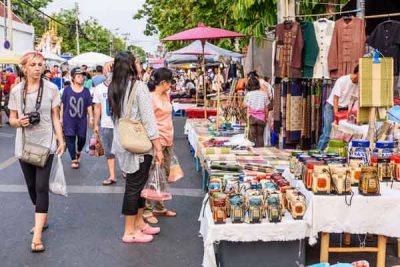 Shopping is one of the highlights of any visit to Thailand. This is due to the competitive prices and remarkably good selection of cultural and contemporary goods. Asians love to shop and shopping centres have become commonplace in all Thai cities, as well as night markets and souvenir vendors in tourist areas. Chiang Mai is probably one of the cheapest places in Thailand for tourists to shop, and it's the source of many of the charming handicrafts on sale.
Those interested in more modern international items, such as gadgets, clothes and multimedia, have the choice of two well-stocked shopping centres, Kad Suan Kaew and Airport Plaza, as well as computer-related items from Panthip Plaza. There are individual shops scattered in tourist areas, where you can pick up bargains on everyday Western items manufactured in Asia.



Where to shop in Chiang Mai
There is much more to buy in Chiang Mai besides handicrafts and unique Thai goods, and there is plenty of good value shopping at a number of shopping centres and clusters of shops around the city.
Nimmanhemin Road is a plush suburb to the west of the city centre, and is popular with expats and wealthy Thais who furnish their homes comfortably with the excellent selection of home décor shops found along this road. Soi 1, near the Amari Rincome hotel, is abundant in contemporary furnishings from a range of gifted local artists. Don't miss their annual Festival of Arts and Crafts during the first weekend of December.
Contemporary items and high-tech goods are found in the shopping centres. Pantip Plaza, near the Night Bazaar, specialises in computer shops, and locally produced hardware is a good deal. Not far out of town is Kad Suan Kaew (also known as 'Central'), located near the northwest corner of the moat. Towards the airport is the bigger, more modern Airport Plaza, and these two are excellent places to pick up cheap mobile phones, good-value shoes, clothes, electrical appliances and more.
However, to truly appreciate Thailand, you ought to spend a morning at one of the traditional markets, and Warorot Market (near the Ping River) is a sensual delight of foods, fabrics, clothes, traditional remedies, and some things that you've never seen before! Beside it is a lovely flower market where a dozen roses can be yours for less than 100 baht. Another accessible market is Somphet (two blocks north of Thapae Gate along the moat), which is good for fresh food.
Northern Village Chiang Mai is proud of its locally produced products – many of them stamped with a unique Lanna identity – and the Northern Village in Airport Plaza is a plush three-storey emporium of handicrafts, fabrics, ornaments, jewellery, art and exquisite home décor items. In contrast to the Night Market, all vendors display a high level of style and quality, presented in a professional, yet affordable, manner. The Northern Village is an initiative to support the nationwide One Tambon (community), One Product campaign to promote small business development in Thailand.
Chiang Mai shopping A to F
For <1 – 2> Chiang Mai shopping G-Z
Antiques: enjoy a thriving market in Chiang Mai and there are plenty of dealers as well as pretenders scattered about the main tourist areas, particularly on Thapae Road. The upper level of the Night Bazaar arcade has several reputable dealers and there are plenty of exquisite and valuable pieces in display – a result of more than 700 years of flourishing arts in Lanna. Most shoppers tend to buy the more affordable reproductions, which look like the real thing – only less rare or valuable. Prices are generally cheaper than Bangkok but there is strict control on exporting these and a genuine article will come with a certificate from the Fine Arts Department. If you are a really serious collector, looking for serious prices, spend the day at Baan Tawai village (south of the city), which is the largest cluster of such shops in Thailand.
Bags and Accessories: both leather and stylish rattan bags, along with all sorts of accessories, are great value and popular items at the various markets (day and night) around the city. Kad Suan Kaew shopping centre has its own market on the third floor.
Books: there are plenty of options for secondhand books (in English, French, German and Dutch) around the city, with a cluster of well-stocked shops tucked down the lanes east of Thapae Gate (well signposted along the moat). New books on Thailand and other popular subjects are available at DK Books (Kotchasarn Road, east side of the moat) and Suriwong Book Centre (Sri Donchai Road, near Mae Ping Hotel). The B2S book store in Robinsons Deparment Store at the Airport Plaza has a fine selection of English books, while Asia Books also has pop fiction racks placed in many tourist spots. More on Bookshops in Chiang Mai.
CDs and DVDs: are favourites for pirate vendors and there are dozens of stalls at the Night Market selling some pretty good copies of all your favourite mainstream artists and films, but the quality isn't guaranteed (and we don't support this trade!). Local film distributors have responded with competitive prices and genuine shops in the malls have a decent selection of original international DVDs for 250 baht and VCDs for 120 baht.
Ceramics: are popular, though a little difficult to ship home. San Kamphaeng has the best selection of fine Asian porcelain, and other articles big and small. One notable Thai tradition in ceramics is the Benjarong style of porcelain, comprising of fine china decorated in intricate and delicately painted patterns. Originally produced for royalty the labour-intensive results are exquisite.



Clothing: is great value, sometimes lacking in quality, but usually cheap and widely available at the Night Market, stalls around the city, and scatterings of boutiques in the city centre and department stores in the shopping centres. At the latter you can find labels popular in the West, manufactured in Thailand, at much cheaper prices. Tailors are also numerous and they can knock together a suit for you in 24 hours, though we recommend a more thorough job. Try out the traditional Thai outfits or treat yourself to a silk shirt; they are considered the world's best. Look out for fake labels.
Computer Hardware: locally-manufactured hardware is considerably cheaper and the quality acceptable. Pantip Plaza, near the Night Market, has three storeys of IT vendors. A few shops sell pirated software (which we don't endorse!). There are MacZones in both Airport Plaza and Kad Suan Kaew, although prices aren't much different from international Apple retail stores.
Digital Cameras: those manufactured in Asia are presented in a vast choice at fairly competitive prices. The two shopping centres have several shops with good selections and there are specialist shops in Pantip Plaza and on the east flank of the moat you'll find Photobug. There are plenty of places to download your images onto CD. Thailand is a good place to pick up extra memory cards.
Fabric: is one of Chiang Mai's hottest sellers, from premium grade, hand-woven Thai silk to Siamese-styled weaves, colourful cottons, unique Autumn-shaded Lanna cloth, distinctive 'mutmee', and even rugs. The Night Market has plenty of selection and even better prices can be had at San Khampaeng. Several Indian traders at Warorot Market are dedicated to fabrics of all ply, colour and style. Exclusive boutique shops east of Thapae Gate sell unique creations.
Food: is found everywhere in Thailand and if you're shopping for stuff to take home, head to Anusarn Market (adjacent to the Night Bazaar), or Wororot Market (by day) to sample the intriguing selection of dried fruits and herbs, preserved foods, Thai delicacies and curry pastes.
Furniture: There are many fine places to buy top quality furniture in Chiang Mai, with Chiang Mai Furniture Manufacturer Indochine Decor offering fine contemporary furniture, flooring, interiors & architectural timber structures. Customers include home builders, property developers and management companies, hotels, resorts, spas, furniture wholesalers, importers, retailers, architects, interior designers and private customers worldwide.
For <1 – 2> Chiang Mai shopping G-Z.
Further reading…