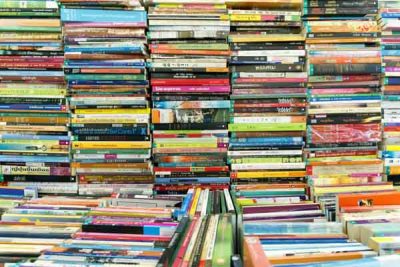 With its large numbers of expats, Chiang Mai is the only city in Northern Thailand with a respectable selection of English bookshops; most of which are to be found within walking distance of Thapae Gate.
For new books, DK Book Centre and Suriwong Book Centre are the most popular, while SE-ED Book Centre (Big C Extra Chiang Mai) has a great range of non-fiction books. Bookazine and Bookzone have a good generic selection of international magazines and news media, along with the usual range of fiction and travel books. The major shopping centres of Central and Airport Plaza have stores with a limited range of English books, while the Suriwong branch at Chiang Mai Airport has a somewhat better selection.
Second hand bookshops have sprung up in the area just east of Thapae Gate, making this a convenient place to compare range and prices. The majority of the books are popular fiction paperbacks and travel guides, though don't expect any real bargains as most have been shipped in from the UK and cost about 300 baht a book. Nonetheless, they do offer trade-ins and have a great selection.



Recommended book shops in Chiang Mai
Suriwong Book Centre
A large international bookstore with many great titles on Thailand; particularly coffee table books. Open: 10:00-21:00, 54, 54/1 Sridonchai Rd., Haiya. Tel: (053) 281 052-6.
On The Road (Secondhand bookshop)
A small, down-to-earth shop with very reasonable prices, conveniently located near the Irish Pub. Not too overwhelming but decent selection. 38/1 Ratwithi Rd.
DK Book Centre
A large bookstore but with a limited selection of English books, and few fiction titles. Open: 09:00-20:00, 79/1 Kotchasarn Rd.
SE-ED Book Centre
Best for non-fiction titles and computer books. Located in Big C Extra Chiang Mai on the Superhighway near the Chiang Mai-Doi Saket road. Big C Extra Chiang Mai (1st Floor), 94 Moo 4, Chiang Mai-Lampang Rd., Tel: (053) 851 181-2.
Gecko Books Chiang Mai
Good range of secondhand books with English-speaking owner. Two locations in town. Gekko Books (Main) – 2/6 Chang Moi Kao Rd., Mobile: (091) 745 9671. 
Backstreet Books Shop
Nice interior, good selection. Open: 09:00-21:00, 34/3 Ratchamanka Rd., Tel: (053) 206 656, Email.
Shaman Books Shop
Centrally located, near Thapae Gate, this small shop specialises in new age books. Open: 09:00-22:00, 2 Soi 1, Kotchasarn Rd., Mobile: (062) 156 4591, Email.
Tokyodo Books Shop
Japanese bookstore in Central Kad Suan Kaew on the 4th Floor. Central Kad Suan Kaew (4th Floor), 99/4 Moo 2, Huay Kaew Rd., Tel: (053) 894 402.
 Zirieng (Udompol) Stationery Store  
Limited English books, but loads of office supplies and more. Open: 09:00-18:00 (Monday-Saturday), 20 Ratwithi Rd., Tel: (053) 223 600, Email.



Further reading…