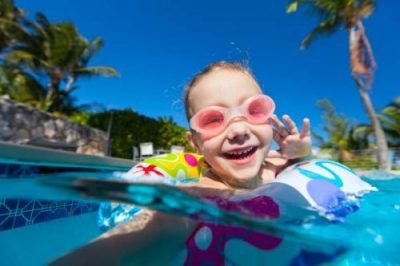 Chiang Mai is an appropriate city for travelling with kids and is certainly more family-friendly than Bangkok. It's easy to get around Chiang Mai with the kids and there are plenty of outdoor and indoor activities that cost very little. The relaxed pace, friendly locals and soft adventure all add up to a satisfying experience for families. Riding elephants, visiting the Night Safari, meeting pandas, swimming and picknicking at lovely waterfalls, the Songkran and Loi Kratong festivals, as well as shopping for cheap toys are just some of the highlights. 
National Parks
These are perhaps Thailand's greatest treasure, and with so many lush, waterfall-laden parks scattered about northern Thailand you'll be spoilt for choice. Camping and daytrips are popular among the Thais who descend upon the many picnic spots in large family groups every weekend. During the hot season, they particularly like frolicking in the rivers and waterfalls nearby, and for kids this can be a real adventure.
The most accesible from Chiang Mai is perhaps the Mae Sa valley (30 minutes drive away), which boasts a fantastic multi-tiered waterfall that is largely safe and has great picnic possibilities – don't forget the swim suit!
Animal shows
Also in the Mae Sa Valley are a number of animal shows. You can get close to cobras and other snakes, watch monkeys fetch coconuts, meet tigers, or see dogs performing cute tricks. There are also ATV rides, and X centre and pony rides in the area.



Your first stop on a child-friendly tour of Chiang Mai should be Chiang Mai Zoo, which encompasses a 1,442 square-metre area.
It is specially designed to enhance kids's interactive skills and facilitate their optimal enjoyment and appreciation of animals and the environment. The two Pandas (animal exchange students from China) are a particularly big drawcard. The recent addition of one of Southeast Asia's largest aquariums, and a snow dome, make it a worthwhile day out.
The kids's area includes a cognitive development centre, small and large animal exhibit, playground, adventure sector, sand area, rabbits exhibit, performing stage, exhibit hall, fish exhibit and lotus pond – all located in a grassy garden permeated with trees and flowers. The zoo is located on a hilltop overlooking Chiang Mai, and has as much to offer adults, as it does kids. However, be warned it's hilly and spread out, making it unsuitable for pushing strollers around or carting young kids. Use the free transport from one section to the next. Open: 08:00-18:00 (Daily). Admission Fee: Adult 150 Baht, Children 70 Baht. Address: 106 Huay Kaew Rd., Suthep. Tel: (053) 221 179, Email. 
Elephants
Elephants are one of Asia's most precious treasures, and interacting with these gentle giants up close is an experience that shouldn't be missed by you or your kids. The Thai Elephant Conservation Centre (TECC) on the Chiang Mai-Lampang Road is located about 70kms from the city centre, but is well worth the drive, being less commercial than many elephant camps in the region, and devoting their proceeds to the elephant hospital. Daily shows are at 10:00 and 11:00, but arrive at 09:30 if you want to see them bathing. Elephant rides are also available.
Another excellent elephant camp is Mae Sa Elephant Camp, this is perhaps the most practical – combined with the other family-friendly attractions in the area – and the twice daily show is very entertaining.
Note:
To find the best rate 
Hotels in Chiang Mai
, we recommend you look online at
Agoda.com
. They seem to be the most competitively priced of the hotels sites.
Play areas
There are kids's play areas in both of the large shopping centres and in all the superstores, such as Tesco Lotus and Big C. These play areas offer plenty of complex climbing areas and a few small rides; even a mini rollercoaster.
Kad Suan Kaew mall also has a games area for kids on the first floor. They are best for toddlers and small kids; however, nearby you will usually find Sony Playstations© for the older kids.
Movies and bowling
Two decent movie houses are found in Chiang Mai, one each in the two main malls. The Vista Cinemas in Kad Suan Kaew Mall are closest to the Old Town, but the Major Cineplex in Airport Plaza is far more modern and comfortable. Each has about two dozen screenings a day, comprising of Thai movies (sometimes with English subtitles), at least one family movie, and some international releases of the low-brow variety. In general, the selection is quite disappointing.
Chiang Mai has a number of bowling alleys, the most convenient of which is Bully Bowl in Kad Suan Kaew Mall, on the fourth floor at the back end behind the cinemas. Cost of games is very reasonable, the lanes are in good condition and it's seldom crowded.
G

aming shops
Gaming is very popular with Thai kids; so much so that the government has banned kids from playing a popular game, Ragnarok, online from 22:00 to 06:00. For the serious young gamer, there are shops all across town offering a range of computer, Sony Playstation® and Microsoft X-Box® games. Even many internet shops have a gaming section and you'll find there are lots of young kids huddled around the computers. Additionally, game machines are found throughout shopping centres.



Public swimming pools and parks
In the steamy heat of the day, it's nice to be able to cool off in a pool or at the park. There are quite a few public parks in the city, with lots of shade trees and vendors selling drinks and ice cream. If your hotel or guesthouse does not offer a swimming pool, you can join in the fun at a public pool for minimal charge. Public pools are well-maintained but there may not be a lifeguard. Pools open to the public (at fees of less than 100 baht per person) can be found above the Lotus Suan Kaew (hotel behind Kad Suan Kaew Mall), Chiang Mai Land (at the end of Chang Klan Road), and the 700 Year Stadium.
There is also a magnificient, under-promoted botanical garden and animail park out of town on the Chiang Rai Road, called Tweechol Gardens and Horizon Resort – fairly obvious development on the left before you reach the hilltop temple of Doi Saket (10kms from the city). This vast park has boating ponds, a mini-zoo and plenty of picnic areas for families.
This relatively new attraction is a fun and unique chance to see some of Asia and Africa's rare predators in a safe environment, complete with nature trails, night safari trips, a mini-zoo area and lovely grounds with a pavillion set about a pretty lake. It's all located on a large area of the national park to the southwest of the city and is best from 17:00 onwards. Asia's biggest musical fountain. Open: 11:00-22:00 (Daily). Admission Fee: Walking zone: Adult 100 Baht, Children 50 Baht. Day safari/Night safari: Adult 800 Baht, Children 400 Baht. Address: 33 Moo 12, Nong Khwai, Hang Dong. Tel: (053) 999 000.
Children's day Chiang Mai
Held traditionally on the second Saturday of January, Thailand Children's day is a big event in Chiang Mai, where most families get out to one of the popular events. The busiest of these is put on by the Royal Thai Airforce, at the Airforce Museum near the airport terminal. It gets extremely busy, but the planes on display and general atmosphere adds up to a fun outing. Alternatively, the two main malls put on a day of activities – jumping castles, shows, activities, competitions and plenty of fun, in a tradition that the Thais are superb at organising.
Kids can be fussy eaters, especially while travelling. Fortunately, Chiang Mai has loads of dining options and if they don't take to local noodle dishes, there are plenty of Western-style restaurants as well as fast-food places like McDonald's and KFC. For food and fun, look to Mozaka Ceramics Cafe, where visitors get to paint crockery items and have them glazed and fired. The food is double-tasty.
With all the hot weather, there is plenty of ice cream available, with Western ice cream parlours being popular places to have a treat – Bud's, Swensen's and Baskin Robbins are favourites. Additionally, there are vendors pedalling around coolers with ice cream bars and cones from Foremost or Wall's. Kids may also have some fun trying traditional Thai desserts, such as bananas with coconut milk.
Festivals
There are a number of enchanting festivals taking place throughout the year and the two main ones that will certainly grasp the imagination of children are Songkran and Loi Kratong.
Taking place annually for a few days in mid-April, Songkran celebrates the Thai New Year with various ceremonies and parades. Most fun for kids, though, is the custom of throwing water on everyone, everywhere in the streets! There are plenty of water pistols and even big super-soakers for sale around this time of year, and everyone has a good time. It goes on for several days in mid-April (very hot, so remember the sun cream) and can be quite overwhelming in the busiest places around the moat.
Loi Kratong is far more sedate and charming, as Thais release their sins of the year by floating candle-lit Kratong down the river in the evening and releasing glowing rice-paper baloons into the cool evening sky. It's a wonderful sight, and a lovely display of traditional Thai culture that leaves a memorable impression. This takes place towards the end of November.
A further two festivals worth visiting are; the Annual Flower Festival held in early February at Buak Haad Park in the southwest corner of the moat, and the Borsang Umbrella and Handicrafts Festival held in Sankhampeng village (east of the city) in late January.
Further reading…