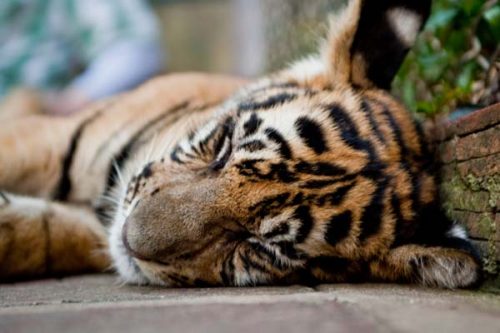 Get up close to a docile tiger at the Tiger Kingdom
Just 15kms north of Chiang Mai is the wonderful outdoor playground of the Mae Sa Valley, so often overlooked by tourists to Chiang Mai. The valley offers plenty of sights and activities for visitors: the botanical gardens and lovely 10-tiered Mae Sa Waterfalls are the chief natural attractions, but there is also a fun elephant camp straddling the tumbling river, along with an orchid farm and a selection of animal shows, with monkeys, dogs and snakes. You can also work up some adrenalin by bungee jumping or riding ATVs. For visiting families it's an ideal day trip for adventure in Chiang Mai.
There are a few fancy resorts in the area, as well as budget accommodation, while restaurants here are plentiful. They range from roadside stalls and open-air, budget Thai-style restaurants with noodle dishes and northern fare to pricier resort-style eateries. Some are also set in a jungle environment with mountain rivers nearby.



The first true botanical garden in the country, the QSBG also serves as a centre of botanical studies and research. The highlight here is the glasshouse complex, which is comprised of four exhibition conservatories and eight display glasshouses.
Plants are grouped together according to their environmental conditions, and the houses are each monitored to control light, humidity and ventilation. Plants are well labelled in Thai and English.
The other areas of the QSBG include: the arboreta, Natural Science Museum, climber collection, Thai orchid nursery, and rock garden. There are numerous walking trails in this expansive area, as well as plenty of shaded places to relax. All areas are well signposted in English and Thai. The river also runs through the grounds, providing some lovely spots. Facilities include a restaurant, first-aid station, souvenir shops and toilets. This is arguably the best value for money attraction in the area. Open: 08:30-17:00, Entry (Adult/Child): 100/50 Baht, Car Entry: 100 Baht, Bus Entry: 200 Baht. Address: 100 Moo 9, Mae Ram, Mae Rim. Tel: (053) 841 234, Email.
Mae Sa Waterfall
This stunning waterfall is set in the verdant Doi Suthep-Pui National Park and is one of the first attractions you encounter in the valley before the road really starts climbing. The path winds up for almost two kilometres to the plummeting 10-tiered cascades; there are many secluded areas off the trail which are great for picnicking, although the park is crowded on weekends and public holidays. Open: 08:00-17:00, Entry (Foreigner/Thais): 20/100 Baht. Address: Highway 1096, Mae Ram, Mae Rim. Tel: (053) 210 244.
Here you can see these gentle giants up close. The entertaining shows are included in the entry fee and it is definitely worth seeing. Football-kicking and painting are favourite acts among the elephants, while the exhibition hall features displays of rare stories and photos of newborn elephants. There is also a collection of hunting equipment and weapons used in past elephant hunts.
You can purchase bananas to hand-feed the elephants and take photos with them, as well as ride an elephant for an additional charge. A charming restaurant – about half a kilometre up the road – straddles the river and is a good place to eat. Open: 08:00-15:00, Entry (Adults/Children):  200/120 Baht. Elephant Show Times: 08:00, 09:40 and 13:30. Address: 101 Moo 9, Mae Rim-Sameong Rd., Tel: (053) 206 247-8, Email.
Operated to New Zealand standards and open since 1992, this attraction allows you to bungee jump from a height of 50m over a small lake. There are international jumpmasters and jumpers are fully insured – part of the X Centre. Open: 09:00-19:00, Bungy Jump Prices: 2,000-3,300 Baht. Address: 816 Moo 1, Mae Rim-Samoeng Rd., Rim Tai, Mae Rim. Tel: (053) 297 700.
Featured in the Amazing Race Asia, this multi-activity centre is about the most fun you can have in the area, with its paintball action, bungee jump, go-cart track, and motorbike or four-wheeler buggy excursions on the mountain. A restaurant is also located onsite, professionally managed by an experienced Kiwi-Thai team, with hotel pickup. Address: 816 Moo 1, Mae Rim-Samoeng Rd., Rim Tai, Mae Rim. Tel: (053) 297 700.
Here you have a chance to get up close and personal with these kings of the jungle. For a fee you get to spend 15 minutes in the tiger's lair, playing with cubs or trying to make friends with adults. The owners stress that the tigers aren't drugged in any way, but tigers aren't pets and there have been incidents here (and in Kanchanaburi) of tigers taking a swipe at unsuspecting tourists. A restaurant is onsite, too, and it is located just off the Mae Sa Valley road in the lowlands of Mae Rim. Service Time: 09:00-18:00 (Daily), Single Ticket Price: 500-1,300 Baht/Person, Package Ticket Price: 1,000-2,100 Baht/Person. Address: 51/1 Moo 7, Rim Tai, Mae Rim. Tel: (053) 299 363, Email.



Mae Sa Snake Farm
The biggest snake reserve centre in the north of Thailand offers entertaining shows in English and Thai. Bleachers surround a performance ring where agile snake handlers show you a variety of non-poisonous and poisonous snakes, with cobras being the highlight. Guests can even touch a live cobra (considered a gesture of luck) and hold an enormous python. The show itself is quite entertaining, even including a 'surprise' for some audience members. Afterwards, you are free to roam the few enclosures. Open: 09:00-17:00, Entrance Fees (Adult/Children): 200/100 Baht. Address: 804/1 Moo1, Mae Rim-Samoeng Rd., Rim Tai, Mae Rim. Tel: (053) 860 719.
The shows at either of these venues offers a delightful opportunity to see a variety of species performing cute tricks, such as playing basketball, riding tricycles and going through counting exercises. You'll also see how they climb trees and retrieve coconuts for farmers. Open: 09.00-16.15. Shows Times: All Day. Entrance Fees (Adult/Children): 200/100 Baht. 295 Moo 1, Mae Ram, Mae Rim. Tel: (053) 044 288, Email.
Enjoy the beauty of this area on a scenic ATV ride. The three-hour guided tours take you past the 'Semi Golden Triangle', where you can see the districts of Mae Rim and Samoeng. Tours include a short instruction, accident insurance coverage, protective gear, and refreshments. You can also go unguided for the same price. Open: 09:00-18:00 (Daily). ATV Trip: Half an Hour Trip: 1,300 Baht, 1 Hour Trip: 1,000/1,400 Baht, 2 Hours Trip: 1,000/1,600 Baht. Address: 64/2 Moo 6, Mae Rim-Samoeng Rd., Mobile: (088) 260 9216, Email.
Mae Rim Orchid: Orchid & Butterfly Farm
Hundreds of wild orchids and various hybrids make up this lovely attraction. Additionally, the farm acts as a sanctuary for live butterflies that fly freely throughout the complex. Butterflies which died of natural causes are framed and are for sale. You can also purchase 24 carat gold orchids. Open: 08:00-17:00, Entrance Fees: 100 Baht. Sainamphung Orchids Farm, 61 Moo 6, Rim Tai, Mae Rim. Tel: (053) 297 152, Mobile: (089) 999 9818.
I Love the Beatles Restaurant
Owner Kitiwat Leelayut, aka Jiab, was a professional rock guitarist for 30 years and has built his restaurant as a tribute to the Beatles. He's on site and very friendly. The food is good and is a selection of northern Thai dishes and noodle dishes averaging around 40 to 60 Baht. There are three bungalows for those who wish to stay in the area. Well signposted from the main road, the Paradise Spa Resort and Restaurant provides luxurious accommodation (at the most expensive rates in Chiang Mai).
If you continue following this road it climbs up into a small agricultural settlement called Pong Yang, and you'll soon notice the many greenhouses covering the elevated valleys. You can explore these or stay on the road and follow it for a 90kms mountainous route around Doi Pui National Park, arriving back in the southern suburbs of Chiang Mai.
Bet you didn't know that!
Pregnant Thai women believe it is good luck to stand under an elephant to ensure a safe birth. Most babies are named from a list of lucky names provided by seer monks who consults tables according to their birth date. In any case, most Thais have just a first and surname which, on average, adds up to about 10 syllables, so they opt for nicknames like 'tiny', 'chicken' or 'cartoon'. Other common ones are 'aye' 'ee' 'ai' 'or' and 'yuu', funnily enough!
Further reading…