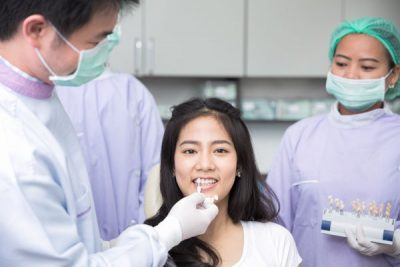 Although a visit to the dentist is usually not on a tourist itinerary, it's a very good idea when in Chiang Mai. You may loathe trips to the dentist, but you can save a great deal on dental work and check-ups by visiting one of the dentists in Chiang Mai. There are many professional clinics catering specifically to tourists and expats, with costs considerably lower than your home town.
The dentists in Chiang Mai are widely advertised in local media and offer everything from teeth cleaning and whitening to root canals, dental crowns, and even implants, all done for a fraction of the cost in the US and the UK. Dental clinics in Chiang Mai are also cheaper than those in Bangkok. For example, a regular check-up should cost no more than 600 baht (US$20) – perhaps double if you require a filling or extraction – while the latest UV bleaching teeth whitening costs no more than US$200 and is over in two half-hour sessions.



There are dozens of dentists in Chiang Mai – some have made a big effort to target visitors and expat families with services that meet foreigners' expectations and English-speaking staff (most doctors and dentists in Thailand speak English). They have modern, clean dental clinics with state-of-the-art equipment and cutting-edge technologies. Dentures are also produced locally in laboratories and can be available within days.
When visiting Chiang Mai it's certainly a good idea to plan a visit to the dentist for you and your family and spoil yourself on teeth whitening or crowns as it's all much cheaper than back home. Plan to see the dentist as soon as you arrive, because they may ask you to return several times if your teeth need plenty of attention.
Teeth whitening in Chiang Mai
Teeth whitening, also known as 'bleaching', is one of the most common aesthetic teeth treatments. There are a few different methods for whitening the teeth, including gels, special whitening toothpaste, laser and professional dental products. The fastest and most expensive teeth whitening option is to have laser tooth whitening performed for about 9,000 baht (US$300). Another new technology is UV bleaching, which is cheaper at US$200; it's just as effective and over in an hour. You can also opt for the gel and gum guard version costing US$150; a do-it-yourself treatment over a dozen consecutive 'sleeps'.
Dental crowns in Chiang Mai
Dental crowns are also known as dental caps and are used to cover ageing teeth. Dental crowns in Chiang Mai are made of either plastic or porcelain and can last for a number of years, if not a lifetime. Gold crowns are also popular. The price for a dental crown in Chiang Mai is very competitive and a fraction of the price in the West.
Chiang Mai dental clinics and dentists
Chiang Mai has many accomplished dentists and many have been trained in the UK or the US. The best Chiang Mai dentists have excellent facilities, equipment and a range of services, and prices are cheaper than in Bangkok. You seldom have to wait and the experience is usually not too daunting.
Chiang Mai Dental Hospital: One of the best established dental surgeries in Chiang Mai and one of the best priced. All dentists speak English and undertake all major and minor dental work. 84/3 Chiang Mai-Lampang Rd., Changpeuk, Tel: (053) 411 150-1, Email.
Big Smile Dental Clinic: A small but reliable dentist, skilled at surgery with up-to-date teeth whitening, which they claim is the cheapest in town. Dr. Supachai Jantranuson has practised since 1997. 81/9 Arak Rd., Phra Singh, Tel: (053) 815 179, Email.
Fortune Chiang Mai Dental Clinic: The Fortune Dental Clinic is one of Chiang Mai's most popular dental clinics, especially with expats and medical tourists, with its excellent range of services and comfortable surroundings. Prices are steep for Chiang Mai, yet still way below what you would pay back home. There are two city centre branches; one on Canal Road, Suthep, the other at Mahidol Rd. Main office: 233/11 Mahidol Rd., Tel: (053) 281 881, Email.
Grace Dental Care Clinic: The most expensive and capable dental clinic in Chiang Mai is highly praised for its excellent work and attention to detail. All of their dental staff have received post-graduate training in the US and the clinic has the latest equipment. Prices are inline with Bangkok. 45 Soi 11, Nimmanhemin Rd., Suthep, Tel: (053) 894 568-69, Email.
CM Dental Clinic: Has an excellent team of accredited dentists doing everything from general dentistry to cosmetic dentistry and orthodontics. Although more expensive than most Chiang Mai dentists, the equipment and services offered here are good. All dentists speak English and there is even a free taxi service. 617 Charoenmuang Rd., Muang, Tel: (053) 266 557, Email.



Further reading…