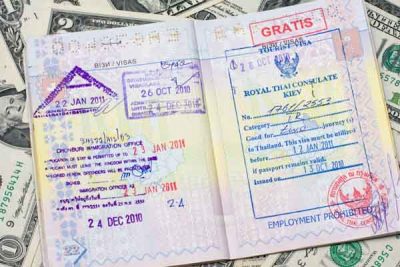 Whether you intend to visit Thailand for a holiday, or stay permanently in Chiang Mai, a visa of some sorts will be needed. For many nationals a visa waiver is issued upon arrival, though those wishing to reside here for more than a couple of months need to go through the visa rigmarole.
Securing the correct visa in Chiang Mai is important to save you costly visa runs or fines, but there are several options open to expats. We've outlined the various visas available for staying in Thailand. Tourist visas can give you up to six months; beyond that, a non-immigrant visa is required, certainly if you wish to work. Taking a course, such as Thai language, also opens the opportunity to obtain a long-stay student visa. From March 2016 onwards the Immigration has taken a tough new stance on overstays, banning people from entering the country for a year or more if violated. Aside from the advice below we recommend you approach a professional visa handling agent such as Assist Thai Visa.



Tourist Visa Requirements for All Passport Holders
***Regulations are subject to change without notice.***
Thailand Launches the Multiple Entry Tourist Visa (METV) scheme starting November 13, 2015
The METV is available to tourists of all nationalities. Applicants can apply for the METV at all Thai Embassies. The application fee is $200, with a visa validity of six (6) months and the duration of stay of up to sixty (60) days per visit. The length of the visa starts from the date your visa is issued. It is advised to try and obtain the visa closer to the date of your departure.
Requirements for the Multiple-Entry Tourist Visa (METV)
• Your passport must have blank and will not expire within six months from time of travel to and from Thailand
• 1 copy of Passport that shows your photo, name, date and place or birth and the expiration date of passport
• Completed visa application all sections must be completed including proposed address in Thailand
• Two photos (Passport photo, 2" x 2", color, front-view, taken within 6 months, and write your name and last name on the back of each photo).
• A copy of applicant's recent bank statement showing a minimum of US $7,000
• Letter from employer verifying employment
• A Copy of airline tickets (e-tickets or itinerary showing confirmed flights) – tickets should show multiple entries
• Copy of hotel reservation with the address listed
• Visa fee $200
—————————————–
For Single Entry Tourist Visa (Double and Triple Entry Tourist Visas no longer available)
• Your Passport must not expire within 6 months and contain at least ONE completely empty visa page.
• 1 copy of Passport that shows your photo, name, date and place or birth and the expiration date of passport
• Completed visa application all sections must be completed including proposed address in Thailand
• Two photos (Passport photo, 2" x 2", color, front-view, taken within 6 months, and write your name and last name on the back of each photo).
• A copy of airline ticket showing flights into and out of Thailand. Either paper ticket or confirmed e-ticket is acceptable.
• A copy of applicant's recent bank statement reflecting at least US $700 for single applicant, $1,500 per family)
• Visa Fee $80
*If the applicant does not have his/her own bank statement, please submit the Affidavit of Support with the bank statement of the person who supports the applicant.
*If using Online Bank Statement, it must show applicant's name and balance.
Visa waiver
These are issued upon arrival and are good for 30 days, unless you arrive overland, in which case only 15 days are given. More than 40 nationalities qualify, including citizens of the UK, USA, Australia, New Zealand, Israel, Ireland, EU countries, Switzerland, South Africa, Japan, Singapore, Canada, and others.
Visa on arrival
Visitors from a further 20 countries are permitted to enter Thailand without pre-arranging visas, and are issued with a 15-day tourist visa, costing 1,000 Baht when they arrive. 
Note:
To find the best rate
Hotels in Chiang Mai
, we recommend you look online at
Agoda.com
. They seem to be the most competitively priced of the hotels sites.
Tourist visas in Chiang Mai
Those who are not from one of 60 countries mentioned above can apply for a tourist visa, allowing them 30 days stay in the country. Nationals from 36 of the countries given visa waivers can also apply for a tourist visa enabling them to stay up to 60 days in the country. Prices vary at different embassies but cost £28 in the UK, for example.
A tourist visa can also be extended once by local immigration (at their discretion) giving you a further 30 days to remain, costing 1,900 Baht. Multiple entry tourist visas are also available, allowing you up to three entries (60 days each), amounting to half a year.
Note! Persons entering the country on these visas may be asked to prove funds of 10,000 baht (equivalent) per 30 days of stay, although in practice this mostly applies to those leaving overland and immediately re-entering Thailand. Furthermore, those who repeatedly apply for tourist visas at consulates near Thailand might be refused for up to 90 days.
Retirement visas in Chiang Mai
Retirement visas are issued to persons over 50 who have no criminal record, a health certificate, and are able to show either 800,000 Baht equivalent that has been in their Thai bank account (for three months prior to application), or proof of 65,000 Baht monthly income, as certified by a lawyer or local consulate. 
Non-immigrant visas in Chiang Mai
This type of visa is necessary in order to gain permission to live full time here either on a work permit, spousal arrangement, religious work, journalist posting, or for investigating business investment. They have to be applied for outside the country, with supporting documentation (a marriage certificate, work offer, etc), and allow you to stay in Thailand for 90 days while you gather the various paperwork and submit it to the local immigration office. A fee applies, the amount depending on the embassy (in the UK, for example, it's £100).
Many long-term residents use the non-imm visa as a means to say here full time. It's not difficult to get one issued but converting it to a legitimate 12-month visa involves a paper chase and some strict stipulations, which many never bother to follow through with. By securing a multiple entry non-imm visa, such people are allowed to leave and re-enter the country to obtain a further three months, for a total of 12 months. Because of this ruse, most Thai consulates or embassies in Asia will only issue single entry visas to these so-called 'visa-runners'.
Over the years the Immigration Department have become increasingly tough on persons living indefinitely in Thailand without following through with the correct application procedure. But this hasn't stopped thousands of expats without formal employment from doing visa runs. There is endless anecdotal advise, often conflicting and difficult to sift through, on the popular forum Thaivisa.com.



Types of non-immigrant visas for Thailand
(See full criteria on the Ministry of Foreign Affairs Website).
Non-imm B: is for business and the most common. It can be obtained with a letter of appointment from a company, but visa staff might insist on seeing validation of the company and its staff and books, since only one work permit can be issued in a company for every four Thai staff and two million baht in capitalisation. Converting it to a full 12-month visa is dependent on the successful issuing of a work permit, after which the wad of paperwork has to be re-issued all over again to the immigration department. Reckon on about four weeks and as many trips to the department.
Non-imm O-A: this type of visa is less common and is for retired people and those who are looking after a spouse or child of Thai nationality. Non-imm O visas can be obtained by producing a marriage certificate, or ID document or proof that the child you are supporting has nobody else more qualified to look after it. Applicants also need to have at least 400,000 Baht sitting in a Thai bank account for at least three months, while retirees must show proof of 800,000 Baht or a regularly monthly income of 65,000 Baht. This type of visa can also take several weeks to complete, although it is significantly easier to extend.
Non-imm Ed: this is a popular means at present of staying in Chiang Mai, since you are entitled to a 12-month visa while undertaking a part-time course, such as Thai language or undergraduate studies. Together with a non-imm Ed visa you need an endorsement from your school to have your visa upgraded.
Other types that are less common and with different criteria include;
Non-imm M: for journalistic work, if you are endorsed by an accredited media agency.
IM: investor visa approved through the Board of Investment.
Note!  Non-imm B investment visas are another option for those investigating possibilities to establish a business here and can allow you up-to three years stay, but there are some stiff financial stipulations.
Permanent residence
Very few people are granted residency or full Thai citizenship if they are not born to Thai parents. Each year a limited number of permanent residence permits (quotas per country, usually 100) are also issued, and applying for such is only realistic if you have been living here some years (and have extended an O visa for at least five consecutive years) and can supply various documents to prove you are an upstanding citizen. A Thai language proficiency test is also given. In addition to the non-refundable application fee of 5,000 Baht, a cost of 97,500 Baht must be paid (195,000 if unmarried), and the process has been known to take several years to complete and be signed off.
Overstays and extensions in Chiang Mai
All visas can be extended at a local immigration department, of which there is one in each regional centre (including Bangkok, Chiang Mai, Phuket, Samui and Pattaya). If you are in the process of applying to legitimately extend you non-imm visa, the officer will usually grant you an additional 30 days while they process the paperwork or send you off for additional documents.
Tourists wishing to stay a little longer can get a further 10 days added to their visa period, only once, costing 1,900 Baht. Those who have overstayed their visa will be fined 500 Baht per day up to a total of 20,000 Baht. In 2010 they began randomly detaining people who had overstayed their visa by more than 40 days.
Chiang Mai Immigration Department: 71 Moo 3, Airport Road, Suthep. Tel: (053) 282 289, 142 787.
Immigration Department Blues
The 
Tor Mor
, as it is known in Thai, is a department of the Royal Thai Police and deals with some 200,000 visa applications a year in the best tradition of government bureaucrats. Few expats can speak positively of their annual visa run-around, which usually involves multiple visits, long queues and blunt staff. Although the department has tried in recent years to streamline and improve their services, a great deal of patience is required when dealing with them.
You can expect some rather petty 'barriers', which might be smoothed out if you left it all to a visa specialist. The Chiang Mai Immigration Dept, however, has really improved its service over the last few years, with an air-conditioned waiting room, WiFi, and onsite coffee shop. This particular office has become overworked due to increasing numbers of retirees and hordes of Burmese immigrants. 
You are advised to arrive by 7:30am, avoid Mondays and Fridays, plan several days before expiry of your visa and bring a good book and plenty of 'mai pen rai'. Some people find that arriving later in the day reduces waiting time, though you run the risk that your number won't be processed by 4pm. Parking is a problem too.
Further reading…