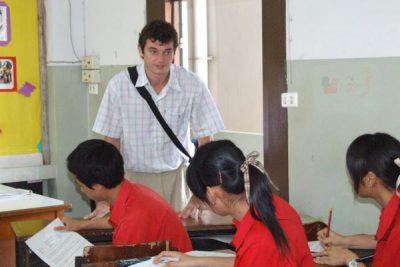 Chiang Mai is such an agreeable place that many want to stay, and teaching English in Chiang Mai is one realistic way to do so. Although jobs aren't as easy to come by as they are in Bangkok and rates are up to 30 per cent lower, the atmosphere is far more relaxed. Teaching isn't for everyone, but it can be fun and rewarding.
If you have the requisite qualifications, a good attitude and look reasonably smart, then you shouldn't have a problem finding a teaching job in Chiang Mai. If you're a backpacker looking to hang around for a few months, then think again; the schools have seen countless dreadlocked, inappropriately-dressed drifters hoping for a job, and these professional establishments know better.



Rates vary from 180 Baht per hour to 400 Baht per hour, but the average is 250 Baht per hour. Fulltime contracts are less common. Due to the fact that demand outstrips supply, those applying should have a recognised TEFL/EFL certificate, a good command of English, soft accent and preferably some experience.
The first step to landing a job as an English teacher is to get some decent training, and the 120-hour in-class TEFL is the standard qualfication that recruiters expect to see on your application or resume. Fortunately Chiang Mai TEFL Courses are numerous and you have a choice, with the benefit of some even finding a job afterwards for you. A word of advice, avoid the cheap online TEFL courses that are widely offered, they aren't generally recognised by schools and miss the crucial practicum component that is essential for accreditation compliance.
In order to secure a work permit, the Thai manpower department will also want to see proof of a degree (or equivalent), but in reality few positions here offer full time contracts with work permit, preferring the convenience of a larger staff of part-time teachers. Invariably, most teachers here juggle several positions.
There are more than half a dozen private international schools in Chiang Mai, although they tend to recruit properly qualified people through overseas agencies. Occasionally they employ teachers who have been in Chiang Mai for some time.
Note:
To find the best rate
Hotels in Chiang Mai
, we recommend you look online at
Agoda.com
. They seem to be the most competitively priced of the hotels sites.
More than a dozen language schools offer the best options and these vary in quality. Some teachers opt for voluntary, or low paying, jobs teaching underprivileged or refugee children (with a few perks), while others occasionally find positions in regular Thai schools (low salary). If you're patient, you can build up a network of private students.
Although many are satisfied to find any teaching work at all in Chiang Mai, it's worth knowing which schools are best. Some of the schools are businesses more than educational institutes and tend to put profits above standards.
Tips for landing a job teaching English
Look and act professional, arrive with all your documents ready, and be dressed for a possible immediate interview.
Thais are sticky about appearance, so dress conservatively, wearing a tie or conservative skirt.
If you don't have a TEFL certificate, then show some proof of previous teaching experience.
Bring a CV (of relevant experience only) and copy of your degree/tertiary diploma (this is considered a pre-requisite for permanent positions).
Be genuine with your intentions to stay in Chiang Mai for a reasonable time.
Be flexible, often openings are for part-time weekend staff.
Those schools that have some international endorsement and foreign management tend to have a much more favourable environment for effective teaching, providing decent course books and resources, placing the students at the right levels, monitoring your class preparation and paying on time.



At the bottom of the ladder are fly-by-night operations that take the money and run, shoving a mismatch of kids into a classroom with no materials and calling on the teacher at the last minute. This can be very challenging and no fun at all.
Another consideration is age groups. Female teachers are preferred for younger students and little ones can be a nightmare to control if you speak no Thai at all. Most students are teenagers, though some schools also have outside contracts for corporate evening work.
Although it's not too important that you speak some Thai (in fact some schools insist that you only use English in the classroom), it can be useful and effective at times for giving instructions and drilling. The most important skill a teacher needs in Thailand is the ability to entertain and teach creatively, for the Thais get bored easily and expect everything to be fun. Expectations of high performance are secondary.
Teaching English can be fun and rewarding in Chiang Mai, provided you treat it professionally. Thais make wonderful students; they are well behaved and respectful, appreciate fun in the classroom and don't have raised expectations.
Further reading…