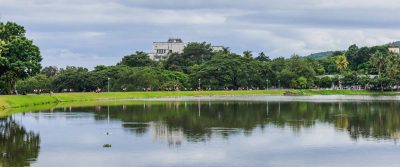 Chiang Mai has far fewer English language schools than Bangkok and newcomers often have to settle for part-time work before landing something permanent. Many juggle a couple of positions until something comes up.
Altogether there are about a dozen schools and the level of professionalism among them varies. Some of the schools are run strictly as profitable businesses, with little concern for educational standards. Those that have some international endorsement and foreign management tend to have a much more favourable environment for effective teaching.



Because the schools are inundated with backpackers hoping to hang around in Chiang Mai for a few months earning money, the schools can be quite particular with applications. However, the more effort it takes you to secure a job, the better the language school is likely to be, providing decent course books and resources, placing the students at the right levels, monitoring your class preparation and paying on time.
At the bottom of the ladder are fly-by-night operations that take the money and run, shoving a mismatch of kids into a classroom with no materials and calling on the teacher at the last minute. This can be very challenging and no fun at all.
AUA Language Center: The American University Alumni is the oldest language school in Chiang Mai and serves over a 1,000 students each term. The school hires before the beginning of each six-week term after conducting a two-week trial, so don't expect a quick start here. They expected a degree and a TEFL qualification. Wages are 300-350 Baht an hour, with regular hours, a full-time contract and usually a work permit. They are extremely professional and quite strict with their teachers. 24 Rajadamnern Road. Tel: (053) 214 120, 211 377, Email.
Chiang Mai University: Supposedly the best university in Northern Thailand, with thousands of students, and set in beautiful surroundings, the university is a settled place to work. They have all kinds of pay scales that can seem a little confusing. Starting salaries are 300 Baht an hour. If you are full-time, then you'll be paid about 20,000 monthly. When you add it up, you actually get less per hour working full-time.
The bonus is you get long paid holidays and a work permit if you decide to sign up as a full-time teacher. CMU has a large English teaching staff and hires at the beginning of each semester (April and October). There are plenty of summer courses, so it's possible you could work most of the year. Being a Thai government institution, they won't hire you if you don't have a degree, although they don't care either way if you have a TEFL or not. Jobs are plentiful here, though some teachers have expressed frustration in dealing with the Thai department managers. 239 Huay Kaew Road, Suthep. Tel: (053) 943 751-3.
The British Council: The council is well known throughout the world for its superior quality. They hire native English speakers of all nationalities if you have a TEFL cert and some experience, paying 300-450 Baht an hour (depending on seniority and volume of teaching). The council has excellent resources and facilities and very good students. There's also a good opportunity to work elsewhere in the world for this organisation. They have a strict hiring process, taking only those with degrees and TEFL qualifications. 198 Bumrungraj Road. Tel: (053) 262 645, Email.
NES Educational Group: Also known as the New Zealand School of English, they are reasonably professional and fairly busy at their Nimmanhemin branch and have another school on the north east side of the moat. Sometimes they hire, paying 200 Baht per hour with no guaranteed hours. The school has decent students and some useful resources, and aren't too strict with their teachers. 16 Soi Sai Nampheung, Sirimangkalajarn Road, Suthep. Tel: (053) 221 173.
CEC: A busy, Thai run school with a heavy Christian theme, focusing more on kids and activities. The owner, Khun Amporn, is very professional and dynamic, though they tend to pay little attention to syllabus and neglect to use decent course books. They are always hiring for bit work, preferring well-presented and mannered people regardless of whether you have a TEFL or not. Pay is 180-250 Baht an hour, depending on class size. Three branches, including one near Payap University. 22 Soi 9, Sirimangkalajan Road, Suthep. Tel: (053) 210 495, (093) 135 5322, Email.



ECC Language Institute: This is a national franchise, with individual ownership of each branch, resulting in mixed quality among the schools. The Chiang Mai branch is better than most, and is busy with university students. Newcomers often have success finding a job here, though part-time and at 200-250 Baht an hour. Little direction is given to teachers and course books are often quite unsuitable. 237/30 Huay Keaw Road, Suthep. Tel: (053) 222 028, Email.
London House School of English: One of the new private Thai language businesses that has grown in its first few years and has a regular demand for teachers, including those sent out on contract to Thai kindergartens and schools on a weekly basis. 74/2 Wieng Keaw Road, Sripoom. Tel: (053) 416 374, 416 793, Email.
There are other smaller independent schools, especially for young kids, but openings are few and conditions aren't great.
For a very good virtual tour of a Thai school visit the excellent site put together by the students and teachers of Sriwittayapaknam School.
Further reading…