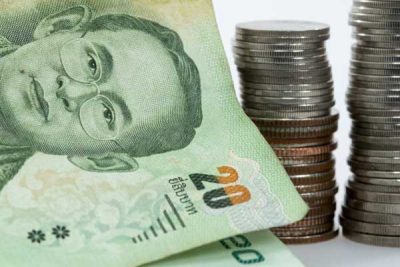 One reason why Thailand is such a popular place with foreigners is that it's quite cheap. Basic costs of living here are significantly less than those of Europe or the US, though prices have risen somewhat exponentially of late. Not surprisingly, an increasing number of foreigners are making Thailand, and particularly Chiang Mai, their home.
Chiang Mai is cheaper than Bangkok, Samui or Phuket and, therefore, has attracted a burgeoning expat community. Whether you are a retiree with a nice pension or an adventurer interested in teaching English here for a while, the city is affordable and allows you to live in relative style.
Basic costs of living in Chiang Mai of course mainly depends on your preferred lifestyle. At the bottom of the scale you can get by–without too much discomfort–on 15,000 Baht a month (US$500/£300), while others easily spend 50-100,000 Baht a month. An average Thai graduate earns about 10,000 Baht a month and happily lives off that. You will find that Chiang Mai is an unpretentious place, loaded with budget eateries and cheap markets.
Thriftiness is foremost in many Thai minds but bear in mind that quality is often lacking in Thailand and you get what you pay for.



Rent costs in Chiang Mai
Rent is one of the real bargains here, because the city is overstocked with apartments and houses. For 3,500 Baht a month you can get a very basic studio apartment within a 10-minute ride of the city, but you'll probably want to pay double that for the comfort of hot water, air-con and some decent furniture.
For 10-12,000 Baht you can have a stylish one-bedroom apartment with cable and furnishings. The main advantage of renting an apartment is that many of them offer a month-to-month lease, allowing you to move in or out at short notice with little hassle. There are plenty in the old city, and they are ideal for getting your bearings when you first arrive in Chiang Mai. A new generation of luxury apartments, farther out, with two rooms and all mod-cons, are available for 15,000 Baht or less.
Houses are equally good value, and 5,000 Baht a month can get you a one bedroom house in a regular Thai suburb near the city (15-20 minutes), with a modest garden. For something closer to the city or with more privacy, two to three bedrooms and furniture, the price goes up to 12,000 Baht. If it's been designed to suit a farang, it'll be more like 15-20,000 Baht. A plush suburban house in a housing community can cost 25,000 Baht and up but comes fully furnished. Furnishing something yourself isn't expensive, if you go shopping for IKEA-type furniture. Every house rental will want a one-year lease and at least one months' rent as deposit, but often three (first, last and security deposit).
Cost of food in Chiang Mai
Food is good value in Chiang Mai, but be careful what you eat as hygiene is lacking at some of the cheap noodle shops. If you eat where the locals do there's no reason to pay more than 50 Baht a meal. Step into the tourist spots and the prices go up. Eat farang food and you can expect to pay at least 100 Baht a dish. All the same, you can spoil yourself with a big meal for two for 500 Baht at a decent restaurant.
Even an evening for two at one of the five-star hotel restaurants may only cost 1,500 Baht (US$50). Staple groceries are on the rise but still well priced (dozen eggs: 50 Baht, litre of milk: 40 Baht, bottle of beer: 40-60 Baht, loaf of bread: 40 Baht) and the big supermarkets carry everything you need. Those catering to foreigners' tastes, such as Rim Ping or Tops, are more expensive and some 'exotic' items can cost more than in your hometown supermarket.
Drinking and nightlife costs in Chiang Mai
Drinking local brew is cheap, but everything is taxed and imported liquor gets quite expensive. A pint of Guinness might cost you 275 Baht! But a local beer can be only 50 Baht – in the right place. Generally, a tourist bar will charge about 70 Baht, or more, for a small bottle of beer, and 100 Baht and up for a cocktail. As always, the more upmarket the place the more 'touristy' the prices become; expect to pay 200 Baht in a good hotel.
Thailand-brewed beers include Chang, Singh, Heineken, Leo, Tiger and Archa. The typical drinking habit among Thais is to bring your own bottle of whisky (100 Pipers: 300 Baht, Johnny Walker Red: 800 Baht, Johnny Walker Black: 1,000 Baht, per 750ml); there usually isn't a corkage fee. Wine is expensive, but everything is widely available and Thais are now beginning to appreciate and support the increasingly well-stocked wine shops, complete with bargain bottles. The local Mekhong Whiskey and Sangsom go for 120 Baht a bottle, but the hangover is deadly.
Phone and internet costs
Landline phones cost 3 Baht for an unlimited call, though your apartment block might charge you 5 Baht. Everyone uses mobiles and a 1,000 Baht prepaid card will get you a free SIM card. Rates are only a few Baht a minute, though it varies from one network to another. It's cheaper to get a permanent account, but you'll need to put it in a Thai's name if you don't have a year-long visa. Prepaid phone cards are the most convenient and you can set them up in minutes. Prepaid internet cards are widely available and easy to use, costing about 10 Baht an hour. 
Broadband is now widely available in most suburban areas although the service is below par, compared to what you might be used to abroad. Monopolies over each area mean you're stuck with your ISP. Packages with a download speed of 10MB are offered for 500 Baht a month, but rarely deliver as promised and slow down terribly in the late afternoon (when the kids come home from school).
A more expensive 'business' package (2,000 Baht p/m) is advised but reliability is not guaranteed and generally they become oversubscribed. Services are better in the CBD. Dithering incompetence from the authorities in awarding 3G licences meant this service was only beginning to roll out from the end of 2010. Some still use GPRS and EDGE through their phone provider for mobile/iPhone access, and the numerous coffee shops around town offer free WiFi.



Getting around Chiang Mai – transport costs
For this we recommend you rent your own moped (125cc, or similar), they only cost 3,000 Baht a month and make life so much easier. They are pretty reliable; expect to pay about 200 Baht a week on petrol. A secondhand one costs about 15-20,000 Baht and a new one 40-50,000 Baht. A bigger bike costs between 30,000-50,000 Baht second hand, but a crackdown on illegally imported, unregistered, bikes has made this a risky option.
Kawasaki sells 250 KLXs (150,000 Baht) and 650 KLRs (250,000 Baht), which are popular if you need power. Car rental starts from 1,000 Baht a day, with month lease rates from 24,000 Baht. A second-hand car costs anything from 50,000 Baht (10 year old Mazda 323) to 300,000 Baht (five year old Honda Civic).
A new Honda Jazz costs about 600,000 Baht, and foreigners can buy these and register them provided they show a Non imm B visa or similar. Motor tax and road worthiness is not prohibitively expensive, but full insurance is recommended! Tuk tuks cost about 60-100 Baht per ride, and songtaew minibuses 20 Baht per ride. A decent new mountain bike costs about 12-15,000 Baht (about 30 per cent cheaper than back home).
Cost of entertainment in Chiang Mai
Entertainment is also relatively cheap here, with movies costing 100-150 Baht, disco entry 100-300 Baht (with a free drink voucher), and drinks at 100 Baht each. A game of bowling (popular here) is 100 Baht, a Khantoke cultural evening will cost about 350 Baht, including the food, and you can even rent your own private DVD room for 100 Baht. Should you wish to take a lady out of the go go bars, we are told the 'bar fine' is 200-300 Baht. It's far easier and cheaper to entertain friends at a local restaurant where a good dinner for four might set you back 2,000 Baht.
Real estate costs in Chiang Mai
Large studio apartments (popular in Thailand) typically go for 700,000 to 1 million Baht (such as in Hillside Condotel), something larger goes for 1.5 million (two rooms, nicely decorated, near the city centre, good view). A modest suburban house with tiny garden in a dense neighbourhood goes for 1.5 million, while a brand new three-bedroom house with small garden in a well-maintained housing complex costs about 3 million Baht.
A new generation of upmarket house and condos are significantly more, but do hold their value. Houses outside of these popular 'moo baans' (suburban private estates) are considerably cheaper, though there are few guarantees on your neighbours' behaviour.
Cost of courses in Chiang Mai
Six weeks of Thai lessons, two hours daily at the AUA in town will cost 4,800 Baht. Private lessons go for about 360 Baht an hour. A day cooking class costs 1,000 Baht, and a weeklong full-time massage course costs about 7,500 Baht.
Cost of clothes in Chiang Mai
Clothes are also great value here, T-shirts and tops at the Huay Kaew night market cost 100 Baht each. Brand name jeans or pants in Robinsons' department store cost 1,000 Baht. Accessories, shoes, some cosmetics, locally produced pharmaceuticals and others are all roughly 30 per cent cheaper than abroad. Many top brands are manufactured in Thailand and apart from begin available in Robinsons or Central department stores, are often off-loaded at cut prices. The selection is fairly extensive, but you might have to go shopping in Bangkok for your Cartier and Rolex.
Cost of computers in Chiang Mai
Computers are made locally and desktops are very cheap, but don't go for the cheapest (models that wouldn't even make it onto the shelves in Europe). The latest spec of desktop sells from about 15,000 Baht, while a decent laptop would retail between 20,000-30,000 Baht. Accessories, such as thumb drives, MP3 players, additional memory/RAM or even flat screen monitors, are especially satisfying in price. Top brands like Sony, Dell and Mac are well sold and serviced locally.
Cost of healthcare in Chiang Mai
A visit to the hospital here won't break the bank, and although you may prefer the private and pricey Chiang Mai Ram, a doctor's consultation at Lanna or Suan Dok hospital (for anyone) is less than 200 Baht. From around 20,000 Baht per year you can take out a premium health insurance policy with Bupa Blue Cross, though this cover will not pay for absolutely everything should you need to be hospitalised or have an operation.
A dental or private clinic visit costs around 500 Baht, provided you stay clear of the places catering to tourists. The cost of hospitalisation for a private ward would be about 2,000 Baht. Many expensive medicines are reproduced in generic form locally (or from India) considerably cheaper. Surprisingly, the standard of private healthcare in Thailand is considered on a par with developed countries but affordable to most expats. 
Further reading…