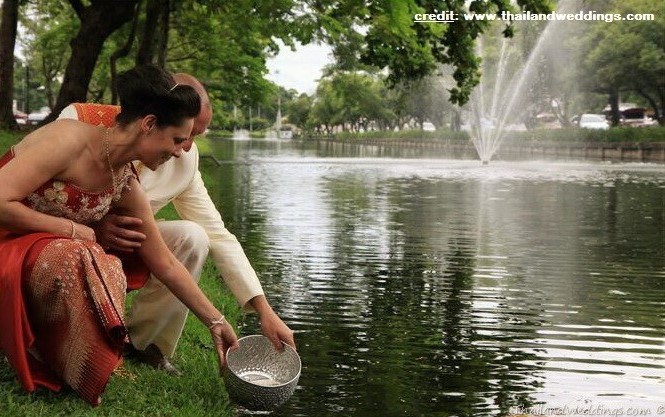 It is no longer only movie stars who jet off to tie the knot in exotic locations; many couples are ditching the large family wedding for more intimate affairs in foreign countries.
It isn't surprising that Thailand is a popular choice, as the country is renowned for its natural beauty, rich culture and incredibly warm and hospitable people. While the beaches and islands of Thailand offer a paradise setting for a ceremony, there are plenty more locations to consider such as a traditional Chiang Mai wedding.
Chiang Mai weddings
While Chiang Mai is considered Thailand's second city, it has little in common with Bangkok. With more than 700 years of colourful history, Chiang Mai is renowned for its art, culture and relaxed pace of life. The city has many beautiful temples and is surrounded by historic walls. Northern Thailand has a distinct charm that makes it an ideal wedding and honeymoon destination…more on sightseeing.
Chiang Mai weddings are also very easy to access, as the city has an international airport which offers regular flight services to Bangkok, Kuala Lumpur and Singapore…more on transportation.



Types of Chiang Mai weddings
Both Western and traditional Thai Buddhist weddings are on offer in Chiang Mai. Buddhist ceremonies are usually held in the morning and are led by three monks from the local temple. Most packages cover the main elements of a Buddhist marriage blessing including the almsgiving and water-pouring ceremony. Western weddings in Chiang Mai can also be arranged; however, they are less popular.  Western ceremonies usually take a similar format to the traditional family wedding with a ring and vow ceremony. 
Chiang Mai wedding planners
Hiring a professional to plan your wedding is a good idea in any country, but it is essential when organising a 'destination wedding' in Chiang Mai. Having a wedding planner means you have an easy-to-reach contact on the ground who can answer all your questions and guide you through every stage of planning with their expert knowledge.
Most wedding planners work with a portfolio of resorts and can recommend the ideal venue to suit your preferences and group size. Throughout the planning stages, your Chiang Mai wedding planner will liaise between you and your chosen venue, ensuring that every detail has been noted in order to create your dream tropical wedding. On the day, your planner will be present to ensure your Chiang Mai wedding is a beautiful event that runs seamlessly.
The north of Thailand is famous for its mountains, scenery and beautiful architecture. Thailand Weddings (61-65 Wualai Rd. Tel: (053) 201 683, Email) specialise in creating unique events which embody the spirit of the majestic north. Various packages include the Royal Lanna Wedding and the Deluxe Thai Buddhist Wedding. They can also arrange a simpler version of the Thai Buddhist wedding, a Christian-style wedding and also a secular version.
Note:
To find the best rate
Hotels in Chiang Mai
, we recommend you look online at
Agoda.com
. They seem to be the most competitively priced of the hotels sites.
Resort packages for Chiang Mai weddings
Many of the world's top luxury hotel brands are represented in Chiang Mai, including Shangri-La, Anantara and Dhara Dhevi. These elegant resorts offer a variety of wedding packages, including a package based on local traditions. The Lanna ceremony is native to this northern region of Thailand, and is a beautiful way to celebrate your nuptials…more on honeymoons in Chiang Mai.
The city's most upmarket resorts are mainly concentrated along the riverside, and offer fantastic views and lush landscaped gardens. Tropical weddings in Chiang Mai can be arranged in different areas of the resort, depending on which style you prefer. The bride and groom can look forward to having their wedding planned with meticulous attention, while guests can expect the highest level of service imaginable.
The Dhara Dhevi Hotel Chiang Mai  provides a truly stunning backdrop for a wedding. This opulent riverside venue has hosted many weddings for both Thai and international couples…more details and booking
Other resorts who offer wedding packages include Four Seasons Resort Chiang Mai. This exquisite resort also offers different settings for your special event. You can hold your ceremony in one of the traditional-style pavilions or in the spacious shady garden…more details and booking
While they usually offer an excellent standard of service, it is best to hire your own wedding planner. Most wedding planners in Thailand are native-speakers so you can have clear communications.



Another Chiang Mai wedding
Chiang Mai-based company Marry in Thailand (Curve Mall 2nd Floor, Room C219-C220, 215/2 Chang Klan Rd., Tel: (053) 818 306) offer a personal wedding planner service, as well as various wedding packages and legal assistance.
Legalities for Chiang Mai weddings
Unfortunately your Chiang Mai wedding ceremony isn't legally binding per se. Many couples complete the relevant paperwork to register their marriage in their homeland before departing for Thailand. You can do this in Thailand, but it means spending a day or two in Bangkok or Chiang Mai (for most nationalities) in order to get a statutory declaration from your embassy. Many venues and planners offer assistance with this process, however, so it is relatively painless.
Further reading…