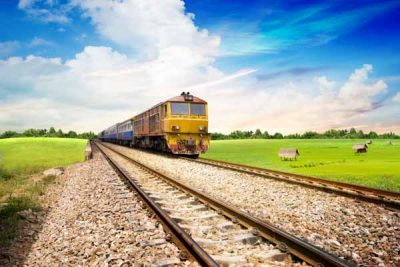 Travelling by train from Bangkok to Chiang Mai, or in reverse, is a popular budget means of getting between the cities. Slightly more expensive than the bus, and taking longer, the train is a much more comfortable means of travel, especially if you take an overnight sleeper.
The emergence of budget flights for 1,500 baht, or less, between Bangkok and Chiang Mai has taken the edge off train travel, but many prefer to see the country from the ground. Towards the end of 2009 the ageing rail network received plenty of negative publicity owing to a series of accidents and wildcat strikes by the union, poor public perception, mismanagement and lack of investment have put the brakes on modernising this increasingly sidelined service. Fewer travellers are using the train these days.



Invariably the train arrives in its own 'Thai time', which is usually up to an hour late. Food and drinks are freely available on board, served to your own seat, at a reasonable price (a meal and drink is less than 100 baht). However, there's no harm in picking up snacks beforehand on the station concourse.
There is adequate luggage storage and safety on the trains is, on the whole, pretty good. You are advised, however, to keep your valuables close at hand while sleeping. If your train isn't air-conditioned, it will at least have fans, but can nonetheless be quite warm. There are no individual compartments (except in first class); the bunks are lined length-ways along the carriage.
The beds are big and comfortable and if you take a bottom bunk, you can awake to the pretty mountain scenery as the train enters the highlands and traverses Doi Kuntan National Park and mountains between Lampang and Lamphun. The top bunk can be a challenge for the claustrophobic and difficult to climb into if you are slightly immobile. It can also be difficult to sleep due to nearby ceiling florescent lights, which remain on throughout the night. Beds are generally made up from 20:00 onwards and broken down about an hour before reaching your destination.
Note:
To find the best rate
Hotels in Chiang Mai
, we recommend you look online at
Agoda.com
. They seem to be the most competitively priced of the hotels sites.
First class trains do have individual cabins, yet the 1,200 baht prices makes them poor value against the emergence of cheap air travel. Nonetheless, they are comfortable and private, can be locked and provide you with your own table, sink, and free drinking water. If you are travelling alone, however, there is no guarantee who you will be sharing with; luckily, people in Thailand are polite and friendly. You needn't worry about safety among fellow passengers.
During the busy season (November to February), or on weekends, tickets should be booked a couple of days in advance; otherwise we suggest you arrive at least an hour earlier than the second-last train, to avoid disappointment. There is a safe luggage storage facility at both stations, charging a minimal fee. With 24 hours notice a travel agent can arrange a ticket for you, saving you a trip to the station.
Although Chiang Mai train station has limited facilities, there are toilets, a comfortable concourse and food vendors. Bangkok train station has far more to offer, with plenty of waiting seats, a newsagent, supermarket, restaurants, bars, plenty of food vendors and even a KFC. Taxis or tuk-tuks are freely available at both; parking is short at Bangkok station.
CHIANG MAI – BANGKOK | BANGKOK – CHIANG MAI
Chiang Mai – Bangkok

Bangkok – Chiang Mai

Trains

Departure

Arrival

Fare

Trains

Departure

Arrival

Fare

RAP

06:30

21:10

391

SP EXP

08:30

19:30

641

SP EXP

08:50

19:25

641

RAP

13:45

04:05

* 491/541 

EXP

15:30

05:25

* 751/821

SP EXP

18:10

07:15

** 1,453/1,653/2,453

SP EXP

17:00

06:15

**1,253/1,453/1,953

SP EXP

19:35

08:40

** 1,253/1,453/1,953

SP EXP

18:00

06:50

** 1,453/1,653/2,453

EXP

22:00

12:10

* 751/841
Note:
EXP = Express Train, RAP = Rapid Train, SP EXP = Special Express Train
* = Upper Bed/Lower Bed, ** = Upper Bed/Lower Bed/Room (entire compartment for passenger travelling alone)
Railway Station: Call Center – 1690.



Further reading…