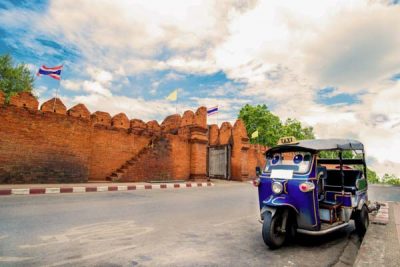 Transport options for getting around Chiang Mai are straightforward and easy to use. The old town can be crossed on foot – a bicycle is better – but you will probably need to rent a scooter or rely on local tuk tuks and minibuses to get about. All are easily found and are cheap, and although the network is rather unsophisticated, visitors don't have to worry about getting about in Chiang Mai or being ripped off.
Public transport in Chiang Mai is rather rudimentary. A limited bus service was only introduced in 2006, which runs on fixed routes, but city transport is dominated by red minibuses known as songthaews. They are ubiquitous (to the point of being a pain) and controlled by a neo-mafia organisation, but do provide a fair and convenient service used often by tourists. Then there are tuk tuks loitering on every tourist corner, nagging for business, while many rent scooters which provide a cheap means of total freedom.



City buses and songteaws
The relatively new air-conditioned buses run on fixed routes – points near the Old Town, towards the University, the Airport and selected suburbs – but are seldom used by tourists since there are more practical and convenient alternatives.
The bus stops are not easily identified and services run every 15 minutes, by which time about 10 minibuses might have passed by. Cost per ride is usually 20 Baht.
Songteaws serve as the informal commuter transport in most provincial towns across Thailand and the 'red trucks' of Chiang Mai are seldom far from sight. Flag down one of these pickups, jump into the covered back, and jump off later (offering 30 Baht) as it follows a fixed route towards the city. If the red truck is empty they will usually agree to act as a private taxi for a fee that's cheaper than any other mode of transport.
Taxis in Chiang Mai and tuk tuks
Taxis and tuk tuks are easy to flag down, though taxis tend to limit themselves to the airport run and private calls, leaving the casual trips to tuk tuks and songthaews. These modern, air-conditioned saloons are a good idea to get from the airport to your hotel – 120 Baht (about US$4) – though the journey ought to cost a lot less by other means. They are safe, and honest in using their meters, but work on a fixed fee from the airport.
Tuk Tuks are the ubiquitous and quintessential Thailand icon and Chiang Mai has plenty; they are usually gathered in tourist areas. They will take you on 10-minute trip for about 60-100 Baht ($2-3) depending on your haggling skills, and can be a fun way to beat the traffic.



Bike and car rental
Renting a scooter or bigger bike is a popular transport choice when in Chiang Mai, since the traffic is easy (ish) to ride in, the bikes are cheap to hire (costing from 150 Baht a day), and, above all, they give you the freedom to get about as you please. With a bike, you can explore the wonderful environs outside the city, including the many national parks, and it avoids the hassle of haggling with taxi drivers.
Most guesthouses rent out bikes or can arrange one, while many small businesses in the Thapae Gate area rent bikes. They are generally in good condition, and you can opt for a bigger bike (250cc and up) for 500 Baht a day. Some rent cars, too, but they are a hassle to drive and park in the narrow lanes of the Old Town. More on renting bikes.
Renting bicycles and mountain bikes in Chiang Mai
Bicycles are also a good idea for pottering around the central area of Chiang Mai, which is compact and relatively easy among the traffic. The lanes of the Old Town are quiet and it's the most practical means of doing a day tour of the various temples.
Theft of bikes is rarely a concern, but lock them if you plan on ambling about. Many of the companies renting scooters also rent bikes for about 100 Baht a day, though they are invariably of the 'granny' variety – think single speed with a basket on the front.
Further reading..