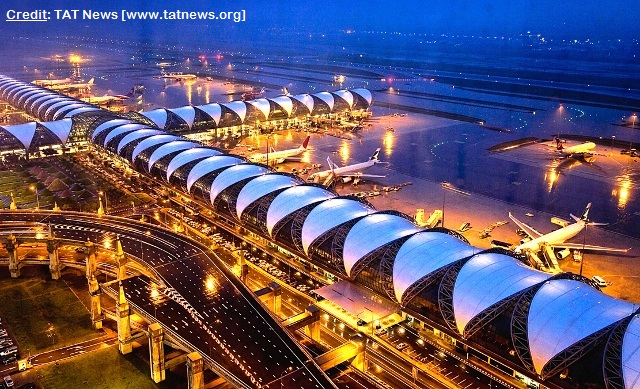 Opened to to much fanfare in September, 2006, Bangkok Suvarnabhumi International Airport is the main entry point for most visitors to Thailand, and the third largest terminal building in the world. Handling almost 40 million travellers a year, this modern and strikingly designed terminal is one of the world's busiest airports. It handles all domestic and international flights to Bangkok, with connections to all airports in Thailand and most major regional and global destinations.
The airport is serviced by a large number of the world's major airlines, including: Thai Airways, British Airways, Cathay Pacific, United Airlines, Japan Airlines, Singapore Airlines and Emirates, and is a hub for many visitors to Southeast Asia, as well as a stop-over point for those continuing on to Australia and New Zealand. There are plenty of flights originating in Europe, as well as a number of flights either originating or ending in Bangkok that stop in Japan en-route to and from the west coast of the US and Canada. Budget regional airlines also operate from here. About 20 flights a day fly to Chiang Mai from Bangkok, mostly from this airport.
Bangkok Airport has one very large passenger terminal, with seven levels and six concourses. On entry you will find domestic services to the left and international services to the right. The airport's entry side comprises of one single open space, stretching from level one to the roof and fronted by a glass wall flooding the entire terminal with natural light and giving a sense of spaciousness, while the check-in level has a vaulted ceiling. The entire complex, with its extended gate 'arms', has a distinctive arched steel frame covered in glass tiles making it one of the world's most unique and attractive transportation terminals.



Level One (basement) houses the transportation lobby; Level Two is the arrivals area, with Immigration and Customs, Baggage Claim and transfer services; Level Three is a mezzanine and contains most of the passenger facilities and amenities; Level Four houses the departures areas; Level Five is occupied by airport and airlines business offices; Level Six has restaurants; and Level  Seven boasts an observation deck. The seven concourses are labelled A through to G, with A and B servicing domestic flights, and C to G handling all international services. A series of elevating walkways and glass lifts connect the various levels.
Food and beverage outlets abound and you'll find restaurants offering fast-food and Thai specialties as well as bars that are open 24 hours. There are numerous coffee shops and restaurants, along with left luggage, a prayer room, convenience store and pharmacy, which are all found on the mezzanine floor between Arrivals and Departures. There is a Thai food court located on the Departures level (beyond security), between the Domestic and International concourses. Duty-free shopping options are fair, while shops specialising in Thai products and handicrafts, and others offering clothing, gift items, jewellery, books and other reading material, are also onsite.
On arrival at Bangkok Suvarnabhumi Airport, nationals of most countries will be issued a 30-day visa waiver, although it's best to check visa requirements beforehand to be sure about current requirements. Baggage Claim is located on the same level, immediately after the immigration point. The Customs area is situated just beyond the baggage carousels – only spot checks are conducted. During busy times, such as mornings, there can be queues to get through immigration, but usually only lasting about as long as it takes for the luggage to arrive.
ATMs and currency exchange counters are located throughout the passenger terminal and are open 24 hours. Several can easily be spotted upon exiting the arrivals hall. Internet is available, through public terminals – which accept credit cards, phone cards and coins – although it's rather more expensive than the rates advertised. An internet café is found in the rear right corner of the Departures hall. Cards for wireless access are also available here.
Airline representatives hold desks along one lengthy service area fronting the Check-in hall, which includes a centrally located information counter. The majority of airline VIP lounges are found in the terminal's domestic departures wings. Travel time from the exit of Arrivals to the further point of Departures, domestic or international is about 10 minutes, using the trolley-friendly elevating travelators.
Medical help is also found here, with the main clinic on Level One. VAT refund counters are located both pre- and post-security, in the check-in area and in the main duty-free shopping area.
Walking distance to the furthest gates is about 20 minutes. Some of the gate lounges have no facilities for toilets, refreshments or shopping, especially those allocated to budget airlines.
Getting to and from Bangkok Airport
There are a number of convenient options on offer at Bangkok International Airport for transfers to Bangkok and destinations in the surrounding area. Choices include the airport express train, public buses, taxis and limousine services. The airport is located 30kms southeast of the centre of Bangkok, and several major highways and expressways link the airport with the rest of the country. Taxi travel time is about 40 minutes, but can be considerably longer during rush hour (before 09:00 or after 15.30), or in the event of frequent unforeseen jams, particularly in the rainy season (June to October).
Taxis: By the time you exit into Arrivals you are already likely to have been offered a taxi by the pushy AOT official limousine service; actually they are three times the price of a regular taxi and hardly worth it. In the Lower level 1 you will find a conveniently located taxi queue; there's seldom a wait, the taxis are generally comfortable and reliably use their meter, though some tend to drive without caution. The total cost of getting into central Bangkok is about 300 Baht (US$10/£6).
Rail-link: This finally began operation in August 2010 – four years late – but it does offer a hassle-free, high-speed journey into central Bangkok for just 150 Baht. Fast trains depart every half hour, taking only 15 minutes, while a slower multi-stop train leaves every 15 minutes, taking 25 minutes to reach the Makkasan City terminal. The latter is actually more practical, though the seating less comfortable. From here you can transfer to the BTS Skytrain system, or catch a taxi to your hotel, which might add a further 15 minutes and 50 Baht to your journey. Many will find the cheap Bangkok taxis are a far more convenient choice.
Car hire is also an option, if you don't mind trying your hand at driving in Bangkok's traffic, and is also suitable for anyone planning to visit one or more of the provincial areas. To get the best possible rates, and ensure that a vehicle is reserved for you, we recommend an efficient online booking service with access to all the major car hire companies. Vehicles are driven on the left-hand side, and Thailand has a reputation for poor observation of road safety rules.



Bus: If you choose to travel by public transport, there is reliable and inexpensive service on express and regular public buses that operate from the airport to most of Bangkok's popular tourist destinations. You'll need to hop on a shuttle bus at Level One first, which will take you to the bus terminal at the airport's Transport Centre. This service can take up to 90 minutes to reach your destination.
The Novotel Suvarnabhumi Airport Hotel Bangkok is located in the airport complex, directly across from the passenger terminal, and is connected by a walkway. The hotel features over 600 guest rooms and business and conference facilities.
Scam alert!

Since its opening the airport has been plagued with poor management issues and a lack of will to deal with scammers and corrupt officials, resulting in some horrid experiences for selected visitors. The moment you step out of Arrivals you might be confronted with a barrage of 'freelance' taxi guides, who are unregistered and often overcharge (the metered taxis nearby are safe and cost 300 or 400 Baht).
Far more serious, but less prevalent, is the 'zig zag' scam in which some individuals have been accused of shoplifting by the King Power duty-free operator and turned over to the police. They are then 'persuaded' to pay a hefty admission of guilt 'fine' ($5,000-$10,000) or else be detained on bail in the country for several months waiting for a court hearing. The best remedy is to avoid stepping into the vaguely marked domain of these shops altogether. The prices aren't particularly cheap anyhow.
Further reading…