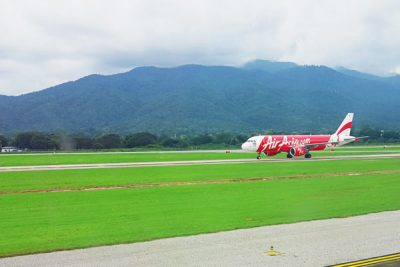 The recently upgraded Chiang Mai International Airport caters well to visitors, handling 250 flights a week from Bangkok, Phuket and Samui, as well as Singapore, Malaysia, Korea, China, Taiwan, Myanmar and Laos. The airport is seldom crowded and has a full range of facilities on offer.
Located less than 10 minutes, by taxi, from the city centre, Chiang Mai International Airport has both international and domestic terminals conveniently close to each other. On arrival you will find several travel agents, including those arranging hotels, taxis and tours. Exchange bureaux and ATMs are also onsite.



Customer service desks for Thai Airways, Singapore Airlines, and budget airlines are located at the airport, while Thai Airways has its own VIP lounge. There are seldom long queues at the check-in desks – which are on the ground floor – while the Departures and facilities are on the second level. On sustenance, there are limited duty-free and snacking shops in International Departures and refreshments in Domestic Departures.
Most visitors use Chiang Mai Airport's domestic terminal, which has several food outlets, including two coffee shops, a deli, and fast-food outlet – Pizza Company, Diary Queen, and Black Canyon. A proper dining restaurant and sports bar are located on the mezzanine level, while light snacks are available in Departures. There is also a number of small shops selling silk, handicrafts, fresh produce, magazines and souvenirs. A basic internet café is offered, and wireless access is available by purchasing usage time from Black Canyon Coffee.
Transportation from Chiang Mai Airport
Getting from Chiang Mai Airport to the city is easy. There are plenty of metered taxis outside (pick up a slip from the desk in Arrivals), as well as a more expensive airport limo service offered in the terminal. You won't need the meter as the price is already on the ticket – pay driver at destination. Rates are published, but 120 baht ($4) is the average fare for a journey to most places in central Chiang Mai. Although relatively expensive compared to tuktuks in the city, and considering the distances from the airport are short, the taxis from Chiang Mai are more reasonable than most other tourist destinations in Thailand and are considered safe and reliable.
There is a bus service that departs from the airport every 20 minutes on a set route into the Old Town, costing 25 baht, but most visitors will find the taxi services far more convenient. Getting back to the airport is cheaper, since you can rent a songteaw or tuktuk for less than 100 baht from the city centre. The metered taxis generally don't circulate in the city (shut out by the minibus mafia) and have to be arranged via a hotel concierge, or called. Ultimately, arranging a hotel transfer either way is the best bet. Getting to and from the airport in Chiang Mai is seldom a hassle in general.



Further reading…