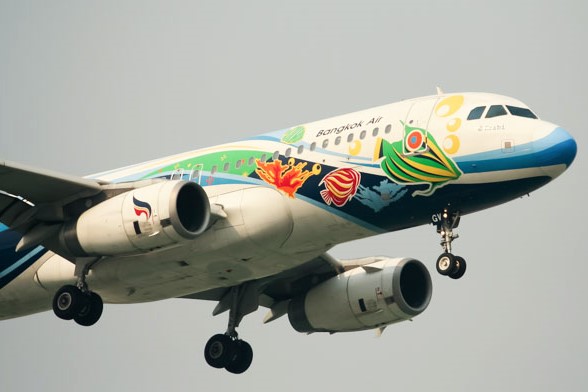 Chiang Mai is rapidly becoming a busy regional airport, with flights from Bangkok, Phuket, Samui, Kuala Lumpur, Seoul, Singapore, Luang Prabang, Mae Hong Son, Pai and Nan.
Chiang Mai International Airport (CNX) is not very busy and there are seldom long waits or delays with check-in. The single terminal is easy to navigate, with all arrivals on the ground floor beside the check-in counters and all departures from the mezzanine level.
There are several shops, a convenience store, a newsagent, along with coffee shops and restaurants at the airport. Transport into the city centre is easy and parking is also adequate. 
Several local budget airlines offer reasonably priced seats on flights to Chiang Mai from Bangkok and elsewhere regionally, though Thai Air has the largest number of flights, greater comfort and some competitively priced tickets. Typically, a single journey will cost between US$50 and US$80, but it varies according to advanced booking times.
Air Asia are developing Chiang Mai into a hub with great budget deals for those that book ahead. Even in the busy season you could probably show up at the airport and get a seat on flights at Chiang Mai International Airport.



CHIANG MAI – BANGKOK | BANGKOK – CHIANG MAI
[Suvarnabhumi Airport]
Chiang Mai – Bangkok

Bangkok – Chiang Mai

Flight

Departure

Arrival

Day

Flight

Departure

Arrival

Day

WE 177

06:40

08:00

Daily

VZ 600

06:10

07:30

Daily

PG 222

06:55

08:15

Daily

PG 229

06:15

07:35

Daily

VZ 601

08:00

09:20

Daily

WE 168

07:00

08:20

Daily

TG 103

10:05

11:25

Daily

TG 102

07:55

09:15

Daily

PG 216

10:10

11:30

Daily

PG 215

08:05

09:20

Daily

WE 159

10:40

11:50

Daily

WE 158

08:45

09:55

Daily

VZ 607

11:40

13:00

Daily

TG 612

09:10

10:20

Daily

PG 224

12:00

13:20

Daily

VZ 606

09:50

11:10

Daily

WE 161

12:55

14:10

Daily

PG 270

10:00

11:15

Daily

VZ 603

13:05

14:25

T, Th, S

WE 160

10:55

12:15

Daily

PG 907

14:40

16:00

Daily

VZ 602

11:15

12:35

T, Th, S

TG 111

15:10

16:20

Daily

PG 217

12:30

13:45

Daily

WE 169

15:45

17:00

Daily

TG 110

13:10

14:20

Daily

PG 226

16:40

18:00

Daily

PG 906

14:35

15:50

Daily

TG 613

17:10

18:20

Th, Su

WE 164

15:20

16:35

Daily

WE 165

17:10

18:25

Daily

VZ 602

16:35

17:55

M, W, F, Su

VZ 603

18:25

19:45

M, W, F, Su

PG 219

17:00

18:15

Daily

PG 220

19:00

20:20

Daily

TG 116

17:20

18:30

Daily

TG 117

19:20

20:30

Daily

TG 120

18:40

20:00

Daily

TG 121

20:50

22:10

Daily

PG 268

19:00

20:15

Daily

PG 228

21:05

22:25

Daily

WE 166

19:55

21:10

Daily

WE 167

21:45

23:10

Daily

VZ 604

20:15

21:35

Daily

VZ 605

22:05

23:35

Daily

PG 221

21:35

22:55

Daily

–

–

–

–

WE 176

22:15

23:30

Daily
Note:
PG =  Bangkok Airways
TG =  Thai Airways
VZ =  VietJetAir
WE =  Thai Smile Airways
CHIANG MAI TO BANGKOK | BANGKOK TO CHIANG MAI
[Don Mueang Airport]
Chiang Mai – Bangkok

Bangkok – Chiang Mai

Flight

Departure

Arrival

Day

Flight

Departure

Arrival

Day

SL 527

06:10

07:25

M, W, F, S, Su

FD 3437

06:50

07:45

Daily

SL 525

06:50

08:05

Daily

DD 8302

07:00

08:10

Daily

FD 3438

08:25

09:40

Daily

FD 3445

08:30

09:30

Daily

DD 8303

08:40

09:45

Daily

SL 506

08:55

10:10

Daily

SL 523

09:45

11:00

Daily

DD 8306

09:05

10:15

Daily

FD 3446

10:15

11:20

Daily

FD 3435

09:15

10:35

M, T, Su

DD 8307

10:45

11:50

Daily

FD 3435

09:15

10:40

W, Th, F, S

SL 507

10:55

12:10

Daily

SL 508

10:35

12:10

M, T, W, Th

FD 3436

11:15

12:35

W, Th, F, S

SL 510

11:15

12:35

Daily

FD 3436

11:20

12:35

M, T, Su

FD 3447

11:50

13:05

Daily

FD 3448

13:35

14:50

Daily

DD 8312

12:40

13:50

Daily

SL 511

14:00

15:10

Daily

FD 3433

12:50

14:05

Daily

DD 8313

14:25

15:30

Daily

SL 512

13:00

14:15

T, Th, F, Su

FD 3434

14:35

15:50

Daily

FD 3425

13:55

15:15

Daily

SL 513

15:00

16:25

Daily

DD 8316

14:20

15:30

Daily

FD 3426

15:50

17:10

Daily

FD 3439

14:40

15:55

Daily

DD 8317

16:10

17:20

T, Th, S, Su

SL 514

15:30

16:55

T, Th, S, Su

FD 3440

16:25

17:40

Daily

FD 3431

15:45

17:05

Daily

K8 8517

17:00

18:30

W

DD 8318

16:30

17:40

Daily

FD 3432

17:35

18:50

Daily

SL 516

16:50

18:00

M, T, W, F, S, Su

SL 515

17:55

19:15

T, Th, S, Su

FD 3429

18:10

19:20

Daily

DD 8319

18:10

19:15

Daily

SL 518

18:45

19:55

M, T, W, Th, F, S

SL 517

18:45

20:05

M, T, W, Th, S, Su

DD 8324

19:00

20:10

Daily

FD 3430

19:55

21:10

Daily

K8 8515

19:00

20:25

W

DD 8325

20:40

21:45

Daily

FD 3443

19:25

20:40

Daily

SL 519

20:45

22:00

M, T, W, Th, F, S

DD 8326

20:15

21:25

Daily

FD 3444

21:15

22:30

Daily

SL 522

21:10

22:25

Daily

DD 8327

21:55

23:00

Daily

FD 3419

21:45

23:00

Daily

DD 8317

22:55

00:05

M, W, F

SL 524

22:25

23:55

Daily

FD 3420

23:40

00:55

Daily

–

–

–

–
Note:
DD = Nok Air
FD =   AirAsia
K8 = Kan Air
SL = Thai Lion Air



Further reading…