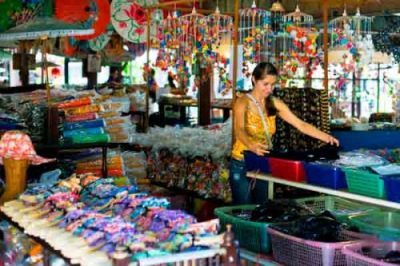 Although Thailand may have the unfair image of being a chauvinistic man's playground, littered with bars and prostitutes; it is actually one of the most pleasurable countries in which to travel as a woman. Chiang Mai, especially, is a safe and inviting city for women, even those who are travelling unaccompanied. 
Thais are incredibly friendly and welcoming of foreigners, and many find foreigners quite attractive, so don't be surprised by flattery. Although some Thai men are notorious for their sweet talk, they are all generally harmless and well behaved.
 Safety in Chiang Mai
There is little cause to be suspicious about friendly people here. Obviously, however, you should use your judgement if people are pesuading you to 'get involved with spending money'.
Thais are, in general, non-aggressive people and men are unlikely to bother you. There are a few things you should bear in mind though. Thai women are typically quite modest (except for bargirls), dress modestly, and do not touch men in public.
People will be quite friendly and helpful towards you and in general almost all areas of the city are safe for walking in, even at night. Use good common sense and stay away from deserted areas and seedy bars and clubs.
If you are alone, you should limit your drinks so you have your wits about you.



Culture and Etiquette
While those among us who are serious about liberation and equality may be dismayed at the male-biased society in Thailand, please understand that there are complex cultural protocols among the Thai that cannot be easily changed. The stereo-typical image of subservient Asian women running after their men should be considered in context of ingrained behavioural norms, which are tied into their acceptance among their peers. Trying to stop a Thai women from 'taking care' of her man, would result in a loss of face for her, as she may be considered a bad wife. As Thailand rapidly modernises, many of the unacceptable habits are thankfully disappearing.
In fact, it is the women who largely drive the country forward, and after you have been here a while you will soon discover that many Thai women raise their children as single mothers, make up more than 60 per cent of the workforce, and can be found everywhere from construction sites and rice paddies to high ranking government officialdom. Although Thai women are sorely under-represented in government, they usually control the finances and make many of the important decisions within the family, drawing on a naturally-enterprising ability. 
Alarmingly, an increasing number of young students are now found to be crossing a very blurred line to become occassional 'freelancers' when their material needs for a new mobile phone or clothes and other luxuries cannot be met by poorly-paid jobs. In the tourist go-go bars you may find girls who appear to be enjoying their 'jobs';unfortunately there are many more discreet 'knock-shops' frequented by non-foreigners and full of unwilling girls. Although Thailand doesn't have a huge problem with child, or forced, prostitution, it does exist.
Prostitution is another issue that many of us foriegn women in Thailand have difficulty stomaching. However, a different set of values and ethics motivate people here and it's a sad reality that many young girls are forced into the 'skin trade' through economic reasons. Most of them are from the poor north-eastern region of Isaan, while others simply have material desires. These girls typically find that the benefits of sending home significant sums of money to their impoverished families, and gaining huge amounts of respect at the same time, seem to far outweigh the private loss of self-esteem they might feel.
Women should never touch monks or give items directly to them. Avoid affection in public with another man (OK, you may get away with a hugging and kissing in tourist areas), rather refrain from expressing your disapproval over gender issues – Thai's generally avoid confrontation no matter how odious the issue.
You will find the women like to do things in groups and socialising among the traditionists is usually limited to same-sex interraction. Don't be surprised at a meal to find the women waiting for the men to help themselves first – this is just Thai manners at its best.
In general, you should observe the normal rules which we have outlined on our page of cultural etiquette.
The climate here is hot and you may feel like wearing a singlet with no bra on, but realise that if you dress this way, you are not only disrespecting the culture and yourself, but also leaving yourself open to rude comments and possible harassment. Likewise, sunbathing topless in Thailand isn't really acceptable to most and other women in Thailand will certainly judge you by your appearance.
It is also customary in Thai culture to rely on the richer person in the group to pick up the tab, regardless of gender. Please don't feel you are being taken for a ride, salaries here are quite meagre relative to your own.
Chiang Mai Shopping
Feminity is very strong in Asian culture and it is inextricably tied up with occasional or endless shopping and pampering. While not all women fit this stereotype, there are many of us that can't resist indulging in a bit of luxury once in a while. You will soon notice how gracefully or well dressed most Thai women and girls are and there are clothes and beauty products on sale everywhere. Chiang Mai's myriad shopping possibilities, beauty salons and massage venues provide the perfect opportunities for some delightfully decadent time-wasting.
The city's lively Night Bazaar is the most renowned venue for picking up great bargains, and is also a hub of atmospheric mingling, with hundreds of vendors offering their wares at bargain prices. You can find a wide selection of handicrafts, clothes and souvenirs here, and if it is your first visit to the market you will, no doubt, leave with your hands full and wallet empty.
The only drawback to the Night Bazaar is that much of it is repetition, and if you are on a return trip to the city, it is likely that you will have seen much of what is on offer many times before. A more unique market is one that is held on Sunday evenings at and around Thapae Gate. This is also a more typically 'Thai' market, and offers the visitor a chance to experience the true culture of the 'capital of the North'.
If you are interested in clothes shopping, make it a priority to take a stroll down Loi Kroh Road on your way to the Night Market. Once you pass the hordes of girlie bars at the top, there are some lovely shops selling authentic silks and cottons. There is even one store that sells 100 per cent silk kimonos – they are exorbitantly-priced, but the visual feast is worth the stop, even if you leave empty-handed.
San Khamphaeng Road is a prime area to pick up deals on luxury traditional items, such as silver, bronze and silk. Although many of these outlets present themselves as 'factories', most do not actually make the products on the premises. Some, however, have fascinating demonstrations on the making of their goods. However, by far the best range and value is found at the craft centre of Baan Tawai in Hang Dong – a village 20 minutes drive south of Chiang Mai. Here you'll find endless shops and wholesalers with everything from small souvenirs to bulky, exquisitely carved teak furniture.
In general, there are Malls – such as Airport Plaza and Central – that sell locally-made and imported wares of all kinds at competitive prices, and clothes, shoes, jewellery, accessories and locally made beauty products all represent good value.



Being pampered in Chiang Mai
Chiang Mai is definitely the place to be pampered, with a plethora of massage shops, beauty shops and spas scattered about the city. You'll find a full range of prices from just a few dollars up to hundreds of dollars.
A trip to the beauty shop should definitely be on your list. Even if you don't need a perm, cut or colouring, simply get your hair washed. They'll have you lie down on a bed while your scalp is delightfully shampooed and massaged for around 15 to 20 minutes. Afterwards you'll get it dried and styled any way you want. You can also get inexpensive manicures and pedicures at beauty shops. The Thai are brilliant at this.
It is a difficult to walk down any street in the city centre without passing a host of massage venues. Don'y worry, all the 'dodgy' ones have been tucked away out of sight and almost all of those in the tourist areas offer professional services.
Thai massages range in price from approximately 100 to 200 Baht per hour, and often it is worth paying a little more to get the best service. You can also try full-body oil massages, foot reflexology massages, and hot rock massages. Home Massage, on Loi Kroh Road, is a professional, well-established venue offering top-quality massage therapy. For some extra pampering, try their facial treatment, complete with natural clay mask…more on Thai massage.
Chiang Mai also has numerous spas offering Jacuzzis, steam baths and a range of facial and body treatments.
There are several New Age activities offered in Chiang Mai, including meditation, yoga, tai chi, reiki, tarot reading and zen shiatsu, among others. Some places do offer women-only groups; however, you would need to enquiry directly with them. 
Note:
To find the best rate
Hotels in Chiang Mai
, we recommend you look online at
Agoda.com
. They seem to be the most competitively priced of the hotels sites.
 For women only
There are small women's groups and gatherings that come and go and we can't seem to keep a track of them, however one that certainly is of interest is the monthly Women's Circle and series of workshops that take place under the co-ordination of Oda, a new age specialist from Three Lotus House. These include dark moon circle rituals, chakra belly dancing and a non-violent communication workshop. Sometimes they occur in Chiang Mai, otherwise longer retreats take place at her lovely Three Lotus House about 50kms North of Chiang Mai on the Chiang Rai road.
Group tours in Chiang Mai
Even though Chiang Mai, and Thailand in general, is quite safe for women, you may still feel a bit strange about sightseeing alone. There is an endless supply of tour agencies that will book you on a tour with other people, so you can go trekking, biking, rafting, elephant riding or anything else you would like to do in the city.
Typically tours will have anywhere from four to 15 people on them and many of them may be people who are travelling alone. Going on a group tour is not only a good way to feel safe while walking through the jungle, but also a great way to make new friends who you might continue your travels with. Additionally, homestays are a good way to meet local people.
Further reading…