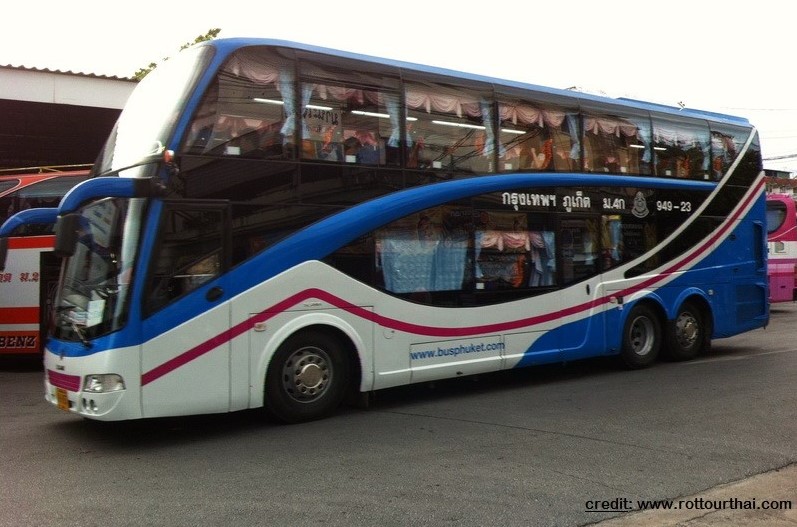 Buses remain the most popular and widespread means of transport in Thailand and are used by many Thais and travellers every day across the Kingdom.
On the whole the buses are fairly frequent, safe, reliable and comfortable. Usually they leave on time, travel quickly and some offer a VIP service, while remaining affordable to budget travellers. Buses travel from Bangkok to Chiang Mai, and back, almost hourly and take about 10 hours.
Local buses can get crowded with locals, so you are advised to arrive a little early, however they depart quite regularly. Be sure to check your times for air-conditioned buses, which are far more comfortable in the Thai heat.
Long distance buses offer excellent service, with a hostess offering soft drinks and a small snack as well as a wet towel. Videos are shown on most buses, usually in Thai language, and they go on through the night making sleep a little difficult sometimes. Thais also love their air-conditioning at sub-zero temperatures, so remember to dress warmly.
Bus Timetables (Sombat Tour)

Chiang Mai – Bangkok
Bangkok – Chiang Mai
Bus
Departure
Arrival
Fare
Bus
Departure
Arrival
Fare
VIP
07:30
17:20
759
VIP
07:00/*07:20
16:30
759
1st Class
08:00
17:50
569
1st Class
08:00
17:30
488
1st Class
09:00
18:50
488
1st Class
09:00/*09:20
18:30
569
VIP
10:00
19:50
759
VIP
09:50
19:20
759
1st Class
13:30
23:20
569
VIP
*10:15
19:20
759
1st Class
17:30
03:20
488
1st Class
*12:00
22:30
569
1st Class
18:10
04:00
569
1st Class
13:00
22:30
569
VIP
18:30
04:20
759
1st Class
*13:00
23:30
488
VIP
19:00
04:50
759
1st Class
14:00
23:30
488
1st Class
19:30
05:20
488
1st Class
18:00
03:30
569
VIP
19:45
05:35
759
1st Class
*18:10
03:40
569
1st Class
20:15
06:05
569
VIP
*19:00
04:30
759
1st Class
20:30
06:20
488
VIP
19:25
04:55
759
VIP
20:30
06:20
759
1st Class
20:10
05:40
569
VIP
21:00
06:50
759
1st Class
20:25
05:55
488
1st Class
21:00
06:50
488
1st Class
*20:30
06:00
488
VIP
21:30
07:20
759
VIP
21:00
06:30
759
VIP
21:50
07:40
759
VIP
*21:10
06:40
759
–
–
–
–
VIP
*21:19
06:49
759
–
–
–
–
1st Class
*21:30
07:00
488
–
–
–
–
VIP
21:39
07:09
759
–
–
–
–
VIP
*22:00
07:30
759
–
–
–
–
1st Class
22:05
07:35
488

*

= Bus departs from Sombat Tour (Vibhavadi Office)
 Sombat Tour: Chiang Mai – Tel: +66 53 304 041-2 | Bangkok – Tel: +66 2 792 1456
Bus Timetables – (The Transport Co., Ltd)

Chiang Mai – Bangkok

Bangkok – Chiang Mai

Bus

Departure

Arrival

Fare

Bus

Departure

Arrival

Fare

2nd Class
06:30
17:30
389
2nd Class
05:40
16:40
389
VIP
09:00
18:30
778
2nd Class
07:25
18:25
389
2nd Class
09:00
20:00
389
VIP
09:00
18:30
778
2nd Class
11:30
22:30
389
2nd Class
10:30
21:30
389
2nd Class
16:00
03:00
389
2nd Class
12:30
23:30
389
1st Class
19:00
04:30
500
2nd Class
14:30
01:30
389
1st Class
20:00
05:30
500
2nd Class
19:50
06:50
389
2nd Class
20:00
07:00
389
VIP
21:00
06:30
778
VIP
21:00
06:30
778
1st Class
21:40
07:10
500
2nd Class
21:00
08:00
389
1st Class
23:00
08:30
500
1st Class
23:00
08:45
569
1st Class
23:15
08:40
569
 The Transport Co., Ltd: Call Center – Tel: 1490
Further reading…