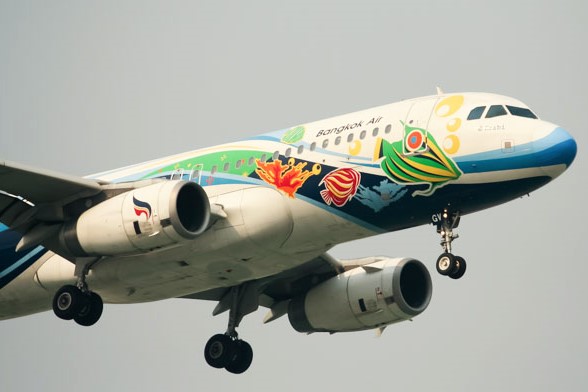 Chiang Mai is rapidly becoming a busy regional airport, with flights from Bangkok, Phuket, Samui, Kuala Lumpur, Seoul, Singapore, Luang Prabang, Mae Hong Son, Pai and Nan.
Chiang Mai International Airport (CNX) is not very busy and there are seldom long waits or delays with check-in. The single terminal is easy to navigate, with all arrivals on the ground floor beside the check-in counters and all departures from the mezzanine level. There are several shops, a convenience store, a newsagent, along with coffee shops and restaurants at the airport. Transport into the city centre is easy and parking is also adequate. 
Several local budget airlines offer reasonably priced seats on flights to Chiang Mai from Bangkok and elsewhere regionally, though Thai Air has the largest number of flights, greater comfort and some competitively priced tickets. Typically, a single journey will cost between US$50 and US$80, but it varies according to advanced booking times.
Air Asia are developing Chiang Mai into a hub with great budget deals for those that book ahead. Even in the busy season you could probably show up at the airport and get a seat on flights at Chiang Mai International Airport.
Planning your own journeys can be tricky, as timings are never absolute in Thailand especially during the peak season. It's a must to check up-to-date information as well as booking in advance. 12Go Asia is providing the quality of e-tickets for trains, buses, ferries and flights.
Powered by 12Go Asia system
Flight Timetables To/From Chiang Mai
Bangkok Don Muang (DMK) – Chiang Mai (CNX) – Bangkok Don Muang (CNX)

Flight
From
To
Departure
Arrive
Day
Airline

DD8300

DMK

CNX

6:05

7:15

Daily

Nok Air

WE150

DMK

CNX

6:25

7:40

Daily

Thai Smile

FD3437

DMK

CNX

6:35

7:50

Daily

Air Asia

DD8302

DMK

CNX

6:50

8:00

Daily

Nok Air

FD3443

DMK

CNX

8:20

9:40

Daily

Air Asia

DD8306

DMK

CNX

9:05

10:15

Daily

Nok Air

FD3435

DMK

CNX

10:30

11:40

Daily

Air Asia

WE154

DMK

CNX

10:50

12:00

Daily

Thai Smile

FD3447

DMK

CNX

11:35

12:55

Daily

Air Asia

FD3441

DMK

CNX

12:25

13:45

Daily

Air Asia

DD8312

DMK

CNX

12:40

13:50

Daily

Nok Air

WE156

DMK

CNX

13:25

14:40

Daily

Thai Smile

DD8314

DMK

CNX

13:40

14:50

Daily

Nok Air

FD3433

DMK

CNX

13:45

15:00

Daily

Air Asia

FD3445

DMK

CNX

14:50

16:05

Daily

Air Asia

FD3431

DMK

CNX

15:45

17:00

Daily

Air Asia

DD8318

DMK

CNX

16:30

17:40

Daily

Nok Air

FD3439

DMK

CNX

16:55

18:10

Daily

Air Asia

WE158

DMK

CNX

18:15

19:30

Daily

Thai Smile

FD3425

DMK

CNX

19:30

20:45

Daily

Air Asia

K88517

DMK

CNX

19:30

21:30

W

Kan Airlines

FD3427

DMK

CNX

20:35

21:50

Daily

Air Asia

FD3429

DMK

CNX

21:25

22:35

Daily

Air Asia

DD8301

CNX

DMK

7:45

8:50

Daily

Nok Air

FD3438

CNX

DMK

8:20

9:30

Daily

Air Asia

DD8303

CNX

DMK

8:30

9:35

Daily

Nok Air

WE151

CNX

DMK

8:40

9:55

Daily

Thai Smile

FD3444

CNX

DMK

10:25

11:40

Daily

Air Asia

DD8307

CNX

DMK

10:45

11:50

Daily

Nok Air

FD3436

CNX

DMK

12:15

13:30

Daily

Air Asia

WE155

CNX

DMK

12:35

13:45

Daily

Thai Smile

FD3448

CNX

DMK

13:25

14:45

Daily

Air Asia

FD3442

CNX

DMK

14:15

15:30

Daily

Air Asia

DD8313

CNX

DMK

14:25

15:30

Daily

Nok Air

DD8315

CNX

DMK

15:25

16:30

Daily

Nok Air

FD3444

CNX

DMK

15:30

16:45

Daily

Air Asia

WE157

CNX

DMK

15:40

16:55

Daily

Thai Smile

FD3446

CNX

DMK

16:35

17:55

Daily

Air Asia

FD3440

CNX

DMK

16:40

19:55

Daily

Air Asia

K88518

CNX

DMK

17:00

19:00

W

Kan Airlines

FD3432

CNX

DMK

17:30

18:45

Daily

Air Asia

DD8319

CNX

DMK

18:10

19:15

Daily

Nok Air

WE159

CNX

DMK

20:15

21:30

Daily

Thai Smile

FD3426

CNX

DMK

21:20

22:45

Daily

Air Asia

FD3428

CNX

DMK

22:20

23:45

Daily

Air Asia

FD3430

CNX

DMK

23:10

 00:20

Daily

Air Asia
Hua Hin (HHQ) – Chiang Mai (CNX) – Hua Hin (HHQ)

Flight
From
To
Departure
Arrive
Day
Airline

K88248

HHQ

CNX

19:30

21:30

T,F,Su

Kan Airlines

K88247

CNX

HHQ

17:00

19:00

T,F,Su

Kan Airlines
Incheon/Seoul (ICN) – Chiang Mai (CNX) – Incheon/Seoul (ICN)

Flight
From
To
Departure
Arrive
Day
Airline

KE667

ICN

CNX

18:40

22:40

Su-W-Th-Sa

Korean Air

KE668

CNX

ICN

23:55

6:50

Su-W-Th-Sa

Korean Air
Khon Kaen (KKC) – Chiang Mai (CNX) – Khon Kaen (KKC)

Flight
From
To
Departure
Arrive
Day
Airline
FD5500
KKC
CNX
14:15
15:20
Daily
Air Asia
K88326
KKC
CNX
15:00
16:10
Daily
Kan Airlines

FD5500

CNX

KKC

7:15

8:20

Daily

Air Asia

K88325

CNX

KKC

13:20

14:30

Daily

Kan Airlines
Koh Samui (USM) – Chiang Mai (CNX) – Koh Samui (USM)

Flight
From
To
Departure
Arrive
Day
Airline

PG241

USM

CNX

10:20

12:10

Daily

Bangkok Airways

PG242

CNX

USM

12:50

14:35

Daily

Bangkok Airways
Kuala Lumpur (KUL) – Chiang Mai (CNX) – Kuala Lumpur (KUL)

Flight
From
To
Departure
Arrive
Day
Airline
A

K854

KUL

CNX

6:55

8:40

Daily

Air Asia

OD530

KUL

CNX

10:40

12:20

Daily

Malindo Air

AK856

KUL

CNX

12:45

14:35

Daily

Air Asia

AK855

CNX

KUL

9:10

13:00

Daily

Air Asia

OD531

CNX

KUL

13:40

17:30

Daily

Malindo Air

AK857

CNX

KUL

15:10

19:05

Daily

Air Asia
Luang Prabang (LPQ) – Chiang Mai (CNX) – Luang Prabang (LPQ)

Flight

From

To

Departure

Arrive

Day

Airline

QV635

LPQ

CNX

13:15

14:15

Daily

Lao Airlines

QV636

CNX

LPQ

15:15

16:15

Daily

Lao Airlines
Mae Sot (MAQ) – Chiang Mai (CNX) – Mae Sot (MAQ)

Flight

From

To

Departure

Arrive

Day

Airline

K88254

MAQ

CNX

14:50

15:30

M,T,W,Th

Kan Airlines

K88253

CNX

MAQ

13:55

14:35

M,T,W,Th

Kan Airlines
Nan (NNT) – Chiang Mai (CNX) – Nan (NNT)

Flight
From
To
Departure
Arrive
Day
Airline

K88134

NNT

CNX

14:45

15:30

F,Su

Kan Airlines

K88133

CNX

NNT

13:45

14:30

F,Su

Kan Airlines
Pai (PYY) – Chiang Mai (CNX) – Pai (PYY)

Flight

From

To

Departure

Arrive

Day

Airline

K88142

PYY

CNX

11:00

11:25

Daily

Kan Airlines

K88144

PYY

CNX

12:45

13:10

M,T,W,Th,Sa

Kan Airlines

K88141

CNX

PYY

10:20

10:45

Daily

Kan Airlines

K88143

CNX

PYY

11:55

12:20

M,T,W,Th,Sa

Kan Airlines
Phitsanulok (PHS) – Chiang Mai (CNX) – Phitsanulok (PHS)

Flight
From
To
Departure
Arrive
Day
Airline

K88228

PHS

CNX

19:20

20:20

Su

Kan Airlines

K88227

CNX

PHS

18:00

19:00

Su

Kan Airlines
Singapore (SIN) – Chiang Mai (CNX) – Singapore (SIN)

Flight

From

To

Departure

Arrive

Day

Airline

MI702

SIN

CNX

8:45

10:45

M-T-W-Th-Sa

Silk Air

TR2176

SIN

CNX

14:20

16:15

T-Th-Sa

Tiger Air

MI706

SIN

CNX

14:50

16:50

Su-M-T

Silk Air

MI701

CNX

SIN

11:30

15:35

M-T-W-Th-Sa

Silk Air

TR2177

CNX

SIN

16:55

21:05

T-Th-Sa

Tiger Air

MI705

CNX

SIN

17:40

21:45

Su-M-T

Silk Air
Ubon Ratchathani (UBP) – Chiang Mai (CNX) – Ubon Ratchathani (UBP)

Flight

From

To

Departure

Arrive

Day

Airline

K88312

UBP

CNX

8:40

10:30

Daily

Kan Airlines

K88311

CNX

UBP

6:20

8:10

Daily

Kan Airlines
U-Tapao (UTP) – Chiang Mai (CNX) – U-Tapao (UTP)

Flight

From

To

Departure

Arrive

Day

Airline

K88528

UTP

CNX

19:30

21:30

M,Th,Sa

Kan Airlines

K88527

CNX

UTP

17:00

19:00

M,Th,Sa

Kan Airlines
Further reading…