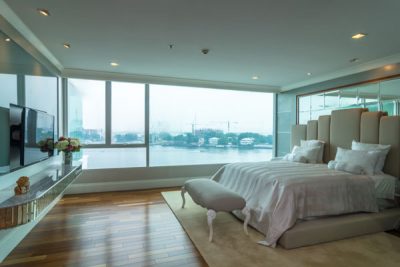 Renting apartments and condos in Chiang Mai has become significantly easier for foreigners, with an increasing number of newly constructed buildings (aimed at foreigners) coming onto the market. A steady demand from an influx of expats and retirees has also resulted in increased professionalism among agents and developers.
For those who aren't planning to stay in Chiang Mai long-term, renting a secure condo or apartment for a short time is often the most convenient and cost-effective option. The choice in condos and apartments is quite good in Chiang Mai, with everything from luxury two-bedroom condos with river views, to compact and affordable studios near the university. There has been a boom in luxury condos on the market in recent years, with an oversupply making rents competitive and offering a nice choice. Bargains can also be had in some of the older, dated, buildings.



If you prefer to live among other foreigners, consider searching for a room around the Nimmenhaemin area (west of old town) or along the riverfront within the city. Some of the well-managed apartment buildings in these parts of Chiang Mai are half full of foreigners and near to amenities suited to Western tastes – gyms, international restaurants and supermarkets. They also influence the management into action through tenants' associations, avoiding the chronic maintenance problem in some buildings.
If you want comfort and the reassurance that the building will be well maintained when renting a condo in Chiang Mai, rent at one of the newer developments. These include Hillside 4, Panna, Kharn Khanok, Convetion Condo and the Peaks complex. Those on a budget, however, have the choice of many older condos that are no longer considered desirable by many Thais. These go for significantly lower rent and are often bigger than newer condos, yet facilities, such as Western-style kitchens and lifts, are typically lacking. Other condos that were developed before the '97 crash have been given a new lease on life as investors buy up units, resulting in an overall gentrification. Examples are Galare Thong Towers, Riverside Condos and the Trio. Many foreigners are buying into these and turning a good profit.
Renting a condo or an apartment in Chiang Mai often provides tenants with greater security than if they were to rent a house in the suburbs. You can lock your room up and take off on a visa run or trip back home with few worries. In addition, there will be staff is on hand to help you pay your rent and bills, making apartments convenient for non-Thai speakers.
The other advantage of renting apartments in Chiang Mai is that you don't have to commit to a long-term lease as is typical when renting a house. Many of Chiang Mai's condo owners allow tenants to rent by the month, but most prefer a six-month minimum lease. If you choose to rent for a year, you may get a discount. They do, however, expect a deposit equivalent to two months rent in advance.
Renting houses in Chiang Mai offers a far better value in terms of lifestyle, as things like gardens, patios, space and suburban privacy all come cheap. For the price of a condo in town, you can rent a three-bedroom house out in the suburbs, less than a 15-minute drive away. With this you usually get a nice tropical garden and the benefit of outdoor living in the warm environment.
There are plenty of houses for rent in Chiang Mai, you need only enquire with agents or consult local magazines. Mostly they are owned by Thais and are quite cheap, with a sizeable family house costing about 12,000 Baht (US$400) a month. You will be expected to provide all maintenance, though some come part furnished.
Renting a house in Chiang Mai is a realistic option compared to Bangkok, Pattaya, or Phuket and options can be had either in new housing estates or quiet suburbs. Generally, the atmosphere is more peaceful and charming, with very few problems with security. As foreigners can't own land, many prefer not to invest here and rent houses in Chiang Mai instead.



Further reading…