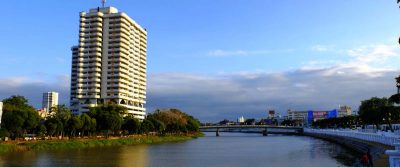 Condos are the most popular property option for those buying in Chiang Mai, since it's not possible for non-nationals to own land. The increase in foreigners choosing to live in Chiang Mai has resulted in the appearance of many large and modern condo developments in the city in recent years.
Many of these buildings have been designed with Western preferences in mind and up to 49 per cent of the building can be under foreign ownership legally. They are luxurious, appeal to foreigner tastes, and are professionally managed. In recent years, a dozen or so new buildings with several hundred units have been built/are under construction, offering plenty of choice when buying apartments in Chiang Mai. Unfortunately, the decline in favourable exchange rates of the pound, the euro and the dollar have eroded their value for money.



The Chiang Mai condo market is much smaller than in Bangkok or Pattaya, yet it has become characterised by an oversupply of condo units. There was a sudden spurt in development before the recession, resulting in many unsold units. Furthermore, they are coming under pressure from renovated apartments in slightly neglected bank-owned buildings dating back to the Asian financial crisis of 1997. This older generation of condos were aimed at Thai tastes, however, and lack some of the attributes foreigners look for, such as large balconies, natural light and sizeable rooms.
The most suitable buildings for foreigners buying condos in Chiang Mai are the sought-after buildings along the riverfront, which retain their value. New, modern, upmarket condos are now being located outside the centre, in the trendy Nimmanhemin area or the leafy Chan Khian area. Some of the older buildings nearer the city are being gentrified, but they remain a risky buy since the building management aren't always reliable at maintaining standards among tenants.
Typically, new apartments in Chiang Mai are sold off-plan, and you can negotiate better prices if you are willing to wait up to 18 months for completion. Not all projects are sound, though, and some have run into financial trouble. A few others have gone bankrupt, leaving early investors out of pocket. This is a common problem in Thailand. Tenants also become frustrated with poor maintenance and management. But Twin Peaks, along with Panna, Convention, and Mountain Front are all professional developments.
Chiang Mai apartments in these new developments range from 44 to 100 square metres, with prices from around 25,000 Baht per square-metre out in the suburbs to 60,000 Baht (and up) for centrally-located buildings. The newer generation of condos offer more guarantees on tenants' rights, with reliable servicing and upkeep, especially if half the building is owned by fussy and demanding foreigners.



In addition, some expats with experience buying condos in Chiang Mai have done well purchasing apartments in older, failed and neglected buildings that came under bank ownership after the crash of '97. They buy them cheap, renovate them and turn a good profit, renting them out to foreigners who are unperturbed about the state of the common areas.
In general, there is a good choice of apartments in Chiang Mai, suiting a range of budgets and providing a nice pad at a reasonable cost. Many owners have these as second properties. The maintenance and security risk is low, so they are ideal for those who only spend part of their year in Chiang Mai.
Further reading…