Handicraft Coffee in Chiang Mai
Chiang Mai's coffee scene is always expanding and growing every day. New Shops to small shacks are opening up regularly. With that comes new ideas and innovations or just pure love of the craft. So we thought we make it more accessible by listing 5 handcrafted coffee shops you should visit in Chiang Mai. These cafes listed below are in no particular order just in case you are wondering.
Roxpresso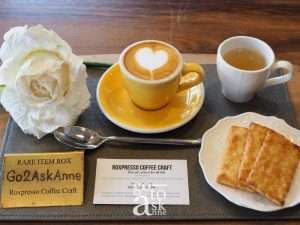 Roxpresso uses a manual process to make their coffee from grinding to espresso extraction with the with the ROK Espresso Maker. They also offer a selection of different coffee beans with a washed process, dry process, honey process and organic coffee. For their ice coffee, they use crystal-clear sphere ice which is made in front of your eyes with a press. It is not only elegant and beautiful to look at, but Roxpresso is utilizing this style of ice to help prevent diluting your beverage quickly.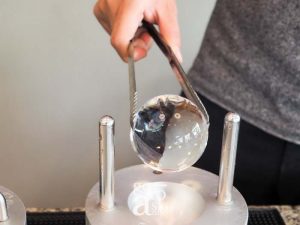 When ordering at Roxpresso, they take you through the process of first choosing the coffee beans you want for your beverage. They have grades from Premium, Exclusive, and Rare Item. Each Coffee bean is listed with a description and what style is best to drink. For example, a Rare Item coffee bean would be advised to drink as a Piccolo Latte. As Roxpresso explained a Piccolo is Traditionally is a ristretto shot topped with warm, silky milk served in a demitasse, a baby latte, as the Italian articulation suggests.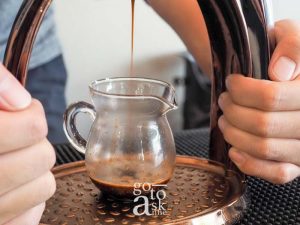 Business Hours: 08:00 to 18:00
Telephone: 081 681 0186
Address: Nimmanhemin Soi 17 Chiang MaiAmphoe Muang Chiang Mai, Chiang Mai, Thailand
Website: Roxpress Coffee Craft
******************************************
Yellow Crafts Home Brewing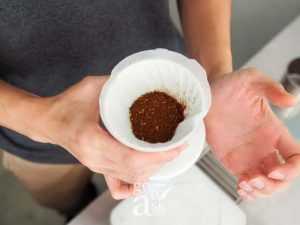 A cute little shop with a photo studio on site, which is available for rent. Yellow Crafts is handcrafted café that takes pride in everything they do and everything they carry, especially their soy milk. They take great pride in offering fresh soy milk daily that is made in-house.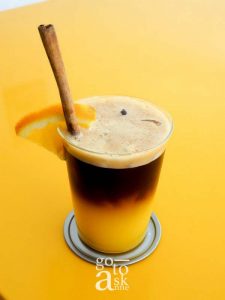 They also work directly with farmers to get the best possible products for their customers. For coffee fans, AeroPress, Pour Over Drip and Nitro Brew is available. Their main coffee bean is from Thailand, Laos, and Ethiopia. However, the coffee they provide is from all over the world, which they change monthly. For Drip, they use coffee beans from Gardelli which includes Ethiopian, Uganda and Guatemala. Gardelli won World Coffee Championship in 2017, so the quality is considered excellent.
Business Hours: 07:00 – 18:00
Telephone: 053 278 757
Address: 257/29 Downdueng Village, Suthep Rd Tumbol Suthep Chiang Mai 50200
Website: Yellow Crafts Home Brewing
FIEOW Coffee ROOM Roaster Shop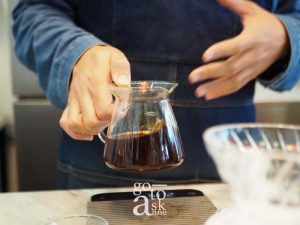 Coffee is fruit is the motto of Fieow Coffee Room Roaster Shop. They love to bring the fruitiness flavors and aromas out of their coffee. When coming in you have your pick of methods of how you want your coffee to be prepared and have a choice between Siphon Coffee brewing (Vacuum), AeroPress, Pour Over Drip, Espresso Machine, and Nitro Brew. You also chose if you want single origin or a blend, for your cup of coffee. Most of their customers come in for Hot espresso and hot latte, you have a choice between a house blend which they use a medium roast. Moreover, they use a light roast from Indonesia and Ethiopia for drip coffee.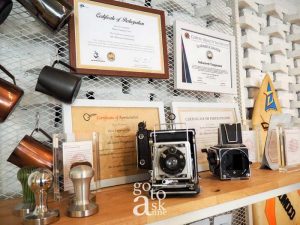 Like their names suggests Fieow is also a coffee roaster. They import their coffee beans from all across the world and currently carry beans from Honduras, Kenya, Indonesia, Costa Rica, and Guatemala. For their roasting process, they have not spared any expensive and used coffee roasters from Probat and Giesen.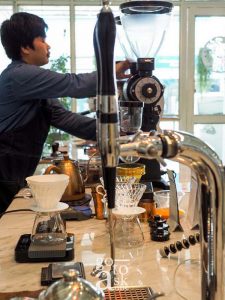 Business Hours: 09:00 – 17:30
Telephone: 089 265 9889
Address: Chiang Mai-Lamphun Rd, Tambon Nong Hoi, Amphoe Mueang Chiang Mai, Chang Wat Chiang Mai 50000
Website: FIEOW Coffee Room Roasters
******************************************
Posrest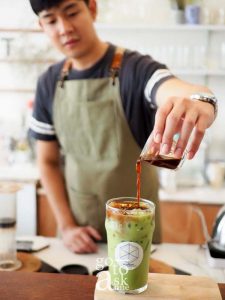 Offering all methods of coffee brewing, Posrest considers itself more of an AeroPress bar and uses it to make favorite coffee and fusion drinks. The choice to use go this tool as their brewing of choice was to help set them apart from other cafés and because of the versatility it offers. They believe and that the Aeropress makes a great cup of coffee and provides a taste that is beginner friendly. Their most popular items are the fusion drinks. Every month they have a special going. For their Pour Over Drip, they have a couple of single origin coffee to chose from like Congo and Honduras roasted from Hong Kong and Brazilian roasted in Japan.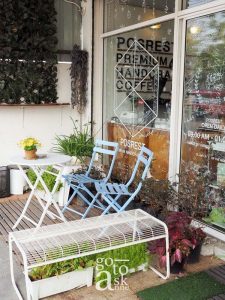 Their kitschy items would be found in the fusion section of their menu. It is a creative handcrafted selection that has garnered them many fans. Some of the drinks on the list are Pression fruit which is a mix of black coffee, orange juice, and passion fruit juice. Peachino which is a mix of black coffee, peach syrup, and soda water. For a more straightforward fusion drink, they also have On the Green which is black coffee with a green tea latte.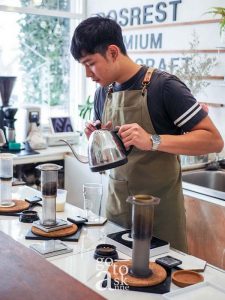 Business Hours: 09:00 – 01:00
Telephone: 084 610 3732
Address: 2 Chiang Rai Rd, Tambon Su Thep, Amphoe Mueang Chiang Mai, Chang Wat Chiang Mai 50200
Website: Posrest
ZMOY CAFE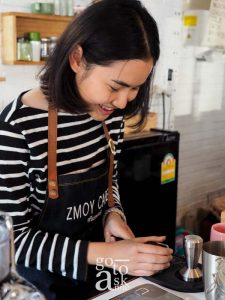 A small coffee house, hidden in the city, this shop uses a manual process to brew their coffee and tea. For their coffee, they use the ROK Espresso Maker which uses no electricity and is pressed by hand. They also have an on-site Aeropress, but this is used exclusively to brew their teas. Zmoy Café wants to provide an escape from the city, bustling cafes and give a more of a friendly home feel while delivering handcrafted coffee. Moreover, their prices start at 50 baht which is an excellent price for handcrafted coffee.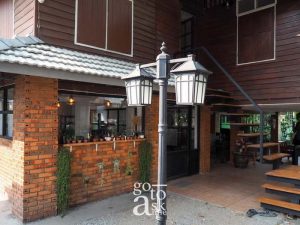 For those looking for a creative outlet along with their handcrafted coffee, right next to Zmoy is a small ceramic workshop. They teach adults and kids how to make their sculptures. Their class starts at 700 baht, and you keep your design afterward. They do recommend leaving your work on site until it dry's entirely to take it home.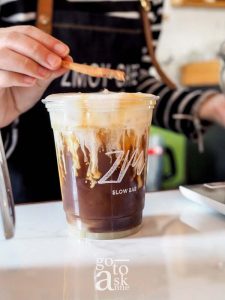 Business Hours: 08:00 – 18:00
Telephone: 095 675 4311
Address:
216 ถนน ราชพาคลีใน ซอย มูลเมือง 7 ตำบล ศรีภูมิ อำเภอ เมืองเชียงใหม่ Chang Wat Chiang Mai 50300
Website: ZMOY CAFE
******************************************
This article was written by Will Higuera a team member of GOtoaskanne.com. A blog that shows food enthusiasts where to eat around Chiang Mai. From the street corners to chef tables, he guides you through the ins, outs, and turns of what Chiang Mai has, to offer. They provide free tips and explanations on Northern Thai food and review real, authentic local restaurants. Take your food exploration through Chiang Mai to the next level.