Story and photos by: Royal Thai Embassy Singapore
23 October of every year is a national holiday in Thailand as it marks "King Chulalongkorn Day" or known in Thai as "Wan Piyamaharaj Day". It is the memorial day of the passing away of King Chulalongkorn, otherwise known as King Rama V. King Chulalongkorn led several major reforms in Thailand, for example in the areas of Thai educational system, military affairs, State Railway and Slave Liberation Act without bloodshed in Thailand.
So WHO exactly was King Chulalongkorn?
King Chulalongkorn is the fifth monarch of Siam under the House of Chakri. He is the son of King Mongkut and the grandfather of the current King of Thailand, His Majesty the King Bhumibol Adulyadej.
King Chulalongkorn the Great was the son of King Rama IV or King Chomklao and Queen Thepsirinthara. He was born on September 20 B.E. 23962/A.D.1953 named as Pr ince Chulalongkorn. At the age 9, he was appointed by the father as Krommuan Pighaneshavarasurasangkash and then Kromkhun Pinit Prachanath at the age 13. The first coronation was done on November 11 B.E. 2411/1868 under the title "Phrabatsomdet Phraparamindra Mahachulalongkorn Phra Chulachomklao Chaoyuhua." Because of his age-only 16 years old, Somdet Chaophrayabo- rommaha Srisuriyavongse wa s appointed as the King's Regent. Prince Bovornvijaijan, the elder son of the Second King Pinklao was appointed as the Viceroy under the title "Kromphrarajavangbovorn Vijaijan".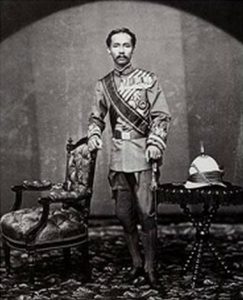 During the time of execution, King Chulalongkorn had studied various branches of arts and sciences such as Royal Tradition, Public Administration, Archaeology, Pali, English, Military Science Wrestling, Weapon Using, and Engi neering. Moreover, he paid state visits to Singapore and Java twice and India once. It was not the pleasant tour but an observation-tour to observe the political systems and administration of the European Imperialists who came to govern the colonies in South Asia and South-east. Asia by this way he brought back new knowledge and technology to apply in Thai government. Royal tradition such as uniform, haircut and audience the king were c hanged to the western style.
He was ordained as Buddhist monk for a short time during September 15 to October 11 2516/1873 and then was coronated again on October 16 2416/1873 to announce absolute kingship to the people of Siam and the world.
HOW did King Chulalongkorn become one of Thailand's most loved and revered King?
King Chulalongkorn is considered one of the greatest kings of Thailand. His reign from 1868 to 1910 was characterized by extensive social and economic development, including the abolition of slavery and corvee (state labor service). He is also famed for his ardent Thai nationalism, and for his skill in fending off the threat of European colonialism, despite the fact that large tracts of Siam were ceded to the Europeans during the period.
King Chulalongkorn managed to prevent Thailand from being colonized by extending friendship and travelling extensively to western countries like America, Great Britain, France and Russia. Because of this, Thailand remains as the only country in Southeast Asia to have never been colonized.
Besides that, King Chulalongkorn was the first Thai King to send the Royal Princes to be educated in Europe. Throughout Chulalongkorn's reign, radical writers had their works published for the first time. Works that were previously banned were allowed to be read by the public once again…read more…