Khao presents Thailand's Culinary Masters Series 2018
Chef Chumpol Jangprai
2-4 March 2018
Acclaimed Chef Chumpol Jangprai is all set to showcase his culinary prowess in the second part of Thailand's Culinary Masters Series 2018. Savour a modern gastronomic journey infused with Northern Thai flavours. Anticipate a precision-perfect four-course menu, highlighted by Northern Thailand's prized farm ingredients that are a cornerstone of this chef's menu.
Don't miss a chance to sign up for a one-on-one cooking class that should be an unforgettable experience. If you do not have time to take the course, you can also meet the Chef at the lavish Sunday Brunch. It is all happening at Khao by Four Seasons.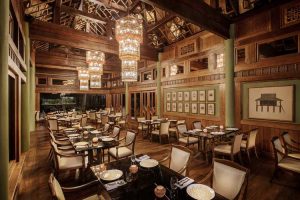 Chef Chumpol
Growing up in a family-owned restaurant gave Chef Chumpol the opportunity to start when he was just 13 years old! As his career blossomed, he has become an integral part of world-renowned Thai cuisine with restaurants such as the Blue Elephant in Bangkok, and advisory boards of several leading hotel chains. A part of the Iron Chef Thailand elite, he has been recognized as the best in the new generation of culinary masters.
The Schedule
2 & 3 March 2018
4-course dinner at Khao
2,400 baht per person or
3400 baht per person including wine-pairing
3 March 2018
Cooking Master Class at Rim Tai Kitchen
6500 baht per person
4 March 2018
Sunday Brunch with Chef Chumpol's signature specialties;
starting at 1900 baht plus taxes per person at Rim Tai Kitchen
For more information: email [email protected] or call 66 (0) 53 298 181