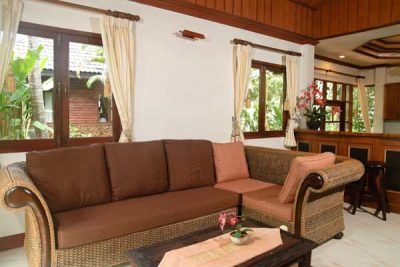 Many foreigners only reside in Chiang Mai for part of the year, creating a growing need for serviced apartments and an increasing selection of comfortable, short-lease accommodation. Such accommodation comes fully furnished, with full laundry and cleaning services included, and you can rent a serviced apartment in Chiang Mai on a weekly or monthly basis.
Apartments in Chiang Mai are generally cheap, though the landlord may want a deposit equivalent of three months' rent and a one-year lease. This doesn't suit some part-time residents, yet the thought of staying in a hotel or guesthouse for months can be unnecessarily expensive and lacking in privacy.



Lately, several serviced apartments have opened up, catering to a more discerning crowd. With the emergence of an upmarket sector in the city, demand has arisen for classy, comfortable and fully-fitted luxury apartments that can be rented on a weekly or monthly basis.
With serviced apartments you'll find everything laid on and ready for your occupancy, avoiding the chore of setting up internet, finding a house keeper, paying hefty deposits and buying linen, utensils, and the like. However, serviced apartments aren't as numerous in Chiang Mai as in Bangkok.
One of the most comfortable of the new developed serviced apartments is Frangipani Serviced Residences located behind the ancient Wat Chiang Man temple in the heart of the Old Town. Tending to the luxury end of the market, these well-appointed, tastefully decorated, roomy apartments (one and two bedroom) are owned and managed by Marc and Luxami Dumur, who have plenty of experience managing four- and five-star hotels.
Note:
To find the best rate
Hotels in Chiang Mai
, we recommend you look online at
Agoda.com
. They seem to be the most competitively priced of the hotels sites.
Another option, which is less luxurious but certainly as fashionable, is Studio 99 Serviced Apartments which is also limited to less than a dozen apartments and has the bonus of being near the busy Night Market. It also offers fully fitted one and two-bedroom apartments, as does Sakorn Residence & Hotel in the east of the city.
All three are comfortable and make life in Chiang Mai easier, but if you're on a budget you might want to check local media or enquire with estate agents about private, single apartments, which are also ready to move in to.



Further reading…