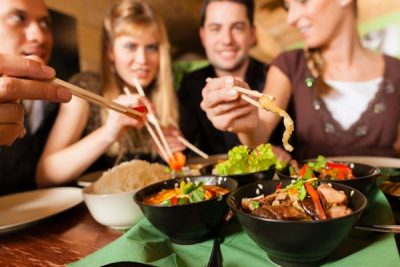 Food is definitely a highlight of any trip to Thailand, and Chiang Mai offers an excellent selection of good value restaurants. Some of the top restaurants in Chiang Mai rival those in Bangkok, but at half the price, and you can find affordable eateries of both Thai and international cuisines all across the city.
Wandering the old town or Night Market area, you'll encounter all sorts of al-fresco or air-conditioned choices, and the northerners take particular pride in ambience; often laying on discreet live music. The riverside area provides a particularly romantic atmosphere, but you needn't venture far to get a quick bite at a pavement noodle shop. Northern Thailand also has its own distinctive spicy cuisine.
Shortcuts: 
Entertainment Restaurants  /  Ambiance Restaurants  /  International Restaurants  /   Lunch Restaurants  /  Vegetarian Restaurants  /  Northern Food & Thai Cuisine
Chinese Restaurants / French Restaurants / German Restaurants / Indian Restaurants / Thai Restaurants / Khantoke Dinner and Show



Entertainment Restaurants
The Good View Restaurant: Cavernous, noisy and popular with locals, here's where you will find lively bands, abundant and tasty food, and a riverside location. Dine early because the band is so loud conversation is impossible. Open: 10:00-01:00, 13 Charoen-Raj Rd., Wat Gate. Tel: (053) 241 866, Email.
The Riverside Bar & Restaurant: Popular and lively with two live bands, a broad, mixed menu and indoor/outdoor seating. Features a romantic setting alongside the Ping River. Open: 10:00-01:00, 9-11 Charoen-Raj Rd., Wat Gate. Tel: (053) 243 239, Email.
Ambiance Restaurants 
Antique House Ban Him-Ping: Here you'll discover a beautiful 100-year-old teak house with good service and toned down food for Western tastes in a relaxing atmosphere. Open: 10.00-01.00 (Daily), Chiang Mai-Lumphun Rd., Watket. Tel: (053) 240 270, Email.
The House Food & Kitchen Bar: This is one of Chiang Mai's most commendable restaurants, serving exceptional Asian fusion dishes and creative cuisine in an exclusive atmosphere. The tapas bar and menu is a lighter choice. Open: 09:00-23:00, 199 Moonmuang Rd., Sriphum. Tel: (053) 419 011-13, Email.
Palaad Tawanron Restaurant: This popular restaurant enjoys an unbeatable location among the forests on the lower slopes of the mountain (above the zoo). The views are great, but it gets busy so be prepared for a long wait for your food. Follow the signs from the right turn near the top of Suthep Road and behind Chiang Mai University. Open: 11:30-Midnight, 100 Suthep Rd., Tel: (053) 216 039, Email.
The Moxie Restaurant & Mix Bar: The in-house restaurant at Chiang Mai's hippest new hotel, the D2, serving Thai fusion and international food. You also get the stunning Mix bar, its good-looking staff, and a convenient location. dusitD2 Hotel, 100 Chan Klan Rd., Tel: (053) 999 999.
The Gallery Restaurant: Offers a charming, relaxed, riverside experience in one of the oldest wooden structures in Chiang Mai. There's also an art gallery, although food and service can be variable. Open: Midday-01:00, 25-27-29 Charoen-Raj Rd., Tel: (053) 248 601-2, Email.
The River Market: Centrally located on the River Ping and overlooking the Iron Bridge, The River Market offers one of the best views of Chiang Mai. The modern Thai kitchens showcase the food and the talented chefs that prepare it. Everything is cooked fresh using the best ingredients available. To make it a prefect meal we offer a selection of great wines, beers and cocktails chosen to compliment our food. Open 10.30-22.00, located next to Iron Bridge on Ping River. Phone: 053-234 493.
Since many foreigners visiting or living in Chiang Mai enjoy a leisurely time, restaurants and eating out feature highly in their daily activities. They offer some of the best value for money in Thailand, with an excellent selection at very good prices. It's quite affordable to spoil yourself at the magnificent Dhara Dhevi's Lanna restaurant for first class Thai food, or snack on tapas at Su Casa in Nimminhemin, while unpretentious places like Bake n Bite are always a popular choice. Or you might want to go for a truly authentic, local experience at the traditional food court in the lower level of the Northern Village, Airport Plaza. In fact, you needn't walk far down any street in the city to discover pavement snacks or fruit on sale.
Note:
To find the best rate
Hotels in Chiang Mai
, we recommend you look online at
Agoda.com
. They seem to be the most competitively priced of the hotels sites.
International Restaurants
Le Coq d'Or Restaurant: Unrivalled in the city with 35 years of French food and wine excellence in a lovely antique teak house. One luxury experience. Open: 11:00-14:00 & 18:00-22:00, 11 Soi 2, Koh Klang Rd., Nonghoi. Tel: (053) 141 555, Email.
Anantara Restaurant: An upmarket and stately experience in the grand old colonial former British consulate, located in the Anantara Hotel. Features fine dining, good service and a convenient riverside location. Anantara Chiang Mai Resort, 123-123/1 Charoen Prathet Rd., Chang Klan. Open: 06:30-22:30, Tel: (053) 253 333, Email.
Farang Ses: A silver service, luxury-priced French restaurant set in an extraordinary Lanna-themed hotel in San Khampaeng in a temple-styled building. The menu offers world class dishes and a first-class dining experience unmatched in Chiang Mai. Dhara Dhevi Hotel, 51/4 Moo 1, Chiang Mai-Sankampaeng Rd., Tasala. Open: 18:00-22:30, Tel: (053) 888 888.
Girasole Ristoranre Italiano: Is a conveniently located pizzeria and trattoria from the expert Italian management at La Gondola. Indoor (air con) and al-fresco dining available in the Kad Klang Wiang garden arcade near Thapae Gate. Good menu and service. Kad Klang Wiang, 71 Rachadamnoen Rd., Open: 07:30-23:00, Tel: (053) 276 388.
Archer's Bar & Restaurant: Set between Ratwithi and Ratchadamnoen (Walking Street) in the heart of the Old City, Archer's offers Chiang Mai's best English breakfast and also a killer roast beef Sunday lunch as well. But there is also a range of well-priced yet delicious international and Thai dishes as well as beers and spirits. Owner Mark is a top bloke for a chat as well. Open: 08:00-23:30, 133/4 Ratchapakinai Rd., Mobile: (084) 186 5788, Email.
Giorgio Ristorante Italiano: An unassuming Italian place near the Night Market with exceptional food and faultless service, boasting clientele such as the Crown Prince. Open: 11:30-14:30 & 18:00-22:30 (Monday-Saturday), 18:00-22:30 (Sunday). 2/6 Prachasamphan Rd., Tel: (053) 271866, Email.
Jia Tong Heng: A busy choice full of Chiang Mai's elite, with first-class Chinese food and service. Situated near Anusarn Market. Sri Din Chai Branch: 193/2-3 Sridonchai Rd., Tel: (053) 820 860-2.
Le Crystal Restaurant: A five-star, French experience with silver service and an exotic menu, all in a beautiful garden setting beside the Ping River. Open: 18:00-22:30, 74/2 Paton Rd., Tel (053) 872 890-1, Email.
Fujian Chinese Restaurant: Located in the Dhara Dhevi Hotel within Kad Dhara Shopping Village, where Cantonese cuisine is delivered with authentic ambience and impeccable service. Their all-you-can-eat lunch dim sum is very affordable. Dhara Dhevi Hotel, 51/4 Moo 1, Chiang Mai-Sankampaeng Rd., Tasala. Open: 11:30-14:30 & 18:00-22:30. Tel: (053) 888 888.
Miguel's Cafe: Perhaps the best place in Chiang Mai for authentic Mexican food, though not always the best service, with a delicious Tex Mex menu and margaritas. Open: 09:00-23:00, 106/1 Chaiyaphum Rd., Tel: (053) 874 148, Email.
Chiang Mai Saloon: American-style burger and 'South West' steakhouse; friendly staff; nice atmosphere; big screen music videos and sporting events; pool tables; free internet; cheap margaritas. Open: 11:00-Midnight, 30 Ratchawithi Rd., Tel: (053) 219 667.
The Duke's: The Duke's offers a wide range of American dishes ranging from burgers, pizza, pasta, ribs, seafood and salads. All of our sauces, breads, soups, dressings and cakes are made fresh daily and we cook to order. With five branches throughout Chiang Mai, Ping River, Maya Shopping Mall, Night Bazaar, Promenade Mall and Jampha Mall in Lamphun. Ping River Branch: 49/4-5 Chiang Mai-Lamphun Rd., Open: 10:30-23:30, Tel: (053) 249 231.
Ragù Rustic Italiano: Live the good life. Eat, drink and feel Ragù. We serve traditional home-cooked Italian food in a nice modern setting. Dishes offered includes pasta, pizza, flatbreads, soups, cold cuts and everything you can expect from a traditional Italian kitchen. Promenada Shopping Mall, 1st Floor, Building B. Open 11.00-20.00, Tel: (053) 142 665.
Lunch Restaurants
Ratana's Kitchen: A popular place with air-con and tasty Thai and international food, conveniently located. Open: 07:30-Midnight, 320-322 Thapae Rd., Tel: (053) 874 173.
Aroon Rai Restaurant: Simple and well known, yet not as famous as it once was, with buffet, basic menu, and 35 years experience. Open: 11:00-21:00, 45 Kotchasarn Rd., Tel: (053) 276 947.
Suanpaak Restaurant: Set in pleasant gardens with a creative, simple menu drawing from its organic fields onsite. They also sell produce. Open: 07:00-22:00, 61 Moo 3, Airport Rd., Tel: (053) 904 201.
Charcoa Bakery & Restaurant: Pleasant and peaceful little restaurant attached to a guesthouse near Sripoom corner, with a surprisingly good international menu, as well as cakes, good service and ambience. Open: 07:00-22:30, 4 Soi 1, Sripoom Rd., Sripoom. Tel: (053) 212 681, Email.
Bet you didn't know that!
There are now more coffee shops in Chiang Mai than restaurants. In fact, there are more coffee shops than 7-Elevens and that's saying something! Apparently a new coffee shop opens every 48 hours; some double as galleries and they're a cool place to hang out if you're a student with a laptop. Iced Mochas made with local Wawee mountain coffee are recommended. We're not quite sure how Chiang Mai survived without them all.
Vegetarian Restaurants
The Vegetarian Society: A popular, non-profit, lunchtime canteen, providing cheap organic food (adjacent to Bang Jak Gas station). Open: 06:00-14:00 (Monday-Friday), 42 Mahidol Rd., Tel: (053) 271 262.
Aum Vegetarian Restaurant: An all-veggie, centrally-located place with a nice ambience. Leave your shoes at the door. Open: 09:30-20:00, 65 Moonmuang Rd., Tel: (053) 278 315.
The Whole Earth Restaurant: Serves up excellent Indian food (with a wide vegetarian selection) in an antique house with a lovely garden. Open: 11:00-22:00, 88 Sridonchai Rd., Chang Klan. Tel: (053) 282 463.
Blue Diamond the Breakfast Club: This health-food gem has fresh bakes and healthy herbs, making it a popular brunch place. Tricky to find. Open: 07:00-20:30, 35/1 Moonmuang Rd., Soi 9, Sriphum. Tel: (053) 217 120, Email.
Khun Churn: Serves a vegetarian buffet (179 Baht) every lunch time, popular with Thais and expats alike. Open: 10:30-15:00, JJ Market, Atsadathon Rd., Mobile: (081) 881 3032.
Sorry, that one no have today!
It's a standing joke in Chiang Mai but local restaurants have a habit of running out of dishes. A menu is more a list of what they can make rather than what's available, so expect your first choice to sometimes be 'that one no have today'. If you're really unlucky they'll come back and tell you 15 minutes later (meaning they tried to bunk out to the local market for ingredients, unsuccessfully). We've experienced this at every level of eatery, with one hapless place even running out of rice! Needless to say, none of them are mentioned here.
Northern food and Thai cuisine
Most of the restaurants in Chiang Mai serve a cornucopia of delicious Thai dishes and this alone could be the highlight of your visit. Be a little adventurous and try the piquant Tom Yum Goong (a seafood soup delicately balanced with sweet, sour, spicy and salty ingredients) or the famous Khaeng Khieo Wan (green curry). Then there's the steaming Pla Jian (whole fish poached in ginger, onions and soy sauce), or the mild Gai Phat Met Ma Muang (chicken fried with vegetables and cashew nuts), or the perennial Thai lunch favourite Somtam (a spicy papaya salad with a myriad of herbaceous ingredients).
Northern Dishes include Sai Ua (spicy sausage), Khao Soy (Shan-Yunnanese influenced curry noodles), Kaeng Hang Lae (pork curry casserole with ginger and peanuts), and Kaeng Yuak (banana palm curry). Many of these dishes are served as vegetarian dishes and those with a sweet tooth should certainly sample the coconut-sweetened Khao Niew Med Ma Muang (sticky rice and mango with nuts). Learn more in our complete Thai food guide.
Khantoke Thai cultural experience: In recent years, the concept of the Khantoke evening has grown in popularity, and these complete cultural experiences are hosted in beautiful Thai teak pavilions, with Thai dancing and traditional music as you enjoy Northern specialities while seated at floor level.



Chinese Restaurants in Chiang Mai
China Palace Restaurant
Located at the Sheraton Hotel. Upscale place with excellent service. Both a la carte and buffet menus.
318/1 Chiang Mai-Lamphun Rd.
Open: 11:00 am – 2:30 pm, 6:30 pm – 10:00 pm
Tel: 053 275 300 ext.1553
Ging pai
Inside the Porn Ping Hotel, Ging Pai (Bamboo Branch) has excellent authentic Chinese cuisine.
Charoen Prathet Rd.
Open: 11:00 am – 11:00 pm
Tel: 053 270 099
Gold Leaf
Very popular place located inside the Imperial Mae Ping Hotel.
Open: 11:30 am – 2:00 pm, 6:00 pm – 10:30 pm
Tel: 053 283 900
Jia Thong Heng
This large restaurant is considered by many to serve up the best in Chinese fare.
193/2 Sridonchai Rd.
Open: 10:00 am – 10:00 pm
Tel: 053 820 860
Mei Jiang
A small restaurant inside the Chang Klan Plaza serves some of the best Hong Kong Chinese cuisine.
Chang Klan Plaza, Chang Klan Road
Open: 11:30 am – 2:00 pm, 5:30 pm – 9:00 pm
Tel: 053 821 112
New Asia
Not so new as it has been open for about 40 years. It is thought to be the first Chinese restaurant in Chiang Mai.
55 New Ratchawong Rd.
Open: 7:30 am – 11:00 pm
Tel: 053 233 562
Panda Palace
A popular restaurant with the local business crowd, the Panda Palace serves a large selection of Chinese food.
199/42 Chang Klan Rd.
Open: 6:00 pm – 10:00 pm
Tel: 053 270 240
Phuping Restaurant
Dimsum is a specialty here. Chiang Mai Orchid Hotel
23 Huay Kaew Rd.
Open: 11:00 am – 2:00 pm, 6:00 pm – 10:00 pm
Tel:053 222 099, 053 222 913
French Restaurants in Chiang Mai
Chez Marco
15/7 Loi Kroh Road, Chiang Mai 50200
Tel. 053 207032
La Fourchette
162/2 Phra Pokklao Road, Phrasing Subdistrict, Chiang Mai 50200
Tel. 66 053 277482, website
La Terrasse
69/5 Kotchasarn Road, T. Changklan, A. Muang, Chiang Mai 50000
Tel. 66 83 762 6065
L'elephant
7 Sirimangkalajarn Soi 11, Suthep, Muang Chiang Mai, Chiang Mai 50200
Tel. 66 97 970 8947
Manao gaRoaden bistro
69/9 Intrawarorot Road, Phra Sing Chiang Mai Muang, Chiang Mai 50200
Tel. 66 93 039 2139
Farang Ses
The Dhara Dhevi, 51/4 Moo 1, Chiang Mai – Sankampaeng Road, Chiang Mai, Chiang Mai 50000
Tel. 66 53 888 888
Le Coq d'Or Restaurant
11 Soi 2 Koh Klang Road, Nong Hoi, Amphur Muang, Chiang Mai 50000
Tel. 66-5314-1555
Le Crystal Restaurant
74/2 near Ban Sing Kham Restaurant, Pah Ton Road, T. Pah Ton A. Mueang, Chiang Mai
Tel. 66 53 8728901, website
Le Beaulieu
Chiangmailand soi 7, Changklan Muang, Chiang Mai
Tel. 6684 7518888
German Restaurants in Chiang Mai
Beer Republic
28 Nimmana Haeminda Lane 11, Suthep, Chiang Mai 50200
Tel. 081 531 4765
Bierstube
33/6 Th Moon Muang, Chiang Mai
Tel. (053) 278 869
Chiang Mai Breakfast World
Soi 2 Moonmuang Rd, Chiang Mai 50200
Tel. 66 53 207 134
German Beer House "Green Fox"
470/7 Chang Klan Road, Chiang Mai 50180
Tel. 66 92 624 4547
German Hofbrauhaus y Casa Antonio
Chiang Mai Night Market, 115/1-2 Loi Kroa Road, Chiang Mai
Tel. 6653272236
Chiangmai German Restaurant
Outer Ring road, Chiang Mai
Tel. 081 640 5884
Auf der Au
197-2 Moo 5 Chiang Mai – Lamphun Road, Nong Phueng Saraphi, Chiang Mai 50140
Tel. 093 4340844
Indian Restaurants in Chiang Mai
Spices Indian Food
17 Thapae Road, Chiang Mai
Tel. 0815954823
Asma Restaurant
149/20 Anusam Market, T. Changklan, Chiang Mai,
Bombay Restaurant
11 Nantharam Rd, Haiya, Chiang Mai 5000
Tel. 66 89 637 3033
Accha Indian Restaurant & Bar
Front of Starbucks coffee shop, Nimman Road soi9, Chiang Mai
Tel. 66 99 291 1551
Hinlay Curry House
8/1 Na Wat Gate, Chiang Mai
Tel. 053-324621
Whole Earth Restaurant
88 Th Si Donchai, Chiang Mai 50100 
Tel. (053) 282 463, website
Curry in Hurry
82/2 Chayiaphoom Rd, Chiang Mai
Tel. 66 53 233459
Le Spice
31 Charoenprathet, Chiang Mai 50000
Tel 66 53 234 983
Al-Hussain Restaurant
149/18, Anusarn Market | Night Barzar, Chiang Mai 50000
Tel. 053 284125
New Delhi Indian Food
Near Irish Pub 46/32, A, Ratchawithee Road, Siriphoom, Moon Muang, Chiang Mai 50300
Thai Restaurants in Chiang Mai
Khaomao-Khaofang Restaurant
181 Moo 7, Ratchaphruek Road | Nongkwai, Hangdong, Chiang Mai 50230
Tel. 66 53 838 838
Ginger & Kafe
199 The House, Munmueang Road, T. Siphum A. Muang, Chiang Mai 50200
Tel. 053419011
Deck 1 Restaurant
1, 14 Charoenraj Road, T. Watkate | A. Muang, Chiang Mai 50000
Tel. 6653 302788
Ratana's Kitchen
320-322 Thapae Road, Chiang Mai 50300
Tel. 66 53 874 173
Cafe Mini
239 Moo 9, Middle Ring Road, Chiang Mai 50300
Tel. 66 88 411 4668
Samsen Villa
201 Charoenratl Rd. T Wad Ket A Muang | Wat Gate, Chiang Mai 50000
Tel. 66 53 306 588
Hong Tauw Inn
95/17-18 Nantawan Arcade, Nimmanhaemin Rd, Chiang Mai 50000
Tel. (053) 218 333
The Riverside Restaurant
9-11 Charoenrat Road, Chiang Mai 50000
Tel. 66 53 243 239
The Canal Restaurant & Bar
51/2 Arrak Rd., T. Phrasingh | A. Muang, Chiang Mai 50200
Tel. 665 390 3999
Paak Dang Restaurant
46/1, Wang Sing Kham Road | Reservations Recommended, Chiang Mai 50300
Tel. 66 94 629 1319
The Service 1921 Restaurant and Bar
123-123/1 Charoen Prathet Road, Chiang Mai 50100
Tel. 66 53 253 333
Le Grand Lanna
The Dhara Dhevi 51/4 Moo 1 Sankampaeng Road, Muang, Chiang Mai, Chiang Mai 50000
Tel. 66 53 888 888
Cafe de Nimman
Sirimankelajan Soi 13, Chiang Mai
Tel. 053 218405
Galae Restaurant
Suthep Road, Chiang Mai
Tel. 66 (0) 5327 8655
Sala Mae Rim 
Four Seasons Resort, 502 Mae Rim-Samoeng Old Road, Mae Rim, Chiang Mai 50180
Tel. 66 53 298 181
Ruen Tamarind
Tamarind Village Hotel, 50/1 Rajdamnoen Road, Sriphoom, Chiang Mai 50200
Tel. 66 53 418 896
Aroon (Rai) Restaurant
45 Kotchasan, Tha Phae, Chiang Mai
Tel. (053) 276 947
Regina Restaurant
69/71/73 charoenrat road, Chiang Mai
Tel. 053-262-882
Saenkham Terrace
199/163 Maehia, Chiang Mai 50100
Tel. 053-838990
The Good View Bar & Restaurant 
3 Charoenraj Road, Wat Ket, Chiang Mai 50000
Tel. 66 53 302764
Mix Restaurant & Bar
Soi 1, Nimarnhemin, Chiang Mai
Tel. 66 53-216878, website
Huen Phen
112 Rachamankha Rd, Chiang Mai 50200
Tel. 05381-4548
Kaeng Ron Ban Suan
149/3 Moo 2, Irrigation Canal Rd., Chang Phueak, Muang, Chiang Mai
Hot Chilli
71 Unit 27-32 Rachadamnoen Road, Prasingh, Chiang Mai 50200
Tel. 53278814
Come Dara
193 Charoenraj Road,Watket,, Chiang Mai
Tel. 053-248-751, website www.comedara.com
Rak Thanam Restaurant
168 M.3 T.Pardad | Pardad Rd. A.Muang, Chiang Mai 50100
Tel. (66)52001111
Palaad Tawanron
Th Suthep | Chiang Mai University, Chiang Mai
Tel (053) 216 039
Chompor Lanna
Sripoom Rd, Sripoom, Chiang Mai
Tel. 66 53326547
Mo'c Mo'l Restaurant
233 Huai Kaeo Road, Chiang Mai
Khantoke Dinner and Show in Chiang Mai
Khum Khantoke
139 Moo 4, beside Payap University, Super Highway Chiang Mai-Lampang Road, Nong Pah Krang Subdistrict, Chiang Mai 50000
Tel. 66 53 304 121
Old Chiangmai Cultural Center
185/3 Wualai Rd | Hai Ya Subdistrict, Chiang Mai 50100
Tel. 66 53 202 9935
Benjarong Khantoke
Moo 4 T. Suthep a. Murng 100, Chiang Mai 50200
Tel. 66 53 80-4331 to 2, website
Further reading…