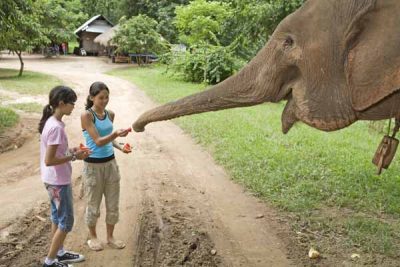 Taking children to a foreign destination can be daunting, and it is essential to search out sights and activities that will appeal to the whole family. Fortunately, there are plenty of outings and activities in Chiang Mai that can be enjoyed by adults and children alike. It's a relatively safe and easy travel destination, and Thais love children, so are always friendly, tolerant and willing to help. Here are the main tips on travelling with kids in Chiang Mai, otherwise see our page on activities for children in Chiang Mai.
In Thailand children are highly treasured and largely left to do as they please, yet few of them turn out as precocious brats. The expat community of families is large enough to guarantee a sense of familiarity for new-comers and there are numerous schools and play-groups in English.



Travelling with children in Thailand
Most people in Thailand love children and they are welcome in almost all places, and more than tolerated. Thais really admire foreign-looking children and you're more likely to find volunteers for babysitting or amusing your children than people grumbling over noise. With transport being cheap, it's practical to hire a taxi and driver for the day (around US$40) to to take you around, because pushing strollers on bad sidewalks in the hot sun isn't fun.
Getting around with children is pretty painless and travelling with children in tow in Thailand isn't a financial burden. You can take them with you to most places, and there are usually impromtu activities for the kids, though don't expect Disneyland. Chiang Mai, Bangkok and Phuket all have attractions perfect for kids, such as the zoo and animal shows (Chiang Mai), Safariworld and water parks (Bangkok) and Phuket Fantasy.
Safety in Chiang Mai
Chiang Mai is generally a safe city, but you should be mindful of your children, especially around traffic. Keep young children within your sight or with a trusted adult. Fair-skinned children (or any children for that matter) can become a target for kidnappers; it is rare, but you wouldn't want it to happen to you.
There are a number of stray dogs in the city, and children should be told not to touch these dogs as they have not been vaccinated and have led rough lives, making them unpredictable at times. Additionally, mosquitoes can be relentless here and can carry dengue fever, so children should be kept indoors at dusk and wear a repellent. Fortunately, there is no risk of malaria infection in Chiang Mai and most of northern Thailand.
While adults might be quite tolerant of hot Thai food, some of the more spicy dishes can be irritating to a child's stomach. The sun here is even hotter than the food, and delicate skin can burn easily. That said, there are exciting new choices for those with a sweet tooth, and Thailand has a fantastic selection of unique sweets and strange fruits – they have also taken to baking with zest.
Make sure the little ones wear sunscreen and hats, and drink plenty of water. Hospitals in the city are very good and if your child gets sick, don't hesitate to him or her to a doctor. Diarrhoea does occur fairly frequently here among tourists, usually due to their lower tolerance to spicy food or market food that may not have been prepared to the utmost standards of hygiene. Dysentery is rare, though. Should you need to see a doctor the best plan is to ask a tuktuk/ taxi driver or your hotel concierge to get you to Chiang Mai Ram I hospital, located on the Northwestern corner of the moat. Their service is very professional, their charges (and arrangements for insurance cover refunds) reasonable, and the doctors speak English. You needn't have to wait too long either.



Childcare in Chiang Mai
Because of the Thai extended family system, there is little or no childcare available. If parents cannot care for their children, a grandmother, aunt, or even the housekeeper, may do so. Many of the largest hotels may offer a babysitting service though, and most of the shopping malls have a reliable childcare centre.
If your child is of preschool age, you may be able to make arrangements at a bilingual preschool for short-term care and activities. Hiring a child carer or arranging a baby sitter isn't difficult, though you have to depend on word of mouth. The good news is that they are very affordable.
Living in Chiang Mai with children
If you are planning to come and live in Chiang Mai, your children will find themselves in a welcoming environment. There is a very delightful child-like character to the Thai psyche, and children (foreign one's especially) are adored by all Thais. Fun is the operative word here and your children will soon find themselves among playful company, where language is hardly thought of as a barrier.
There are at least six international schools, several more English programme kindergartens, as well as private Thai schools offering English programmes, so you're spoilt for choice education-wise. Typically, basic fees at an international school for a year is around US$5,000. Kindergarten school except children from two-and-a-half years old, and there are also child care centres that are cheap and professional run. Good medical services, Western supermarkets and a large expat community which includes plenty of missionary families all contribute to an ideal environment for raising a family in Thailand.
Further reading…