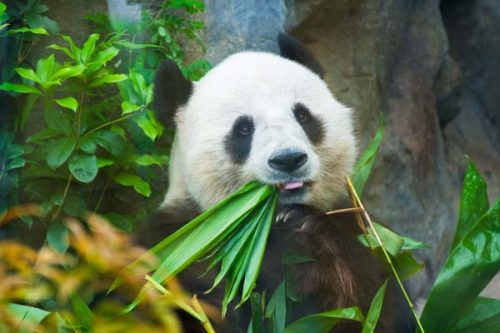 Opened in mid-2005, the Night Safari is a piece of African savannah-cross-zoo, which has been recreated as one of Chiang Mai's newest and most ambitious projects. It offers a highly recommended family outing featuring more than 200 species from several continents and although it is best enjoyed at night, you can visit it during the afternoon, too.
The 320-acre site, annexed from the foot of the Doi Pui Suthep National Park, includes a large lake surrounded by zoo-like enclosures and two 'game drives', where animals from Africa and Asia roam freely in larger fenced off areas. Some of the more docile species wander right up to the tram, but predators are kept behind security barriers.



In addition, the Chiang Mai Night Safari has a very comfortable pavilion and the Lanna Village, with restaurant, Fun Plaza and a colourful musical fountain.
Chiang Mai Night Safari was developed under controversial circumstances (without proper environmental impact studies) as part of former Prime Minister Thaksin Shinawatra's grand design for his hometown. It was opened in time for the much-attended, three-month long Royal Flora Expo in December 2006, and modelled on a similar safari park in Singapore. Despite facing difficulties in securing animals from Kenya, the Night Safari is easily one of Chiang Mai's best newer attractions, designed professionally to provide a complete experience for all ages.
The best time to visit is about an hour before dusk so that you can wander the Jaguar Trail – a kilometre-long nature walk around the perimeter of the swan lake. Along the way you meet more than 50 different species in a zoo environment among lovely gardens, with fine views across the lake. Some of these species include exotic mammals, including white tigers, miniature horses, jaguars, Malayan sun bears, tapirs, llamas, pygmy hippos and lemurs.
Note:
To find the best rate hotels near
Chiang Mai Night Safari
, we recommend you look online at
Agoda.com
. They seem to be the most competitively priced of the hotels sites.
As it gets dark the trams begin to run on the Predator Prowl and Savannah Safari; each of them a two-kilometre drive by tram taking about 25 minutes. Among the rarer animals you are likely to see are lions, hyena, springbok, Bengal tigers, maned wolves, kudu antelope, ostrich, giraffe, cheetah, wildebeest, kangaroo, and many species of deer. Animals from different regions and continents are seemingly all mixed together in the zones. Beams of light from the tram make it possible to view the animals which are close at hand, but photography is difficult.
English commentary guides are on the trams at 20:30 and 22:10 for the Predator Prowl and at 19:45 and 21:30 for the Savannah Safari, although their pronunciation is sometimes difficult to comprehend. Thai commentary trams leave every 15 minutes and are just as interesting during the 30-minute ride.
Another attraction is the Musical Fountains – a centrepiece of the Swan Lake. Billed as the 'biggest musical fountain and water screen in Southeast Asia', it is comprised of 1,509 water jets, 546 lights and 63 water pumps, creating a 15m-high, 45m-wide water screen as a backdrop for the colourful laser show that occurs at 20:00 and 21:10.



Then there is the Fun Zone, which is a public water fountain right on the plaza floor for kids and the young at heart to play among. A Restaurant, souvenir shop, photo corner and info centre are also found in the main plaza building.
The Wari Kunchorn Building is set out on the water for private functions, plus there is also a viewpoint area and large waterfront area for photo posing. In addition, there is a remotely located conference centre, accommodation bungalows and camping by arrangement.
Chiang Mai Night Safari: 33 Moo 12, Nong Khwai, Hang Dong, Chiang Mai. Call Centre: (053) 999 000.
Getting to the Night Safari
It is most advisable to arrange through a local travel agent for a tour to the Night Safari, including transfer. With your own transport you can drive there in less than 20 minutes from the city centre by following the south bound Hang Dong highway and following the well-signposted route, turning right at the second intersection after the end of the airport runway. This then leads directly to the Royal Flora grounds from where you will notice the large themed entrance gate. Ample safe parking is provided.
Further reading…