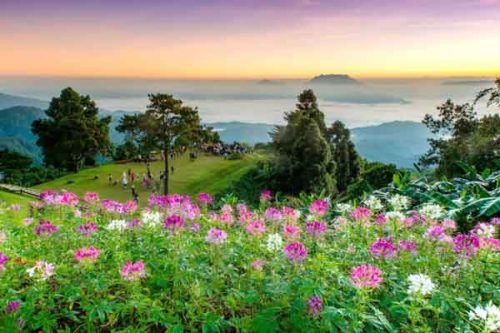 Within an hour's drive of Chiang Mai are more than half a dozen excellent national parks. Each of them provides a typically lush and lofty Northern Thailand experience, complete with ecosystems that vary from subtropical jungle to subalpine coniferous forest. Of course, there are also plenty of eye-catching waterfalls, nice picnic spots and hiking trails.
The sites are generally well managed by the National Parks board, with ablutions, camping facilities and security, though you generally have to pay 200 baht (at each one) to enter. Some are better maintained, or more worthwhile, than others, but at each one you're guaranteed an excellent natural environment, and might find you have a waterfall or campsite all to yourselves.



Perhaps the most accessible and visited of Chiang Mai's nearby national parks; this long-established sanctuary encompasses this entire famous mountain to the west of the city, as well as adjacent areas. Most visitors to Chiang Mai pay a visit to the famed temple on its lower peak, via a good 15-kilometre road, and along the way you come across Huay Kaew Falls at the base (free) and Monthathal falls further on (200 baht), as well as a view point. Nearer the top of the mountain is the Phuping Winter Palace and a rather touristy hill tribe village, Baan Doi Pui. You can follow the road down the other side to a campsite and coffee station near the Hmong village of Baan Chiang Khian, before the asphalt runs out. 
Thailand's highest mountain lies just 50kms south of Chiang Mai and constitutes another massif that reaches 2,500m above sea level. A good road leads to the summit, with several very impressive waterfalls along the way, as well as hilltribe villages, pagodas in honour of the King and Queen, a forest boardwalk, and food canteen at the park HQ. This is also the only place to stay, with a camping ground or bungalows for hire.
This is another side of the park, reached by travelling north out of Chiang Mai to an elevated valley beyond Mae Rim. Tourists flock to this area, too, as it's an accessible day trip to experience the mountain environment, including the magnificent 10-tiered Mae Sa falls, an elephant camp, excellent botanical garden and variety of soft adventure and family-friendly attractions.
Note:
To find the best rate
Hotels in Chiang Mai
, we recommend you look online at
Agoda.com
. They seem to be the most competitively priced of the hotels sites.
Mae Takhrai National Park
Across the Ping Valley is a lesser visited, but equally arresting, range of mountains that can be seen on clear days from Chiang Mai. They include this national park, which is the site of the popular Flight of the Gibbon zip line adventure. Finding your own way up to the eco-village of Mae Kampong is easy enough – there is a cave and hotsprings along the way – while this mountain hamlet enjoys a gorgeous location complete with homestays lining a pretty stream. Address: 36 Moo 3, Ban Mae Wan, Pa Meing, Doi Saket, Chiang Mai. Tel: (053) 818 348.
Jae Sorn National Park
Over the range from Mae Kampong, following a steep rollercoaster of a road into Lampang Province, is Jae Sorn (Chae Son) National Park, noted for its hotsprings and decent waterfalls. It has a lovely camping area, with good facilities, and can be reached within an hour of Chiang Mai. As with many national parks, it gets busy with locals during hot weekends. Address: Muang Pan, Lampang. Tel: (054) 380 457, 380 000, Mobile: (089) 851 3355.
Sri Lanna National Park
Spanning a vast area of lowland woodland, this hilly national park north of Chiang Mai surrounds the provincial town of Phrao and has some arresting scenery in the northern reaches. It's best appreciated by staying on a house boat on the Mae Ngat Dam in the middle of the park. Bua Tong falls, en-route to Phrao, is also worthwhile. Address: Ban Pao, Mae Taeng, Chiang Mai. Tel: (053) 479 079, 479 090.



Pha Daeng National Park
An hour's drive north of Chiang Mai is one of the starkest examples of northern Thailand mountains in the form of this standalone peak, which is Thailand's third highest. At its base is a popular attraction in the form of caves and a cave temple, along with some charming guesthouses. The area is lush as a result of its lofty neighbour and the drive up around its northern flank to Muang Khong is pretty. It's a good base for trekking and ascents of the mountain can be arranged locally. Even the drive to get there is nice. Sri Sang Wang Falls nearby is one of the north's prettiest. Address: Muang Na, Chiang Dao, Chiang Mai. Tel: (053) 317 498, 261 466. 
Ob Khan National Park
This tiny park is actually very close to Chiang Mai and is a great place to take the kids for a day out, since it centres on a small gorge with nice picnic spots and places to swim. The surrounding area is pretty, though low in altitude, and it's only 30 minutes south of Chiang Mai. Address: Nam Phrae, Hang Dong, Chiang Mai. Tel: (086) 181 1068.
Khun Khan National Park
Several tracts of land make up this lesser-visited park in the environs of Samoeng, which is a pretty valley and peaceful town located behind Doi Pui mountain. Homestays here make for a peaceful break from Chiang Mai and you can venture to some of the campsites in the area. But mostly it's best appreciated from the viewpoints while doing the Samoeng Loop – a 90-kilometre mountain day trip from Chiang Mai. Address: Moo 1, Mae Sab, Samoeng, Chiang Mai.
Doi Khun Tan National Park
The only park in Thailand to have its own railway station, this one lies between Chiang Mai and Lampang and is easy to get to by following the highway south, getting off at the pretty Gassan Valley. Of course, catching the train and jumping out just before it passes through the famous Khun Tan tunnel is a fun alternative, though it limits you to the unremarkable camping area nearby. A five-kilometre walk to the modest summit is worthwhile, and far fewer people visit this one. Address: Moo 8, Tha Pla Duk, Mae Tha, Lamphun. Tel: (053) 546 335.
Further reading…