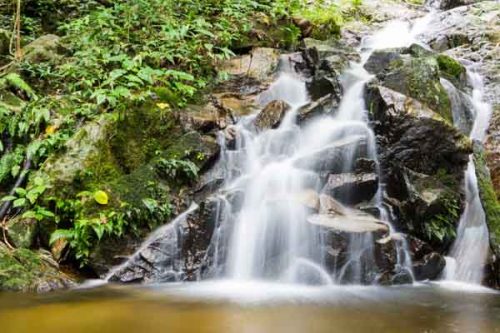 Over on the eastern side of the broad Ping River valley is the seldom visited but rewarding Mae On area. It boasts a much more dramatic mountain skyline, pretty rural scenes covered in verdant rice fields, a remarkable cave, hot springs and a lovely mountain drive to the village of Mae Kampong.
Few of Chiang Mai's mass of tourists reach this side of the valley, but Mae On district is equally pretty and offers a more untouched wilderness and some delightful scenery. Although the San Khamphaeng Hot Springs and Mae On Cave do attract tourists, few get to appreciate the mountains of the Doi Mon Larn range beyond. They are higher than Doi Pui and on a clear day look majestic.



After a well signposted 30-minute drive from Chiang Mai, the first of the area's main attractions you come to is the San Khamphaeng Hot Springs. They are the most popular of the area's attractions, with several controlled geysers and a series of manmade pools and streams that are popular picnic spot for locals, especially in winter. Also on site is a warm water pool and private bath huts. There is a second, private hot springs resort site, behind these – Roong Aroon – which offers much the same in a better developed and more expensive environment.
Mae On Cave is reached by turning off to the left about 1km before the left-side hot springs turnoff. As far as caves go, this cavernous interior is certainly worth the 300+ stairs that need to be ascended to enter the cave, followed by a similar descent through some claustrophobic gaps. You soon find yourself at the bottom of an enormous chamber with a natural chedi formed from a stalactite. It's been converted into a religious site with several consecrated Buddhas. 
On this same karst hill is Crazy Horse Buttress, a popular climbing site developed by local companies The Peak and Chiang Mai Rock Climbing. They have marked out several routes professionally, complete with boltings so that climbers can show up and easily create their own lead for others in their group to top rope climb. Both companies offer courses and excursions to this remote, difficult to find site, along with equipment. 
Beyond these lies an impressive wilderness that few visitors bother to explore. By following the main highway, 1006, that takes you out to the area and continuing up into the mountains, you climb a steep pass to arrive at the village of Huay Kaew, noted for its tree markets. Just beyond the village the road dog-legs to the left and follows a pretty route north through a hidden valley to link up with the Chiang Rai road, after which you can easily return to Chiang Mai. It's a nice easy drive.
However, the real reward is the mountainside and if you keep going straight at the 'dogleg' instead of left, you'll find yourself climbing up into the Mae Takrai National Park. First stop is Tharnthong Lodge, which has an enviable location either side of a pretty mountain stream. It's a luxury accommodation option with Thai restaurant Tharnthong Kitchen that has a pretty setting.
Just beyond this is Tharntong Falls; a modest cascade that is an ideal playground for kids. The road continues to climb following the pretty stream as it passes through rows of local houses. Some wealthy outsiders have built themselves weekend pads here. After 10kms you eventually come to Mae Kampong, a so-called eco village that has several home stays, but the most comfortable option is definitely John's Place (now changed hands). It's log cabin and bungalows in a gorgeous forest setting with the stream running through the premises.



The biggest new attraction of the area is Flight of the Gibbon; a three-kilometre long zip wire treetop tour that criss-crosses a steep, lushly forested gorge that the road skirts. This popular activity has transformed the local economy of the village and is highly recommended (widely advertised in town).
If you continue up through the village you come upon the modest Mae Kampong falls and the road then becomes extremely steep, so make sure you have a powerful car with good brakes, and good driving skills. Eventually it passes over the top of the range and descends down an equally hairy road into Lampang Province, to arrive at the lovely Jae Sorn National Park, further down. This park is popular on weekends with Lampang residents (who arrive from the opposite direction) that come to enjoy picnicking among the several lovely waterfalls.
Halfway up the road to Mae Kampong you'll come across a road bearing off to the left and this follows an equally pretty route that climbs a similar steep valley along a stream to come to a small temple noted for its Mae Lai Rock Chedi – built by local villages who collected the rocks for its construction. You can follow the road deep into the mountains or turn back here. A small waterfall is found in the vicinity of the temple.
 Further reading…