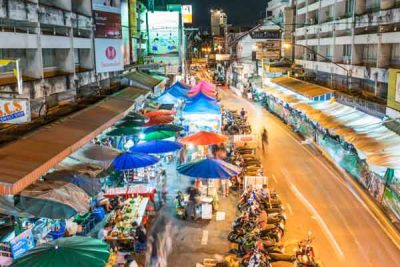 Several shopping centres and notable markets are found in Chiang Mai, though it certainly doesn't compete with Bangkok for selection and sophistication. This city has two large malls (and several others in the pipeline) as well as many smaller centres where most contemporary items can be bought. There are also a number of interesting local markets, which are more traditional.
Shopping is a popular activity when visiting Chiang Mai; not just for handicrafts and gifts at the Night Bazaar, but also clothes, electronic goods and the usual trappings of a modern life. The country's two biggest department stores, Robinsons and Central, are found in Chiang Mai, with a good range of international brands, many of which are manufactured in Thailand and, therefore, much cheaper.



Kad Suan Kaew Mall
This is a slightly dated multi-storey shopping centre found just beyond the northwest corner of the moat and is popular among visitors and local expats. Here you will find banks with an exchange bureau, four floors of Central department store, boutiques, shoe shops, endless mobile phone vendors, a sport store, computer emporium, and well-known names like Swensons, Watsons, Boots, Sizzler and a Mac izone. A bowling alley and movie house are on the upper levels and there is a kids' play area to the rear of the second floor.
Airport Plaza Mall
This is sophistication central in Chiang Mai, where overdressed youngsters wander around with their mobile phones permanently stuck to their ear. This modern shopping centre includes the well-stocked Robinson's department store, with an excellent selection of English language books at B2S, a sports store, and Tops supermarket for imported foods (a branch is also in Kad Suan Kaew). There's a far bigger selection of clothing boutiques here, service centres (mobile phone companies), beauty shops, and the aforementioned international retail chains.
A feature of Airport Plaza is the Northern Village – a three-storey section dedicated to tasteful local handicrafts of a better quality than those found at the Night Market. In the basement is a traditional Northern foods emporium. A cinema, numerous restaurants, and a food court are also found at Airport Plaza.
Panthip Plaza
A small mall near the Night Market dedicated entirely to computer and electronic gadgets, which are a particularly good bargain in Thailand. Two others with a similar theme are Computer Plaza and Icon Square, beside each other at the north-western corner of the moat.
Chiang Mai Night Bazaar
Everything and anything made around the Chiang Mai region can be found after 17:00 on Chang Klan Road and the surrounding streets. There are t-shirts, silk scarves, carved soap, lamps, fake football tops, scented oils, sweet candies, wooden carvings and more. On the ground floor of the covered Night Bazaar building itself are local painters and sketch artists who do portraits for reasonable fees. Anusarn Market is a large carpark down a lane on the left half way through Chang Klan with even more local handicrafts stalls and bordered by pubs and popular seafood restaurants. Chang Klan Rd. and surrounds, every evening from 18:00.
 Sunday Walking Market
Every Sunday afternoon, one of old Chiang Mai's main thoroughfares gets closed off to traffic and becomes a giant walking market which is the perfect place for tourists to pick up good quality souvenirs. Food stalls, handicrafts sellers and souvenir hawkers all flood here to flog their wares, with goods on show generally similar to what can be found in the Night Bazaar most evenings (see above). Be careful if trying to park nearby as the police tend to cease vehicles deemed to be in the way. Rachdamnoen Rd., Old City, every Sunday from 18:00-22:00.
Warorot Market
Set in the middle of Chiang Mai's Chinatown, this huge covered day market contains everything and anything you could imagine. Eels and reptiles for making merit, stuffed furry animals, fishing rods, edible bugs, spices, clothes and ceramics are amongst some of the staple purchases. Down the side by the river is a strip of stalls that makes up Ton Lamyai Flower Market as well. Open: 24 hours a day (Daily). on Chang Mai, between Nakorn Ping and Nawarat Bridges.



Somphet Market
This small food market is regularly stumbled upon by tourists wandering through the old town. It's just a five minute walk north from Tapae Gate and is regularly included as a first stop for Thai cookery schools in the city. There is a full range of local fruit, vegetables and meat for sale plus live ingredients as well. Beside eastern flank of the moat on Moonmuang Rd., Soi 6.
Muang Mai Market
This market is where restaurants in Chiang Mai source their fresh fruit and vegetables. Delicious and cheap smoothies can be found here and it's relatively off the tourist trail for an authentic Thai feel. Open 08:00-20:00 (Daily). Situated beside the US Consulate between the northeast corner of the moat and the river.
Further reading…