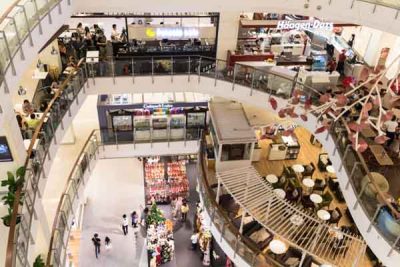 For Chiang Mai shopping A-F <1 – 2>
Gems: find their way to Chiang Mai from Myanmar and the selection and quality can be impressive; however, there are plenty of scams going on (and an even greater supply of suckers!), so be wary of special deals or tuk tuk drivers offering to take you on a 'free tour' of the city. We recommend Shiraz Jewellers (Thapae Road). The Burmese gems, such as rubies, are generally mined under very poor conditions and human-rights abuses, so shop with a conscience.
Handicrafts: are numerous and on sale everywhere. They really do make super souvenirs and gifts and can be incredibly cheap, though the quality can vary quite a bit. The Night Market is the most convenient and, usually, the cheapest place to buy these in the city. However, for bulk buying take a trip to Borsang (20 minutes east of the city), where there is a less frenetic atmosphere, or Baan Tawai (farther away to the south). The Northern Crafts Centre (near the railway station) is another good place to see the craftsmen and women in action.



Interior décor: is one of Chiang Mai's fortes, with an abundance of gifted artists and crafts people displaying exceptional taste. Lanna and Thai home style is very graceful, deceptively simple and usually has a practical origin. Soi 1 (off Nimmanhemin Road) and other shops nearby, cater well to expensive tastes, and with very affordable price tags, and can arrange to ship it home for you.
Jewellery: Northern Thailand produces a unique style of silverware; much of it influenced by the hill tribes who brought their trade and styles with them from Central Asia. Some very detailed and intricate pieces can be found at specialist stores, at the Night Market, and in exclusive shops. Contemporary designs are also popular and found widely. Gold plays an important role in Thai status, and the largest conglomeration of dealers is found near the Worarot and flower markets alongside the Ping River. Wualai Street (venue of the Saturday evening Walking Street) is the traditional silversmith quarter, while there are good jewellers which offer fair prices 50m down Thapae Road (next to Red Ruby Tailors) and in the wooden house opposite Kasikorn Bank.
Lacquerware: is produced by a fine traditional craft that has been passed down for centuries and was originally brought to Chiang Mai by artisans imported from Burma. The process of a high quality dyeing, engraving and painting is sublime and results in beautifully decorated trays, bowls and vases. These are best found in specialist décor shops in the city.
Mobiles & iPhones: are found everywhere; they are a national obsession. In every shopping facility you'll find whole clusters of small-time vendors, many selling good condition second-hand phones. Prices are good (new and old, though the latest iPhones are always more than in the West) and if you buy 1,000 baht of credit you get the SIM card free. We suggest Kad Suan Kaew shopping centre.
Paper products: is another popularly made product in Chiang Mai. In addition to excellently priced conventional papers of all grades, textures and colours, there are a variety of products made from mulberry, also known as saa. All sorts of creations, including handmade books, are found on local markets, but if you are serious buyer looking for one of the best selections in town, visit HQ Papermakers, who are professionals able to make mass orders.
Perfume: counters in the department stores (Robinsons and Central) in the Airport Plaza and Kad Suan Kaew malls sell a decent range of international brand perfumes at reasonable prices. A diminishing number of stalls at the Night Market sell fakes of varying quality. The scents are very plausible but they don't last.
Silk: Thai silk is considered the best in the world, with a remarkably soft texture and coarse weave capable of withstanding heavier dyeing to produce a unique colour. A cheaper 'washed' Chinese silk is also available. Silk is widely sold at the Night Market, but watch out for the quality. Well tailored, high-grade silk is available at selected boutiques and purveyors near the Night Market. Shinawatra Silk, near Kad Suan Kaew shopping centre and also east of town, is a reputable shop.
Shoes: are always a good bargain, and even the famous brand names are locally made, making them up to 50 per cent cheaper than the US or Europe. The shopping centres are the best place to find quality of all types, but stalls at the Night Bazaar sell cheaper, trendier shoes. If you're a large-shoe-sized foreigner, expect to be disappointed with out-of-stock replies.
Sportswear: there is a decent sports shop above the Night Market as well as a couple in each of the shopping centres, with a genuine selection of sporting apparel and limited sport goods.
Souvenirs: are easy to find, and certainly not tacky. They are usually handmade of natural materials (in Thailand, not China) and very cute and cheap; from colourful hill-tribe dolls to purses, pens and chopsticks. In fact, the selection is endless, even including the ubiquitous Red Bull t-shirts. The Night Market is the best place for these.



Toys: Thais love spoiling their children and, since many toys are manufactured in Thailand or in China, they are remarkably cheap and the variety mind-boggling. Robinsons and Central department stores, in the two main shopping centres, have good sections for the kids. At the Night Market you will also find plenty of handicrafts ideal for kids, such as dolls, puzzles, games, school accessories, and more. There is also a great selection of cheap clothes and shoes. Some of the bargain-bucket items barely last the week before breaking.
Umbrellas: made Chiang Mai famous and can be bought at the Night Market and other souvenir shops, but it's worth the trip to Borsang Village to see the ladies assembling these delicate bamboo ornaments and brightly painted rice paper that covers them – an incredible amount of work for such a cheap price.
Watches: the proverbial fake Rolex, and other watches, are always on sale at the Night Market, with a wide selection, but, for the real thing, head to the exclusive shops in Kad Suan Kaew shopping centre and Airport Plaza. Because these are all imported from Europe, don't expect any bargains.
Wood carving: is especially beautiful in Thailand and considered a national treasure, passed down as a tradition through generations. Intricately carved filigree and ornamentation is widely used on Thai architecture and they produce furniture fit for royals. Particularly impressive is the art of carving a three-dimensional relief which can be very valuable. All of this takes place in the busy artisan village of Baan Tawai, south of the city, where you can see the pieces taking shape and arrange to have them shipped home.
For Chiang Mai Shopping A-F <1 – 2>
Further reading…