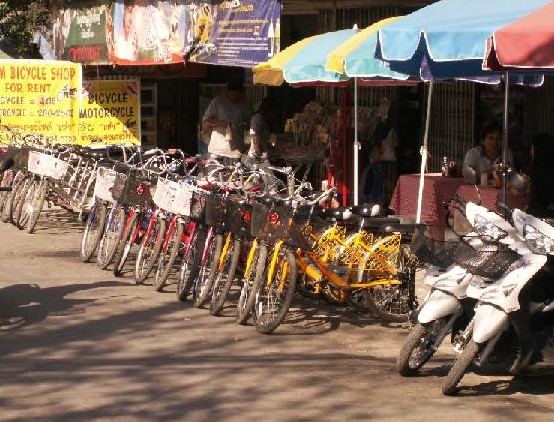 Renting a bike or scooter to get around while in Chiang Mai is good idea. The traffic is very manageable, automatic motorbikes are easy to ride and it's an inexpensive means of transport. While the Old Town is quite walkable and suitable for bicycles, it can get hot and sweaty, so a rented moped proves more practical. It also gives you the freedom to explore much more beyond the Old Town limits. For this reason alone, it's a popular option, plus bikes for rent are all over the tourist areas.
Car rentals are also popular with many of those visiting Chiang Mai who intend on making excursions into the mountains of Northern Thailand. You needn't be put off by the sheer volume of traffic, since Chiang Mai is relatively uncongested most the day and the traffic moves slowly. It's an easy city to navigate, though the narrow lanes of the historic core (within the enclosed moat), and parking, present challenges.



Hire companies are easy to spot in the tourist areas around Thapae Gate. Many guesthouses rent scooters or can arrange one; others line them up outside their shop along the moat roads. A new Honda Wave 125cc is more than adequate and costs about 200 Baht a day, while bigger bikes are available for around 500 Baht. Some of these companies also rent cars from 1,000 Baht a day, but you're more likely to find reliable deals by pre-booking online with a consolidated site.
When renting a bike, you will have to leave your passport as security; though cash deposits of around 3,000 Baht may also be accepted. Check the condition of the bike first, noting any damage with the owner (a digital camera is perfect for this) and avoid the cheapest deals, since the bikes main not be safely maintained. An automatic model is easier to ride, and though you can get two on one bike, be sure it's a 125cc if you plan on seeing the temple on the mountain.
Although the locals don't like to do so, you should always wear a helmet, especially if you are not confident as rider. Remember, these bikes do not come with insurance as standard, though many places will do you some for an extra 50 Baht a day (though not fully-comprehensive).
Renting bikes in Chiang Mai is certainly the way to go, especially if you intend on getting about and seeing as much as possible. Don't be discouraged by the idea if you've seldom ridden one as it's really not that difficult and the traffic (in general) moves along at a manageable pace. You are advised, however, to drive cautiously and 'think' for others on the road, since local drivers seldom follow road rules and often do reckless things. Many tourists leave Chiang Mai with the infamous 'bike tattoo' on their leg – beware the exhaust!
For car hire in Chiang Mai, you might need to be patient with the slow and sometimes congested traffic, or narrow lanes. Once you leave the city, the roads are in good condition, with some dual-carriage highways and plenty of sealed roads to help you explore the north. Be warned, though, that the windy roads and limited overtaking opportunities lead to some reckless stunts. There is a high accident rate region during the heavy traffic times in December, when Bangkok tourists like to visit the north in hordes.



 

Further reading…